NFT Marketplaces, like OpenSea, are rapidly growing in popularity. These platforms make buying and selling NFTs absolutely simple. 
And more NFT marketplaces would not be created if this business model was not so profitable. But how do NFT Marketplaces generate such high revenues? 
And let's break it down with an example of how OpenSea makes money.
NFT Statistics – The Growth of the NFT Market
It may not seem like it, but the history of NFTs is almost as old as the history of cryptocurrencies themselves. 
The history of cryptocurrencies is tied to 2009 when the Bitcoin Network was created by a person or group of people signed as Satoshi Nakamoto. The first Non-fungible token (NFT) was created not long after, in 2014. Which is the same year that Bitcoin first became widely traded.  

However, 2021 was the year when NFTs exploded in popularity. In August 2021 alone, the trading volume of the NFT market reached 3.56 billion dollars. 
This peak was something unprecedented. And also long unsurpassed. The market didn't reach a similar trading volume until April 2022.
The most significant contributor to this is, of course, the largest NFT marketplace – OpenSea. That made over $82 million in revenue in January 2022, according to Forbes.
How does OpenSea make money
Transaction Fees
The most significant source of income for all NFT marketplaces is Transaction Fees. This can be in the form of a network fee, listing fee, subscription fee, etc.
However, OpenSea doesn't charge any of these mentioned fees. Instead, they went with a straightforward business model. 
OpenSea charges a flat service fee of 2.5%. And this fee is only charged after your NFT is sold. This fee is then deducted from the seller's revenue. Quite simple.
On the other hand, some marketplaces can charge a transaction fee on both sides. But most will only charge the buyer – they will pay more than the selling price, or the seller, by deducting the fee.

Thus, with a fee of 2.5%, you would get $97.5 from every $100 made. It could be worse. 
In January 2022, 2,465,165 NFTs were sold on the platform, transacting a total of 5 billion Ethereum. And bringing $82 million in revenue. Yea, it adds up pretty quickly. 
First-time Ethereum fees – Pay to "activate" your account
This is not exactly a "pay to activate your account" fee.  
But, while there are no listing fees, you will need to pay the first-time Ethereum fee. 
You will need to pay gas to allow the marketplace contract, called Seaport, to interact with your item. This is a one-off fee only. 
Of course, gas fees are waiting for you along the way. But this money doesn't belong to OpenSea but to the people who verify the transactions.  
To get it on the blockchain, you must pay the gas fee to mint the NFT. This is an essential element of why NFTs are uncopyable. However, on OpenSea, you don't pay this gas fee until your NFT is sold. But more is in our guide on How to Sell NFTs for free.

OpenSea Ventures – Founders and Visionaries are welcome
In addition to the fee model, in February, OpenSea launched a new investment arm called OpenSea Ventures.
OpenSea intends to invest in prominent projects throughout Web3. 
This whole part of their business is of mutual benefit when interesting projects get the visibility that can help them. Alongside that, expert advice from the OpenSea team and assistance with NFT security. 
And OpenSea will expand its business with another source of income.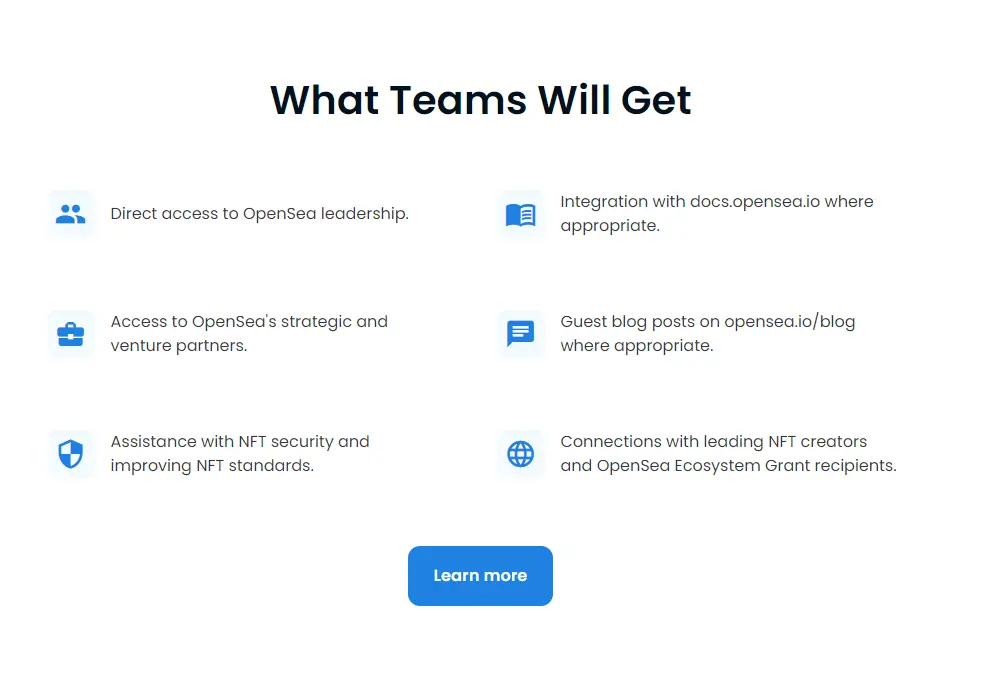 As this part of the OpenSea business is relatively new, it is not entirely clear how the venture will develop further. 
But what we do know currently is that OpenSea Ventures has made six investments. And their latest investment was in MetaStreet with $10 million. MetaStreet looks like to be a future DeFi application for earning interest.
How much money does OpenSea make
OpenSea is, without a doubt, a leading firm in the field of non-fungible tokens. With the current value at $13.3 billion. But what are the actual numbers behind this value?
Dune, free to use crypto analytics website, can help us with this.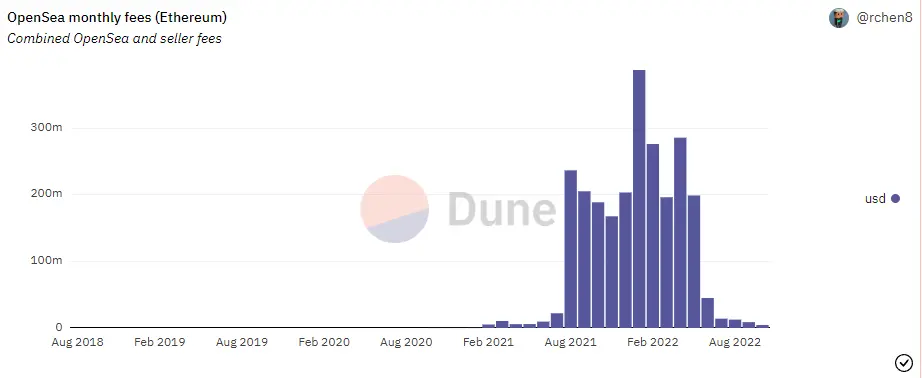 Looking at this chart, we can see that OpenSea is making nearly $400 million in stronger months and $10 million in weaker ones. 
However, the results are truly impressive, considering that OpenSea employs only 70 people.
And this does not take into account the newly created division – OpenSea Ventures. And you can also trade on OpenSea using Polygon. Which, again, we do not include in our calculation.   
The Polygon is also one of the reasons for the rollercoaster in the graph.
How else can NFT Marketplaces make money
Apart from Transaction Fees, First-time fees, and investing in other projects, NFT, that OpenSea uses, marketplaces can generate revenue in many different ways.
Listing Fees
Some NFT marketplaces can charge you for listing, minting, selling, or even removing your NFT from their marketplace. 
These fees can either be added on top of gas fees or deducted from your account.    
Therefore, checking all the fees, you must pay is always a good idea. And also have enough money in your crypto wallet.  
Native Tokens
Some marketplaces, like Kalao or YetiSwap, might feature their own cryptocurrency tokens. 
The business model behind this is quite simple. You buy their token – generating value and traction, and the marketplace will give you some benefits in return.
It is often the case that when using a native token, you have zero fees. This may seem significant, but it's not ideal, as these tokens don't have as many users. So instead of selling an NFT in a day, it will be on the market for two months. 
Conclusion 
So how does OpenSea make money? OpenSea has a straightforward business model based on a single fee. That's a fee for each sold NFT using their platform of 2.5%.
Other than that, OpenSea has other divisions generating revenue—like the recently launched OpenSea Ventures, which focuses on investing in prominent projects across Web3.
Now that you know that OpenSea is very cheap to use, you can start by creating your first collection by downloading our free template!
Read Further
How does MetaMask Make Money (over $200 million a year)