EverGrow is one of the most popular reflection tokens that reward users with 8% off every buy, sell, or transfer. This way, EverGrow has distributed over $40 million in $BUSD to holders since its launch.
Although lately, you won't earn much, as daily trading volume is close to nothing, but many users stay loyal to this token. If you are now of the users awaiting the big return of EverGrow, you might be looking for a way how to buy this token.
Unfortunately, buying EverGrow is not as straightforward as one can wish. As this token, with few exceptions, is not listed on centralized exchanges.
But nothing you can't handle together with this article, which will show you the step-by-step guide on buying EverGrow (EGC) token. Let's dive in!
What is EverGrow
EverGrow is a representative of a special type of altcoin called reflection tokens.
A reflection token (sometimes referred to as a reward token) is any token that rewards its holders by adding new crypto to their wallets.
However, reflection tokens aren't based on cashbacks or similar rewards programs. They pay token holders these rewards regardless of whether or not the user has made any transactions, delegated to a staking pool, or locked their assets.
And EverGrow was one of the first reflection tokens launched back in September 2021. It quickly gained traction. At the peak, there was $100 million traded daily in EGC. But that slowly fade away.
The EverGrow token, based on BNB Smart Chain, charges a 14% fee on every transaction.
8% is instantly distributed to investors;
2% is sent to a buy-back wallet;
2% is transferred into the liquidity pool;
2% is sent to the development fund for marketing and development costs.
But what is unique about EverGrow is that it pays the token reflection in BUSD instead of its native EGC token. BUSD is a stablecoin pegged to the US dollar that you can instantly exchange in hundreds of different trading pairs.
How to Buy EverGrow Token (EGC)
To quickly summarize what we'll be doing right now, you need to find a market that sells EGC and a trading pair that suits you best. After that, you can make the purchase. Let's take a look.
Step 1: Find a Market to Buy EverGrow (EGC)
There are several handy tools that will tell you which coin is listed where and in which trading pairs. One of the most popular ones is CoinMarketCap.
CoinMarketCap is a price-tracking website for nearly every cryptoassets, currently listing over 23 thousand coins.
CMC curates the most important information about every coin and token, including its price and trading volume, information about supply, contract address, a quick summary of the token's utility, and a list of purchasing options (market pairs).
First, go to EverGrow's CoinMarketCap page. Then scroll down a bit to a section labeled "EverGrow Markets."
Here you can see a list of centralized and decentralized exchanges that offers EGC in a trading pair.
Step 2: Choose the Right Market
Although the list includes centralized exchanges with EGC in a trading pair with USDT, they barely hold any liquidity.
You can see in the picture above that PancakeSwap (DeX) holds nearly 100% of the trading volume.
And the price is also a lot cheaper. That's because PancakeSwap is an Automated Market Maker-based exchange that alghoritmicaly predefines asset prices based on the ratio of tokens in the liquidity pool.
Whereas centralized exchanges are based on Order Book-system, where you can place your order at any price. The system will then match your order with an order in the opposite direction.
And because there is very little liquidity, the sellers have some kind of oligopoly. And can set their prices a lot higher.
Step 2.1: Purchasing EverGrow on Centralized Exchange
If you decide to use the service of CeX to buy EGC, your work ends there.
All you need to do is to choose one of the exchanges from the list, create an account there and complete KYC verification. After that, you can purchase EverGrow in the EGC/USDT trading pair.
The reflection rewards will be automatically distributed to your wallet, even on CeX.
Step 3: Create an Account on Any Centralized Exchange and Buy BNB
The next step is creating an account on a centralized exchange, where you need to buy BNB. You'll then swap BNB for EGC on PancakeSwap.
Binance is always a good pick for its especially low fees and great features. You can also take advantage of our offer:
Once you complete the KYC verification, deposit FIAT and buy BNB. Keep in mind that you'll need to pay gas fees multiple times. First when sending BNB to MetaMask and second when swapping BNB/EGC. So purchase more than is your intended amount of EverGrow tokens.
Step 4: Create a MetaMask Account and Connect to BNB Chain
MetaMask is the most popular software wallet used to interact with the Ethereum blockchain. However, it can also connect to other networks that are forks of ETH, like Smart Chain.
You can download it as a browser extension or to your smartphone. We would recommend the desktop version for easier manipulation.
Visit metamask.io and continue with the provided instructions.
Once your wallet is installed, open it and create a new wallet.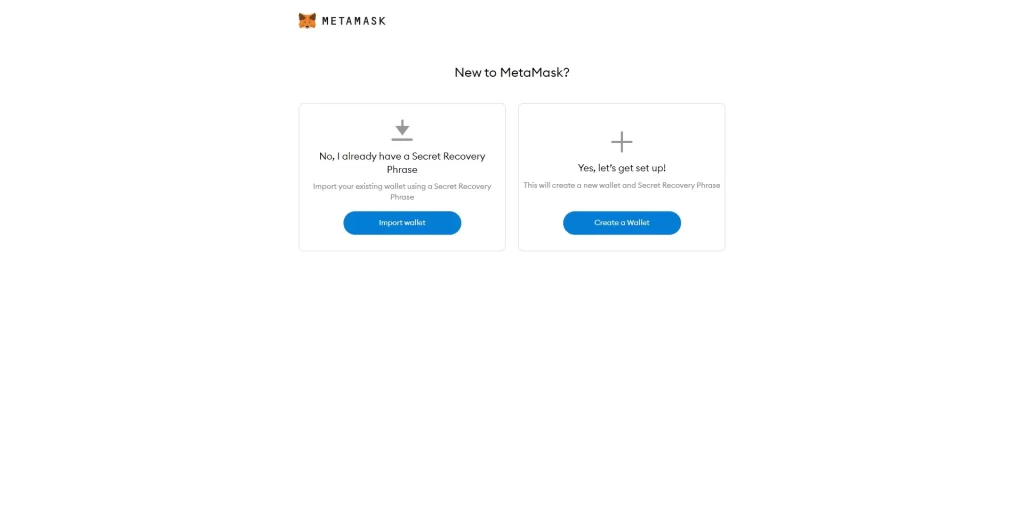 After selecting "Create a wallet," you will be asked to create a password. This password will be used every time you access your MetaMask wallet.
But it doesn't substitute for the Secret Seed phrase, which will be generated in just a moment. You must carefully write down this recovery phrase as it serves as an access key to your assets.
Step 4.1: Import BNB Chain as a Custom Network
Since the BNB chain doesn't come prepacked with your wallet, we need to add it manually. To do so, open your Metamask extension, click on your profile picture, and tap "Add network."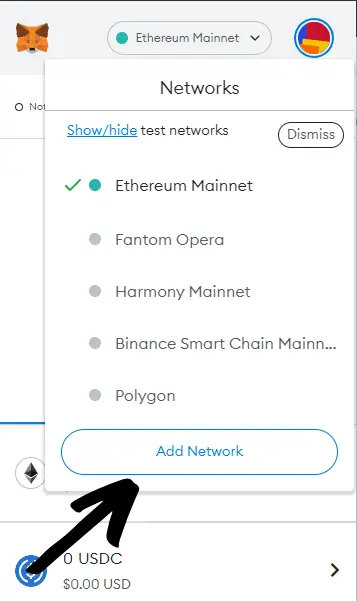 A new window will pop up where you need to fill in the network details. Fill in: 
Network Name: Smart Chain
New RPC URL: https://bsc-dataseed.binance.org/
ChainID: 56
Currency Symbol: BNB
Block Explorer URL: https://bscscan.com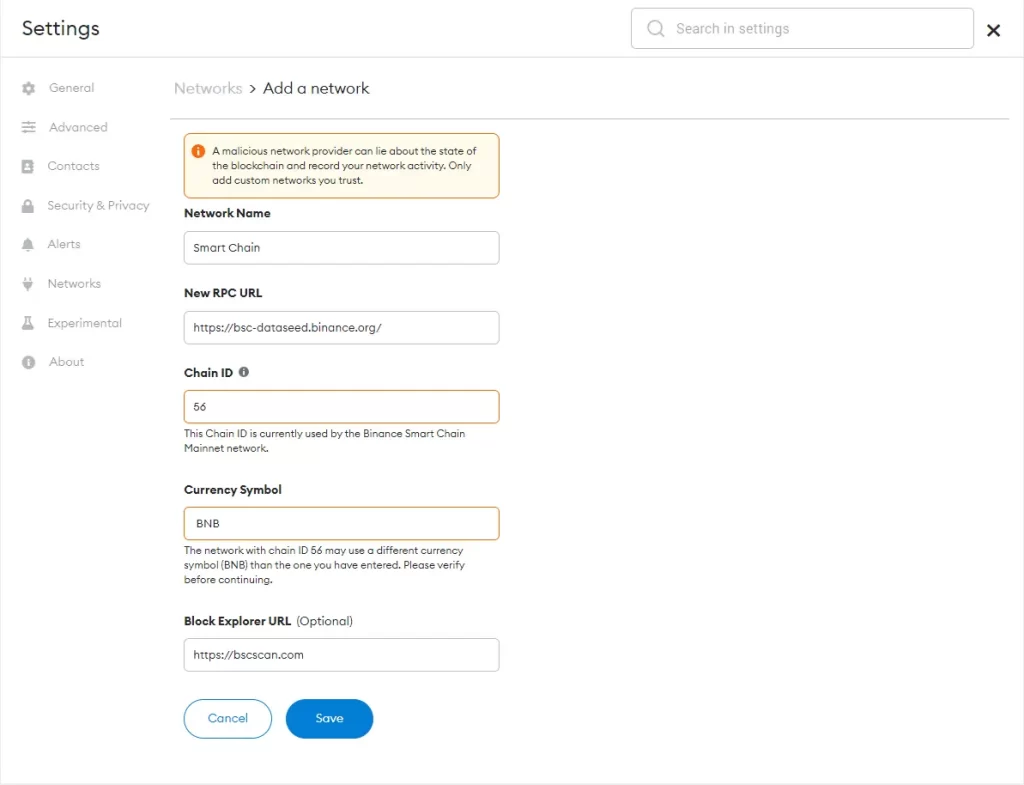 These details can be found in the official Binance guide here. And after hitting Save BNB chain was successfully imported.
Step 5: Deposit BNB to your MetaMask Wallet
Move your cursor on your account name in the top part of the extension and tap to copy your wallet address. Your wallet shares one address, so you don't need to be afraid of copying the wrong thing.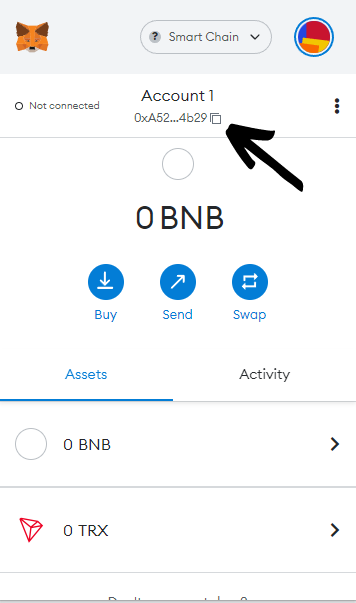 Now go back to your exchange, you used to buy BNB. You now need to find a crypto withdrawal option. Once there, paste your MetaMask address to the recipient field, select the amount of coins you wish to withdraw, and hit send.
Also, make sure to select Binance Smart Chain as the network. This network can handle 300 transactions per second, so your coins should arrive shortly. You can always check the status on the block explorer.
Step 6: Swap BNB for EGC on PancakeSwap
We are approaching the finish line, as you can now buy your first EverGrow tokens.
First, head to PancakeSwap exchange. In the top right corner of the application, tap "connect wallet" and select MetaMask as the connection option.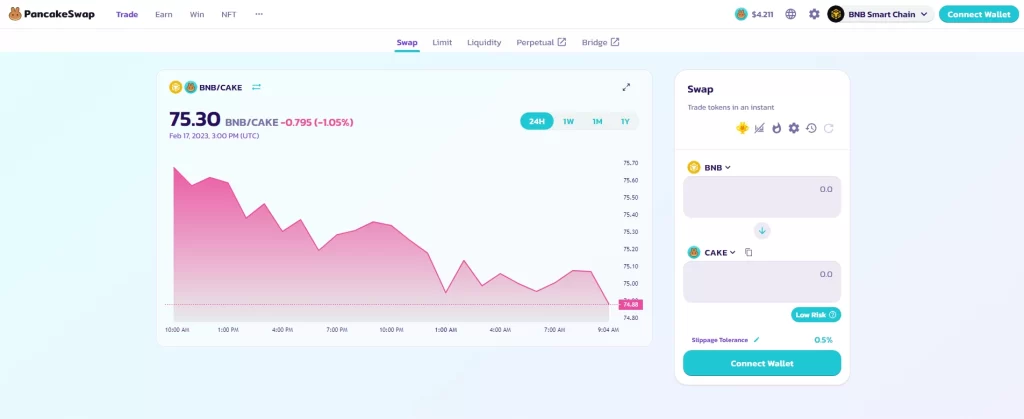 You'll then be prompted to sign the connection in MetaMask.
Once your wallet is connected, you'll see your balance next to BNB. You can leave the BNB coin as the "from" like this, but change the "to" token to EGC.
Now you can set your order. Fill in one of the amounts. It should automatically calculate the other one. It will also tell you the estimated gas fees you'll need to pay right away.
Once you are ready, tap the "Swap" button to buy EverGrow. The swap is also not instant, and it depends on the transaction capabilities of the network. But your EGC tokens should appear in your wallet in a few minutes.
Also note that, as EGC is a smaller coin with smaller liquidity, PancakeSwap can throw an error. In most cases, this can be dealt with by increasing your slippage tolerance. If that doesn't help, we have an entire series focused on troubleshooting PancakeSwap errors, where you can find your exact error message and see the solution.
MetaMask should automatically recognize that new tokens landed in your wallet. If not, go back to CoinMarketCap and tap the little MetaMask icon next to the contract address. It'll automatically import EverGrow as a custom token.
Conclusion
The process of buying EverGrow (EGC) is a bit obscure, as there are (with a few exceptions) no centralized exchanges that offer fiat trading pairs.
As EGC is BNB Chain-based token, you must make your way through buying BNB, sending it over to MetaMask wallet, and swapping your tokens on dApp, which offers EverGrow. And that's at this moment only PancakeSwap.
But even though you can be done in a few minutes.