Binance Learn & Earn program offers from time to time interesting crypto-related courses with sweet rewards in the end. 
This time Binance introduced the Learn & Earn What Is Lido (LDO) with 0.3 LDO as a reward. That's equal to about 0.46 as Burger is close to $1. 

All you need to do is to answer 8 simple questions and redeem your reward.
Of course, you need to have an active Binance account. If you do not have Binance just yet, start by registering through this link, which will give you an additional bonus of 5% cashback on trading fees, forever.
The Lido (LDO) Learn & Earn Binance promotion is accessible on this link. Now let's take a look at the Lido (LDO) quiz answers.
This Lido (LDO) Binance promotion runs from the 19th of October 2022. Once you sign up using the upper link, you can access it. If you answer all 8 questions correctly you will learn $LDO token reward.
Please note, that your questions will be in a different order.   
---
In addition to Ethereum, which PoS blockchain does Lido support?
Answer: Polkadot
Where do users deposit their PoS token on Lido?
Answer:  The Lido staking pool smart contract
What is the name of the utility token on Lido?
Answer: LDO
Why does Lido operate as a DAO?
Answer: All are correct
What problem is Lido trying to solve in PoS staking?
Answer: All are correct
What do users receive after staking their tokens on Lido?
Answer: Assets that represent their staked tokens on a 1:1 basis, e.g., stake ETH and get stETH tokens
What can holders do with LDO?
Answer: Vote on decisions in the Lido DAO
What can users do with their stETH tokens?
Answer: All are correct
---
Bottom Line
Once you submit the last answer to this Binance Lido (LDO) quiz you will get a badge saying that you have successfully completed the Lido (LDO) Binance Learn & Earn quiz.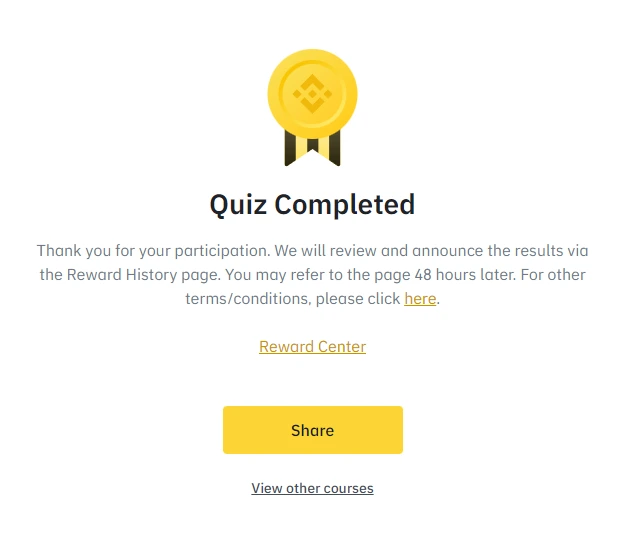 Your reward should be redeemable in the Rewards Center in 48 hours. 
We, at Help With Penny, focus on providing accurate information for everyone. That's why we also make easily accessible answers to a wide variety of Crypto Quizzes.
Read Further
Coinbase the Graph Quiz Answers: Learn & Earn $4 GRT
Binance What Is BurgerCities (BURGER) Quiz Answers
Coinbase AMP Quiz Answers: Coinbase Learn & Earn Answers