When you hear the word "crypto," what do you think? Is it a form of currency? Maybe a technology that will change the world? Or maybe something else entirely?
It can be hard to tell at first glance, but here are some things that might help:
Understand the Risks of Crypto Investing, and How Much to Invest in Crypto Based on your Financial Goals
As you begin your crypto journey, it's important to understand the risks of investing in cryptocurrency. Cryptocurrency is a new asset class and like any other investment, there are some risks associated with it.
The first risk is volatility. This can be defined as the price fluctuation of a cryptocurrency over time due to external factors (such as news). If you invest in a high-risk asset like gold or bitcoin, then your initial investment will fluctuate greatly depending on what happens within those markets at any given time. 
Since cryptocurrencies aren't regulated by governments or central banks like other currencies have been historically over their lifetimes thus far—and because they're so new in comparison—their values tend towards extreme fluctuations from week-to-week or month-to-month as investors try out different strategies for making money off this market trend (or "bubble").
Another factor worth mentioning here: even though cryptocurrencies may not be regulated by governments yet; they still operate under very similar laws/regulations that govern traditional financial products such as stocks/bonds etc.
So, How Much Money Should I Invest in Crypto?
As for the amount to invest, there is no definitive answer. The amount one should invest in cryptocurrency depends on their personal financial situation and risk tolerance. Some sources suggest starting with a small amount, such as $100, to gain experience in the market. It is generally recommended not to invest more than one can afford to lose.
The amount of money you should invest will depend on your financial goals and risk tolerance, as well as the time horizon for which you are investing.
If you're looking to build wealth over time and aren't afraid of losing money in the short term, then it's possible that the minimum amount needed for an initial foray into cryptocurrency could be quite high. 
However, if your goal is simply making some quick profit from an initial investment—or even just getting involved in something fun—then it might make sense to keep things simple (and cheap) by sticking with something like Bitcoin or Ethereum.
What is a Good Allocation Across my Crypto Investments?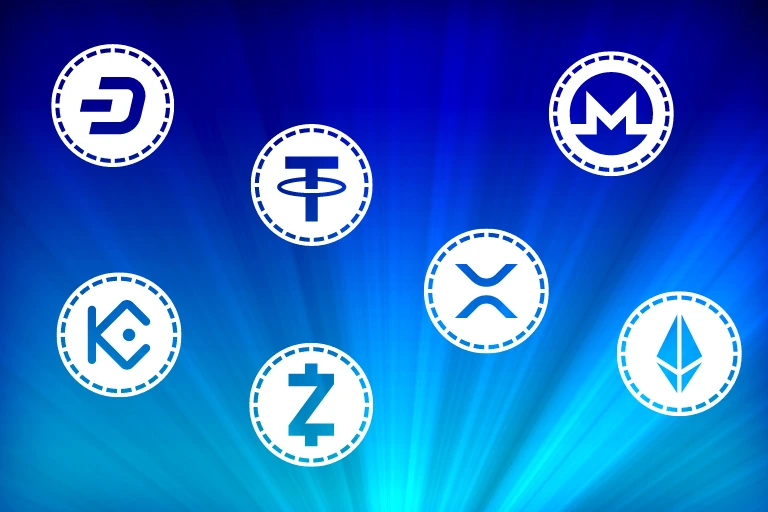 Determining a good allocation across your crypto investments depends on your risk tolerance, investment goals, and financial situation.

Diversification is key to reducing risk in any investment portfolio, including a crypto portfolio. Experts recommend diversifying across different cryptocurrencies, as well as other asset classes like stocks, bonds, and real estate.
Another option in crypto investing is through trading pairs, such as Bitcoin to Tether or BTC to USDT or Ethereum/BTC. The amount you invest in each trading pair can vary depending on the value of the cryptocurrency and your investment strategy.
How Risky is Cryptocurrency?
At first glance, investing in cryptocurrency may seem like a great idea. After all, it's the future of finance! But before you invest your life savings into Bitcoin or Ethereum, take a look at these facts:
Cryptocurrency is volatile. If you're hoping to make money off of your investments, then cryptocurrency probably isn't for you—unless you have an eye for finding great deals and know how to time them correctly.

Cryptocurrency isn't stable. As with any investment opportunity that involves high-risk returns based on speculation, there will always be people who lose money when they buy into something like this. Because they don't understand enough about economics and financial markets to apply common sense principles when making their own decisions about what investments should go where in order for them to eventually reach their goal(s).
When is it a Good Time to Take the Risk?
When you're considering whether to invest in crypto, it's important to know what type of market you're looking at. If the price of Bitcoin is up and down all over, it's easy to get confused about where exactly things stand. 
But if one particular cryptocurrency has been consistently rising or falling over time, let's say crypto XRP, then it can be easier for investors who are weighing their options to make an informed decision about how to buy XRP and enter into this investment opportunity.
If the cryptocurrency market continues its downward slide and no new opportunities arise that offer better returns than what was available before—or even if there aren't any prices changing at all—you'll want as much information as possible before taking any action so that when one does come along (and chances are good that such an event will happen sooner rather than later), everything will be ready when it does.
Is Cryptocurrency a Stable Investment?
The short answer is no—cryptocurrency is not a stable investment. Bitcoin and other cryptocurrencies are extremely volatile due to the fact that they're new assets, and their value can change drastically over time. Even though it's possible for someone to make money by investing in cryptocurrency, this isn't guaranteed: there are several factors that can affect your investment returns (like how many people use Bitcoin). 
In addition, some experts have warned against buying cryptocurrencies because they consider them risky investments. And since you'll need to buy them first before they're worth anything at all, you may have trouble getting out when things go south.
While this type of volatility might be scary for some investors who aren't used to taking risks with their money (or don't know how), remember that it's also probably good news for those who want more control over their investments; after all, if everyone kept saving every penny instead of blowing it on expensive dinners or vacations abroad, then our economy wouldn't grow very fast either way.
Conclusion
So, how much money should I invest in crypto? The answer depends on your financial goals and what you think about risk. If you're new to investing or don't want to risk losing your hard earned money due to volatility, it might be best to start with a small amount rather than building up over time.
It is important to note that investing in cryptocurrency can come with significant risks. Therefore, before making any investments, it is essential to research and understand the risks thoroughly.
It is also important to diversify investments to manage risk. Sharekhan by BNP Paribas analyst Praveen Singh suggests allocating 5% to 10% of investor portfolios to gold, while others recommend a diversified portfolio consisting of a mix of stocks, bonds, and crypto.
Ultimately, the decision on how much to invest in cryptocurrency should be made after conducting thorough research and consulting with a financial advisor if necessary.