Brave browser is gaining a lot of traction lately, passing 50 million active monthly users and making over $40 million in annual revenue. Both outside and inside the crypto community, thanks to its connection to the cryptocurrency BAT.
As a Brave browser user, you can earn BAT (Basic Attention Token) for using your browser the same way you are used to. Users can earn BAT by simply viewing anonymous, privacy-preserving ads that pop up once in a while.
This service is entirely optional, and if you decide to participate, you can earn a couple of dollars a month just by browsing your favorite social media and websites. We will reveal how much BAT you can earn with Brave every month.
What is Brave Browser
Brave Browser is a free, open-source browser based on Chromium. So your transition from Google Chrome will be as smooth as possible since both browsers look nearly identical and work the same way, but Brave is more privacy-driven. And also a nearly work-less switch since there is an option to import your browser to Brave. Brave users can also use the Chrome Web Store to download any themes and extensions built for Chrome.
Brave has a built-in shield that blocks ads and trackers for maximum privacy.
You can easily download brave to both Windows and macOS devices. You can also install Brave on Linux, but it's more complicated. Of course, a mobile app is also available. 
Apart from Privacy features, Brave is closely tied to cryptocurrencies and has its own built-in cryptocurrency wallet. You can read our review on Brave Wallet here.
How to Earn Brave Rewards
Basic Attention Token (BAT) was launched shortly after Brave Browser. The name reflects that a platform that utilizes this token is designed to reward users for their attention. Users get rewarded for their attention, and advertisers get a better return on their ad spend. 
There are three different ways you can currently earn Brave's BAT.
1. Earn BAT by Watching Ads
Watching ads is the leading way users can earn BAT. After installing the browser, you'll be prompted to turn on Brave ads. 
However, these are not video ads or ads that will interrupt you during work. These ads are small pop-up notifications in the bottom right corner, which you can immediately close.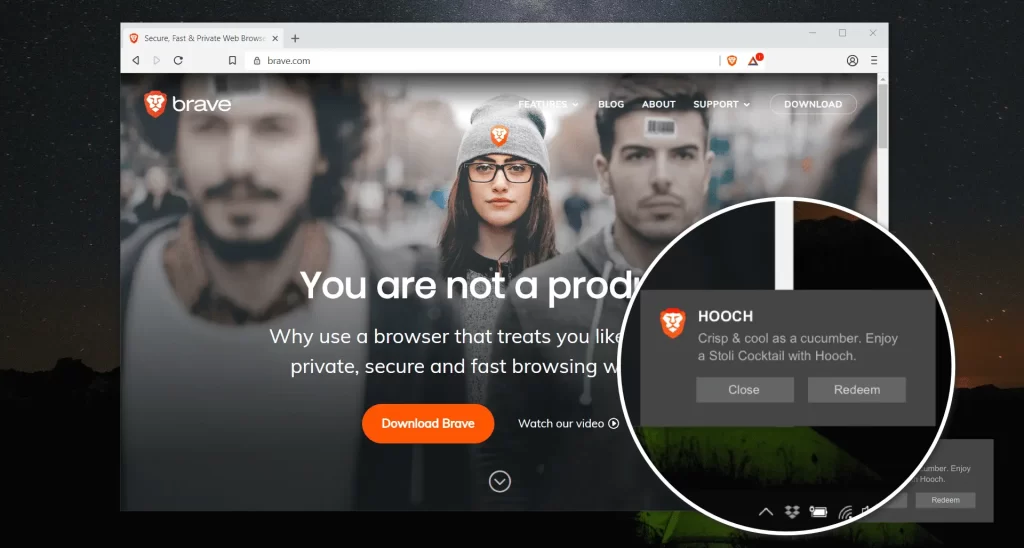 Ads can also appear on your new tab screen instead of your wallpaper. Although, this type of ad is usually gorgeous and non-disturbing in any way.
After installing your browser, you can turn on Brave rewards and ads in the settings or on the new tab screen.
Tap on the little triangle in the search bar on the top and click "Join Rewards." 
You'll be redirected to the settings, where you can switch the toggler to turn on brave rewards and start earning BAT.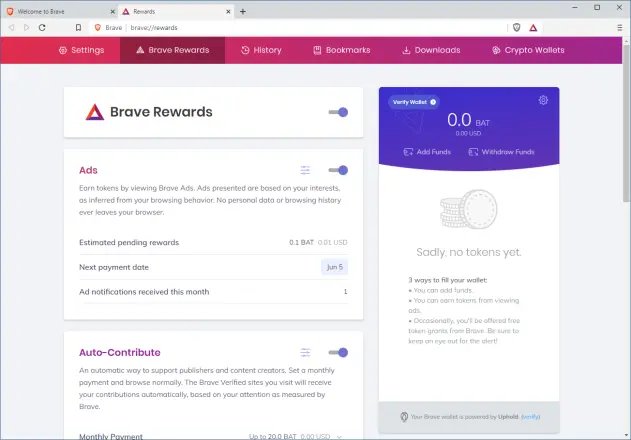 You can also set the maximum number of ads you want to see. To maximize your earnings, keep the setting at maximum, up to ten ads per hour. 
Also, note that you are not required to click on the ad to earn rewards. Once the ad pop-up you make a small amount of BAT. 
2. Earn BAT as a Content Creator 
You can join the Brave Rewards program for creators as anyone with a presence online. Whether you have your own website or are active on YouTube, Instagram, or Spotify… your audience can send BAT tips for your hard work.
This is an excellent method to add an extra income stream to your business, and your audience is basically not paying for the money they are tipping you. 
To start earning BAT as a content creator, you need to create an account on Brave Rewards for Creators.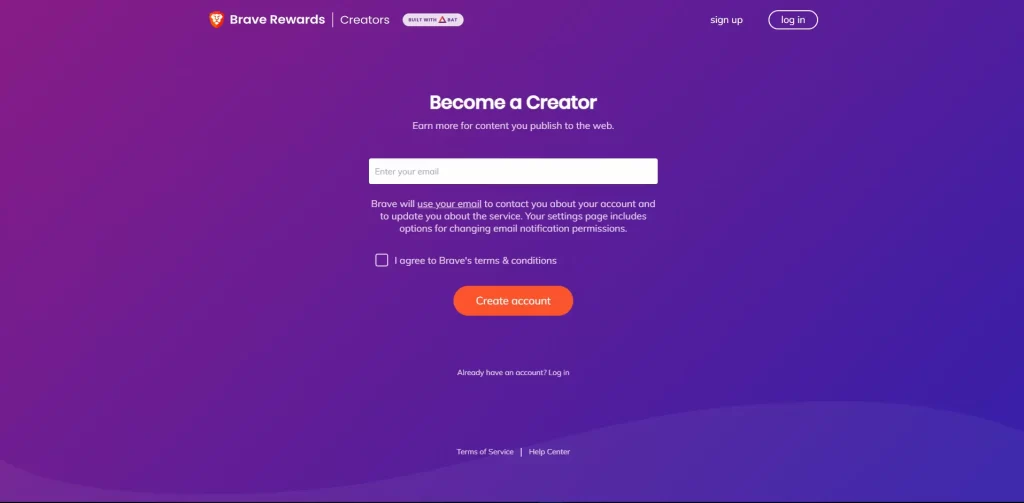 Once registered, you can add your site. It'll require you to verify ownership. On your own websites, you'll add a line of code to the root. YouTube channels and social media can have different verification processes. 
Once the site is verified, you can earn BAT by serving ads on your site. If you turn this feature on, the small pop-up notification can also appear during a visit to your site, or your audience can send you tips.
You can tell that a page is verified by the check mark next to the triangle representing Brave rewards. For instance, our site is verified for Brave Rewards, and you can send us a tip!   

3. Refer your fans to use Brave
Note: The referral program is currently on hold, and there's no news on when it's expected to relaunch.
When you sign up for a creator's brave rewards account, you are given a referral link to share with your fans and friends. Once someone uses your link to download Brave, you can earn up to $8, depending on your country.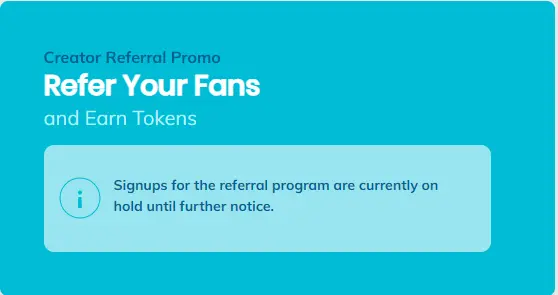 However, since the referral program is currently on hold, this earning option is out of reach. But as we speak with the community, this option used to earn the most. As one of the Reddit members mentioned in his response, he got $35 for just eight downloads.
How Much BAT Can you Earn with Brave
All jokes aside, let's talk numbers. So how much BAT can you expect to earn with Brave on a standard month in 2023?
First, let's say that the price of BAT, as well as any other cryptocurrency, is a subject of high volatility. Thus, the amount of FIAT you can get from it will vary significantly during the year.
The amount of BAT you can earn with Brave depends on a few factors. But most on your browsing habits. If you search a lot across the internet and use the search engine actively, you can expect to earn more than a person who just uses YouTube.
There are also some other factors. Your country will probably influence your earnings as well. But that's not provable. We talked to two people from California; one got 3 BAT, and the other got rewarded 27 BAT in the same month.
But these are two extremes on opposite sides.
Realistically, you can earn around 10-15 BAT per month with Brave in 2023 if you rely solely on ads. You can earn ten times as much if you have your social profile or website and sign up for the Brace Creator account. 
With the current price of BAT around $0.3, that's approximately $3 per month for free. Or $16 at the all-time high price. 
Once earned BAT meets your account, you can let it compound in an earning account. We have curated a list of the Best 5 platforms to stake BAT at to earn the highest APY that you can check out.
Note: Brave has updated its terms; from now on, only verified users can earn BAT. To verify your account, you have to connect Brave with Either Uphold, Gemini, or bitFlyer accounts. Unfortunately, not every country is supported, and there is a chance that you won't be able to earn BAT with Brave.
Conclusion
To earn BAT with the Brave browser, all you need to do is to use your browser. Really.
You'll get a notification once in a while that will earn you some money. The amount of BAT you can earn each month depends on various factors. But mainly on your browsing habits. Since the notification won't pop up if you don't search the web, it rewards you for your attention.
However, you can expect to earn anywhere from 10 to 15 BAT a month. Sometimes more, sometimes less, but this could be the average. You can also greatly multiply your earnings by signing up for the Brave Creator account.