While it becomes a norm for most platforms to ask for your social security number (SSN), many people still pause when they are required to. And Coinbase is not an exception.
When opening an account with Coinbase US, you'll need to fill in a form with your personal information. This also includes, besides your address and phone number, the last four digits of your social security number (SSN).
There are three primary reasons why Coinbase is asking for your SSN.
We'll discuss all three reasons and also answer the question of whether it is safe to give Coinbase your SSN in this article. Let's dive in!
Why is Coinbase Asking for the last four digits of your SSN?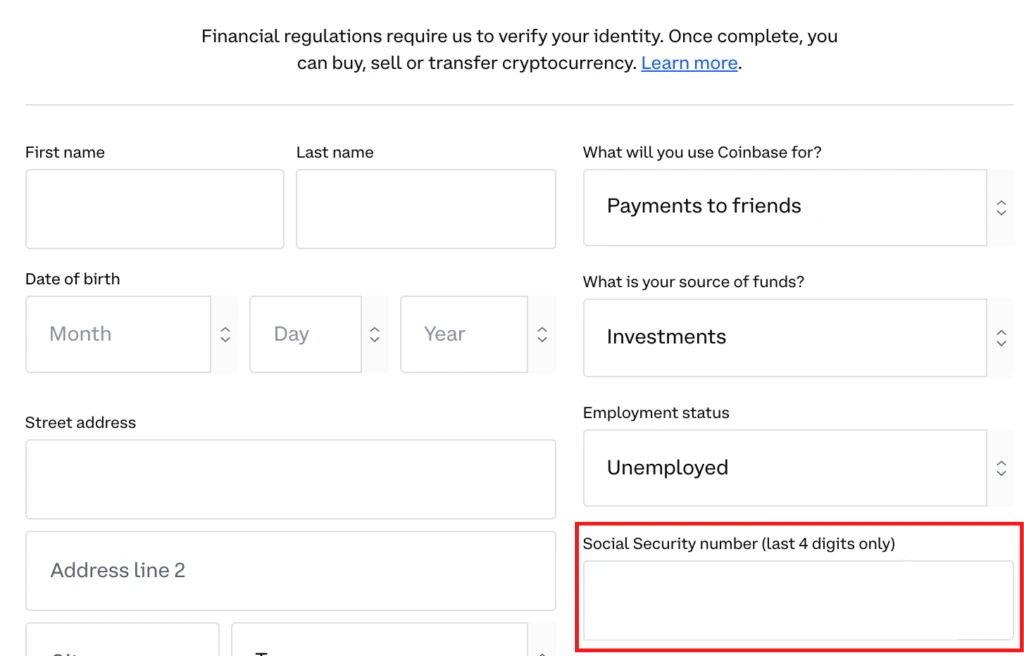 As was already said in the introduction, there are three main reasons why Coinbase needs to know your SSN. All three reasons mainly come down to the need for financial institutions to comply with federal laws.
1. Account Security and Verification
It's possible for anyone to forget their login details and be locked out of their account. After all, we are all human. But that would be quite unfortunate if there wasn't a way to regain access to your account.
When you are creating a Coinbase account, the social security number is used to connect the account to you as a person.
Firstly, the last four digits are used to verify that you are a real person and that your other personal information is truthful.
And secondly, if it happens that you can't get back to your account, you can reach out to customer support, and they can reacess your account by verifying your identity.
2. IRS and Taxes
As Benjamin Franklin said, nothing is certain except death and taxes. So it doesn't come as a surprise that the government wants a share of your gains. But unfortunately, won't help you cover your losses.
Coinbase, like any other financial institution, is required to report transactions and users that meet certain criteria to the IRS.
These criteria tend to change often, but the threshold is relatively low.
If you are one of the lucky users, each year in February, Coinbase will print and send its users an IRS Form 1099-MISC that includes info about their profits for the past year. Coinbase also sends a copy of this form to the IRS.
And the SSN is used to identify the Coinbase gains with you personally.
3. Anti-money Laundering Laws
Money laundering is an illegal process of making "dirty" money appear clean by disguising the source, ownership, or destination of the funds, often through a series of transactions.
And many criminals see the decentralized nature of cryptocurrencies as a way to launder money. Mainly by moving the funds through multiple anonymous wallets to blur the trail and source and finally cashing out through one of the exchanges.
By holding SSN for every account, Coinbase can report any suspicious behavior in this matter.
Is it Safe to Give Coinbase my SSN?
Yes, it's considered safe to give your SSN to Coinbase.
Opening an account on Coinbase is actually no different than opening a bank account. And it is also regulated in a very similar way.
But make sure you're signing using the real Coinbase. There are many websites that might be impersonating exchanges with the aim of getting your personal information.

Make sure the URL starts with https and that you can see the little lock beside the website link. Also, check that the URL really spells coinbase.
Are there Exchanges that don't Need your SSN?
Apart from centralized exchanges, there is another model which you can use to carry out your transactions. That's decentralized exchanges or DeX.
On decentralized exchanges, there are no limitations in the term of your trades. All you need to do is to fund your wallet.
But when it comes to centralized exchanges, there are some CeXs that don't require users to provide their social security number (SSN) for identity verification, but they may have other requirements or limitations.
For instance, you can use KuCoin without completing KYC verification. But your account will be limited.
KuCoin comes with three verification levels. On the unverified level, you can't use FIAT for your trades, and it has a withdrawal limit active with a limit of 1 BTC per day.
But you should be careful when using KuCoin in the US, as it isn't licensed to operate there. So you can't even verify your identity there. And the government can step in at any time and shut the site down.
Conclusion
Coinbase needs your SSN to secure your account better and for tax and anti-money-loundering purposes.
While providing your SSN is generally safe, as they use some of the finest tools to protect your account, it's important to be cautious of scams and phishing attempts.
So always make sure you are using the real Coinbase website.