OpenSea has changed its policies effective from October 4, and now all unverified collections are hidden by default. NFT gets automatically hidden, mainly in the situation when another creator mints the token directly to your wallet.
Receiving an NFT, you didn't purchase doesn't always mean your wallet has been compromised. You can just be the lucky user that got airdropped. But sometimes, scammers can send you NFTs that entice you to check out what you got, but the NFT listing contains links to malicious websites.
To protect you against potentially malicious scammer practices, OpenSea will move these NFTs to the Hidden tab. Then you can easily unhide your NFTs on OpenSea, but it should give you a clue that something's not right.
You can think of the Hidden tab on OpenSea as a spam folder inside your email client. Sometimes, legitimate NFTs will appear in the Hidden tab, but you keep using the spam filter because most dangerous emails (NFTs) get caught.   
This article will teach you how to hide and unhide your NFTs on OpenSea, and we'll also discuss why it's better to leave some NFTs hidden. Let's get to it!
Why Keep some NFTs Hidden on OpenSea
There are also a couple of other reasons people hide their NFTs on their OpenSea profile, apart from hiding malicious ones. 
The only downside is that you won't be able to sell your NFT, but there are many more positives. 
NFT Contains Personal Information
Many of us think of NFT as a drawing, a work of art. But NFTs are a lot more than that. 
Since NFTs are unique tokens (Non-fungible tokens), they can carry sentimental value forever. NFT embody something more than just having a picture of your kid saved on the Google Drive Cloud.
That's why some people turn to mint their personal information, explicit photo, or something else on the blockchain.
However, once you connect your wallet to OpenSea, all NFTs become visible. This could be dealt with by either having a separate wallet for those NFTs or hiding it on OpenSea.
Everybody Can See your Worth
If you own an NFT and publicly display it on your profile, anybody can see how many NFTs you have and estimate their value.
For instance, anybody can estimate that you have a lot of money if they can see multiple CryptoPunks on your profile, which are sold out and are trading for floor 60ETH.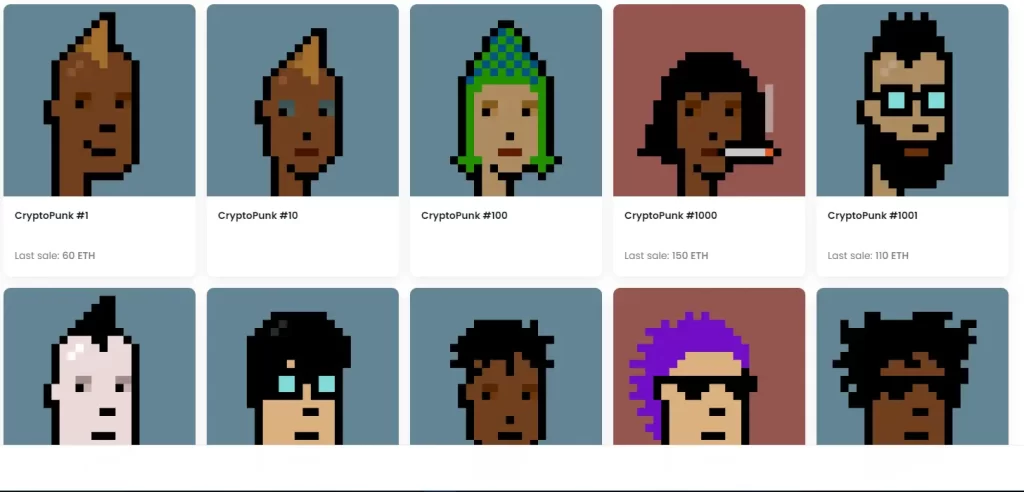 However, hiding your NFTs, in this case, isn't bulletproof since anybody can see all the tokens you own on the block explorer. But it's a lot harder to estimate the value.
People Can Spam your Address
Spam attacks were why OpenSea started moving airdropped NFTs to the hidden tab. This happens mainly on the Polygon network since people can send dozens of NFTs and pay just a couple of dollars in gas fees.
Creators started using this black hat technique to promote their collections with the goal of, somewhat artificially, increasing their value. 
And some of these collections aim to mislead people and steal their crypto assets and NFTs. 
How to Hide NFTs on OpenSea
1. Log in to your OpenSea profile
To get to your OpenSea profile, first, unlock your crypto wallet of choice and head to https://opensea.io.

Tap the wallet icon in the top right corner and select a wallet you want to connect. Also, ensure you have the correct network selected within the wallet.
Then you can select one or more accounts to connect and sign the connection. 
It's an easy process with MetaMask and other extension-based wallets, but you can also connect solely mobile app wallets via WalletConnect. 
If you need more help, here is a guide on how to connect a browser wallet, like MetaMask, to OpenSea, and how to connect using WalletConnect.
2. Navigate to your profile page
You will find a button beside the wallet icon to go to your profile page. There are three different tabs – collected, created, and favorited. 
These tabs, except favorited, will display all your publicly-viewable NFTs on OpenSea. 
3. Hide NFT on OpenSea
On the bottom corner of the NFT, you want to hide, you'll see three dots. Tap that, and a new drop-down menu will appear.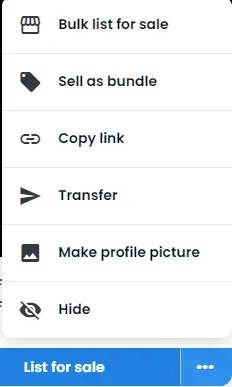 You'll see a few different options, including the "Hide" button. Tap it, and your NFT will be moved to the hidden items.
How to Unhide NFTs on OpenSea
Ready to show off your NFTs to the world again? To unhide your items, we'll once again start on your profile page, get to the bit hidden, hidden tab, and unhide it. 
1. Open your Profile Page and Access Hidden Tab
On your profile page, you can see the three menus we already mentioned, but under the "more" button, there is more to explore.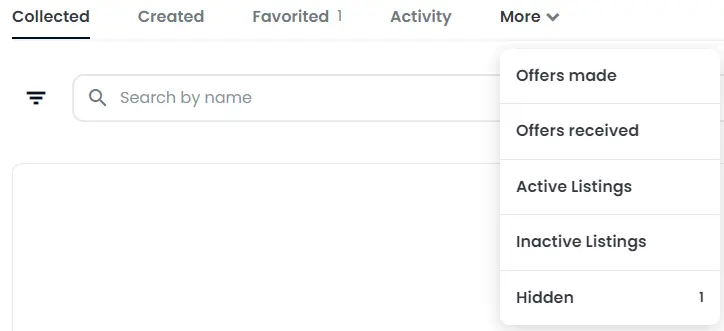 Including the "Hidden" tab. That's the one we are looking for; click on it.  
2. Unhide NFT on OpenSea
The process is quite the same now. Select the three dots you can find on the corner of your NFT piece you'd like to unhide.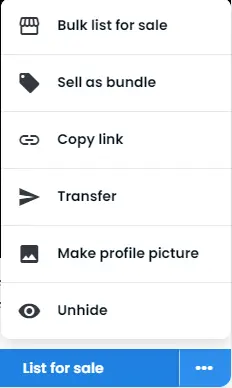 Unhide your NFT by tapping "unhide." 
Conclusion
Hiding and unhiding your NFTs on OpenSea is easy; navigate to your profile, select three dots beside the NFT you wish to hide/unhide, and tap the button that does that. 
But keep in mind one crucial thing; blockchain is public. Although it is safe to publicly give out your wallet address, anyone can see the content of your wallet through block explorers. 
If you're wondering what others can see through block explorers, then almost everything. We have made a comprehensive guide on using block explorers, which you can check out. 
Read Further
How Does OpenSea Make Money ($100 million a month)
The Perfect OpenSea Banner Size + Template for Download
How to freeze Metadata on OpenSea and How Much it Costs