If you ask anyone about blockchain games, the first game that will likely cross their mind is Axie Infinity.
You can find Axie Infinity in the top 5 games by market capitalization at all times. People simply love it. Apart from fun gameplay and great staking yield, there are many ways to earn. And breeding Axies is one of them.
In this article, we'll give you all the needed information to start breeding in Axie Infinity – How to and how much does it cost to breed Axie and calculate whether or not it is profitable to breed in Axie Infinity.
What is Breeding in Axie Infinity
Axie Infinity is a competitive game with an idle battle system, where your creatures, called Axies, fight with each other.
On the launch of the game in 2018, only a limited amount of Axies were minted, and players were able to purchase those from the market.
After that, the supply of creatures is dependent on creating new ones by breeding. Newly created Axies can fight by your side, or you can sell them to the market, taking profits.
To start with, in the breeding process in Axie Infinity, players will need two fertile and compatible Axies.
Fertility is an important part to avoid hyperinflation of Axies. As if players could breed their creatures indefinitely, even the best traits would become worthless simply because there would be too many of them.
So each Axie has a maximum amount of times it can be bred before it becomes sterile. This number is set to seven.
Also, each time you breed an Axie, the price for the next breeding raises.
How Much does it Cost to Breed Axies
To breed your Axies, you need both native tokens – SLP & AXS.
SLP, or Smooth Love Potion, is earned by simply playing the game. You can earn SLP by competing with others in the arena. Previously also, the adventure mode used to award players with up to 50 SLP per day, but the devs decided to scrape this option at the beginning of Season 20.
On the other hand, AXS is the governance token, and the only way to earn it through gameplay is to rank high on the leaderboard. So you'll need to buy it, at least for the first few breedings. AXS is also used for staking and voting.
When it comes to the question of how much does breeding cost, as was already said, the amount you must pay is gradually increasing until your Axie becomes sterile.
| Breed Count | SLP Cost | AXS Cost |
| --- | --- | --- |
| 1 | 1 800 | 0.5 |
| 2 | 2 700 | 0.5 |
| 3 | 4 500 | 0.5 |
| 4 | 7 200 | 0.5 |
| 5 | 11 700 | 0.5 |
| 6 | 18 900 | 0.5 |
| 7 | 30 600 | 0.5 |
| Total | 77 400 SLP | 3,5 AXS |
Please note that this table is composed as you would breed two Axies with the same breed count. If you breed an Axie with two different breed counts, the numbers will be lower.
As you can see in the table above, you'd need 3,5 AXS to fully breed one pair of Axies. That comes at around $40.
When it comes to SLP, you can earn those tokens fully from gameplay if you do not want to spend any more money. Or if you'd fully bought those tokens, it would cost you around $260.
How to Breed Axies in Axie Infinity
The breeding result is based on the genes of the two parents.
Each Axie has a total of 6 sets of genes based on 6 body parts: eyes, ears, horn, mouth, back, and tail. And each of the body parts adds stats depending on the class of the part.
And each of the body parts has 3 genes:
Dominant (D)
Recessive (R1)
Minor Recessive (R2)
And every one of these genes can be passed down to the offspring.
Based on the traits, decide which two Axies you want to breed. But keep in mind that you can't breed an Axie with its parents or siblings.
Navigate to inventory and select one of them and tap the "breed" button. Then a new window will open, where you must select the second Axie and confirm the process.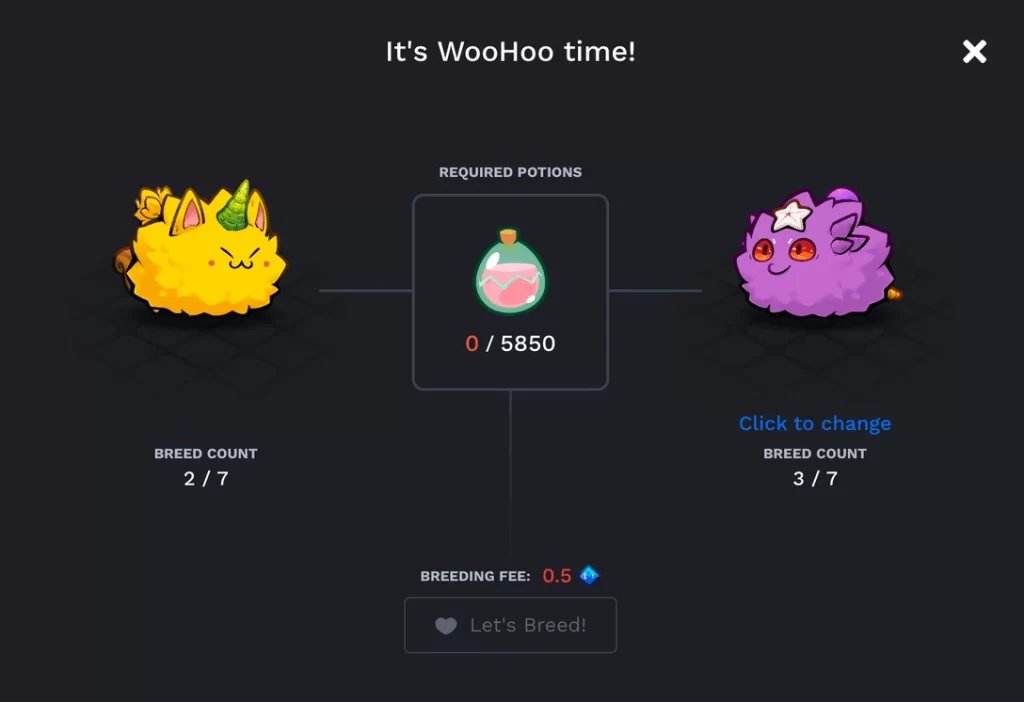 The full process takes five days. First, you'll get an egg. This egg will hatch, giving you a larva. And five days after breeding your Axies, your new battle companion is ready for battle.
Is Breeding in Axie Infinity Profitable
Breeding in Axie Infinity is, iIi theory, profitable for whichever two Axies you choose. After all, no one would sell something on the market if they lost money in that trade. This is true, at least, if the two Axies have zero breed count.
That's also given to the fact that each new Axie will likely get a new mutation that is not inherited from its parents, which highly raises its price.
There is one handy tool that simulates the breeding result and can tell you how profitable your breed will likely be. You can access it here.
Just paste in two IDs of your Axies and tap breed so you get an idea of the expected outcome.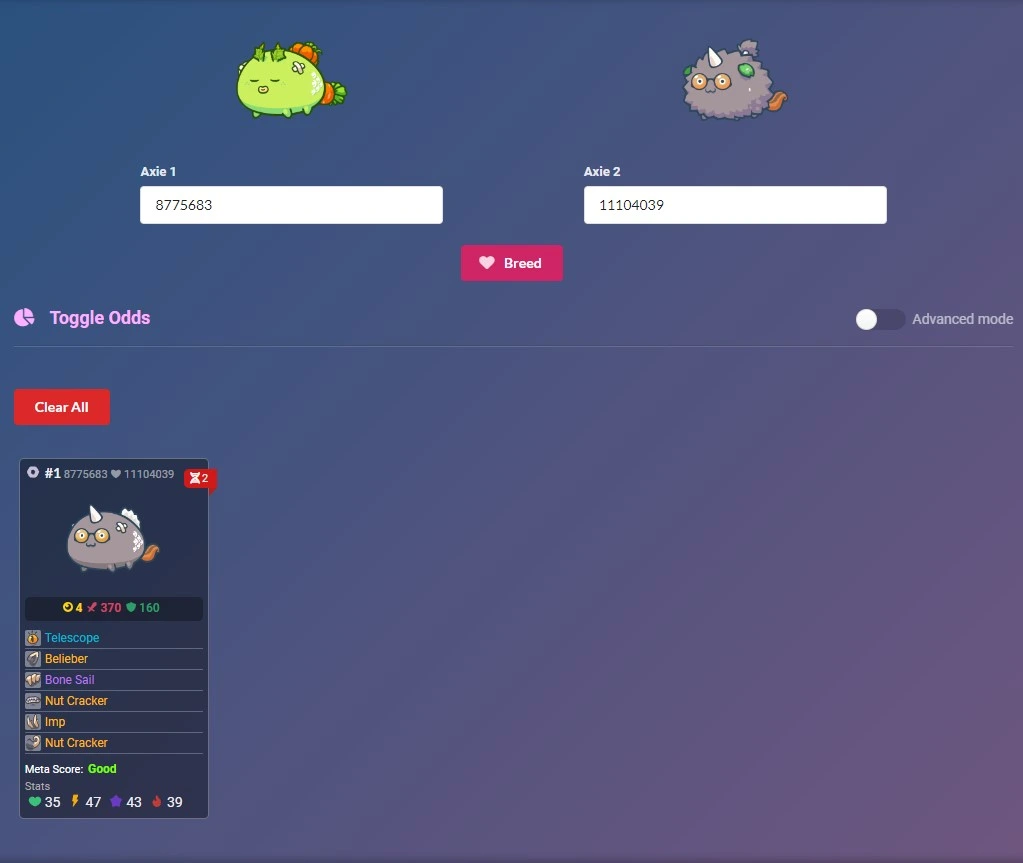 Then you can visit the Axie Infinity marketplace to check whichever of your genes are expensive to get an idea of the price.
Conclusion
Breeding in Axie Infinity is the process of creating new creatures called Axie. By that, you are essentially minting new NFTs to the blockchain, so it comes with a cost.
The process of breeding costs both native tokens – SLP and AXS. But in theory, with a little precaution, breeding should always be profitable.
Once you have bred your first few Axies and your eggs have finally hatched, you can check out our guide on How to sell Axies and quickly realize some profits.
You can simply take those profits by selling your Axies to other players through the built-in marketplace.