Suiet wallet is a wallet built for the Sui blockchain, with a very easy-to-navigate design, suitable for every beginner.
The biggest issue with small networks and wallets like this one is that there are a lot of scams. But Suiet Wallet is completely open-sourced, and you can even launch it in your own environment.
As it became a standard, crypto wallets are locally locked behind a password of your choice. And it's no different with Suiet Wallet.
But what if you have lost your password? Then you'll have to reset it.
In this article, we'll take a look at how to change your current Suiet password and also how to reset it in case you forgot it. All this will take you just under a minute, so let's dive in!
How to Change Suiet Wallet while Logged In
In case you're still logged in to your Suiet Wallet, you can change your password directly from the extension. We'll need to navigate our way through loads of settings, so bear in.
Step 1. Unlock Suiet Wallet and Go to Settings
In case you are not logged and know your password log in to the extension. You'll then land on your dashboard.
From there, you need to access the settings. Simply tap on your account in the top left corner, and a sidebar with all available wallets will pop up. Then tap the gear icon.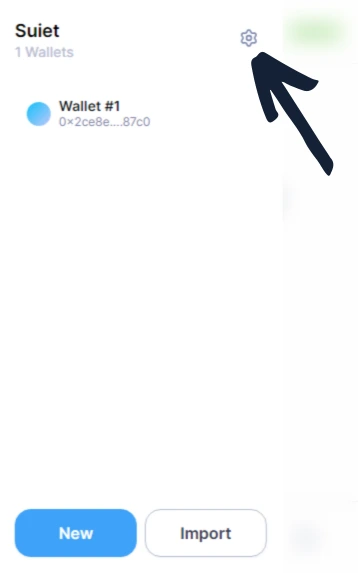 Step 2. Go to Security
Next, scroll your way through the options on the setting page until you came across Security. Select that.
Step 3. Tap "Update Password" to Change your Suiet Password
Right when you arrive at the security page, the first option you'll see will be the "Update Password" button.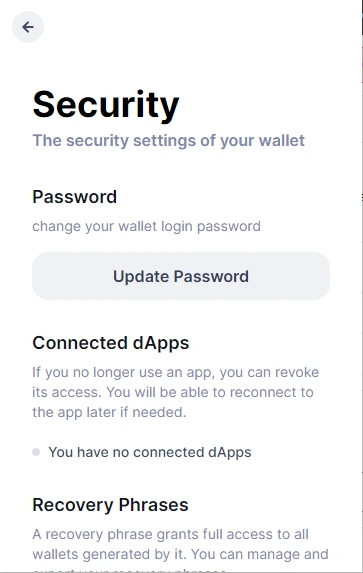 Then enter your current password and set a new one. And you are all set! In our opinion, Suiet Wallet is very beautifully designed that you always find your way through!
How to Reset Suiet Wallet Password
When you don't know your Suiet password, things are a bit more complicated. In that case, you need to know the recovery phrase – without it, your wallet is lost. If you know your password, but you are reading this, go check that your seed phrase is correctly written down!
Step 1. Launch the Extension and Select "Forget Password"
When you are launching the Suiet extension, you need to enter the password, which secures your wallet locally on your device.
In case you don't know the password, right below the window, there's a "Forget Password?" button. Select that.
Step 2. Reset Suiet Wallet
Suiet will then warn you about the consequences of this action.
Crypto wallets are always on the blockchain. They can't get deleted and are accessible from every crypto wallet that supports the given network. That's what the recovery phrase is for – simply said, it allows the wallet to interact with the wallet address.
Type "RESET" in the given box and hit "Reset Suiet."
Step 3. Import your Wallet Back using the Recovery Phrase and Set your Password
When you reset your wallet, you'll be put back on the first screen you saw when installed the extension. Here are two options, to either create a new wallet or import a wallet. You want to select to import a wallet.
Now, you need to enter your Suiet Wallet recovery phrase exactly in the order you got it. It's important to include all the words in the exact order.
Once you are done, click "Confirm and Import." If you've done everything correctly, you'll be pushed to another page where you can set your new password.
At this step, the most important thing is to set a password that you'll remember. To be honest, it really doesn't matter how strong your password is – it's used only for local access. So the only way someone can access your wallet with that password is from your computer.
If you want to learn more about the stuff going on in the background, you can check out our detailed article on How MetaMask Stores Data, Keys, and Seed Phrases since every non-custodian wallet will work in a very similar way in this realm.
Bottom Line
Changing the Suiet Wallet password is quite easy, at least as long as you know your current password. In that case, visit security settings and select "Update Password."
If you forgot it, you still can access your wallet and set a new password by resetting it using your seed phrase. In this case, reset the extension and import your wallet using the recovery phrase.