Axie Infinity is pretty unique. You can't play the game with tokens outside the ecosystem of the Ronin network. This also means that you need to have a wallet that supports Ronin, and that's, at this moment, only the Ronin wallet.
To get your tokens in there, you must bridge them. Cross-chain bridge can help you take advantage of multiple networks by taking a token on one network and swapping it for the same token on another network. For instance, Ethereum on the Ethereum network for Wrapped Ethereum on the Ronin chain. And that's exactly what you need to do to buy your first Axies.
And for all this, we'll use Ronin Bridge.
In this guide, we'll take a deep look at how to use Ronin Bridge. After all, effective use of this cross-chain bridge is needed for every aspect of the game.
What do you Need to Use Ronin Bridge
In all use cases, you'll need to have two wallets.
You must have the Ronin Wallet installed. Although some exchanges offer the Ronin network as a route to withdraw and deposit tokens, Ronin Bridge doesn't allow to use any other wallet than its own for this.
The second wallet has to have an Ethereum network. That's pretty much every wallet on the market. So it doesn't matter whether you are withdrawing to your non-custodial MetaMask wallet or you want to withdraw directly to your exchange and cash out.
If you wish to see how you can withdraw directly to an exchange and from there to your bank account, check out our guide on How to Cash Out SLP & AXS.
But that's when cashing out. When you are depositing to the Ronin network (= bridging from ETH to Ronin), the app doesn't give you any other option than to use the MetaMask wallet.
Let's summarize this section:
Section Summary
In all use cases, you have to use the Ronin Wallet
If you wish to make a withdrawal from the Ronin network to the Ethereum network, you can use any wallet in addition to the Ronin Wallet
In case you want to deposit to the Ronin network, you have to make the deposit from the MetaMask wallet
How to use Ronin Bridge to Make a Deposit
Let's first take a look at how to make a transfer from the Ethereum network to Ronin.
To get started, download, install, and configure both Ronin Wallet and MetaMask. You can get both wallets from the web store of your browser. When creating a wallet, don't forget to properly write down your seed phrase! As a final step in the preparation phase, you'll need to fund your MetaMask wallet.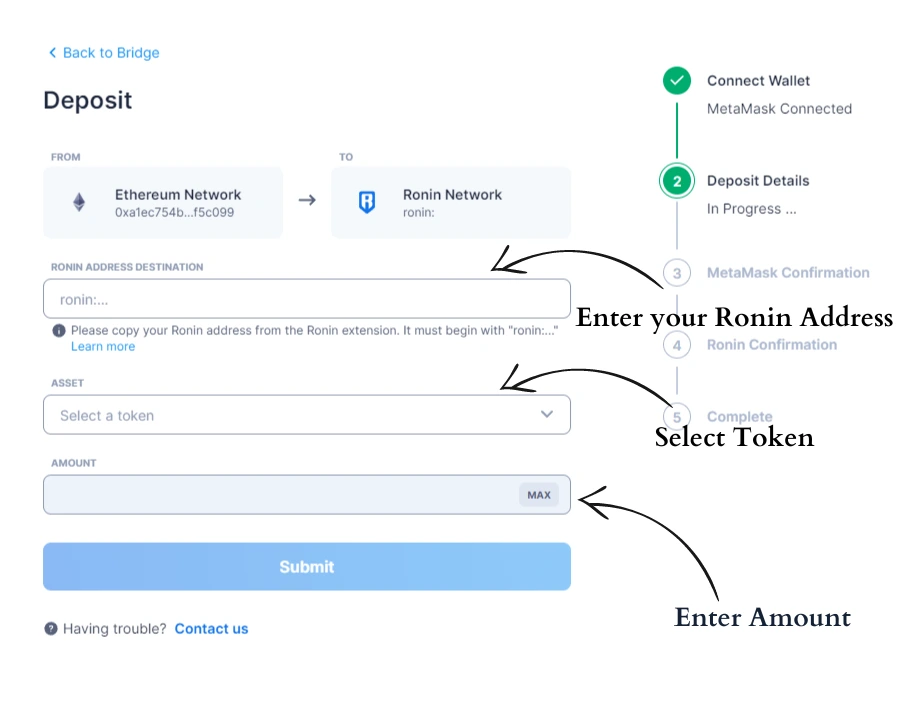 Once you're ready, visit the Ronin Bridge and select the deposit option. You'll be asked to approve the connection of your MetaMask wallet.
On the next page, enter your Ronin address. This can be obtained from the extension, in the upper part of it.
Then select the token you want to transfer. You can choose ETH, AXS, SLP, or USDC.
And finally, enter the amount to transfer. Keep in mind that you'll have to pay gas fees in the process, so don't transfer everything you got. Then confirm the transaction in your wallet, and you're all done!
How to Withdraw from the Ronin Wallet
Here you have more options than just Ronin <-> MetaMask. You can select and enter whichever Ethereum address you want.
And that's the first task – get your wallet address. If you are withdrawing to MetaMask, simply open the extension and copy the address from the top. In other cases, you'll have to work around with your specific wallet or exchange.
With the address copied, go to Ronin Bridge and select Withdraw.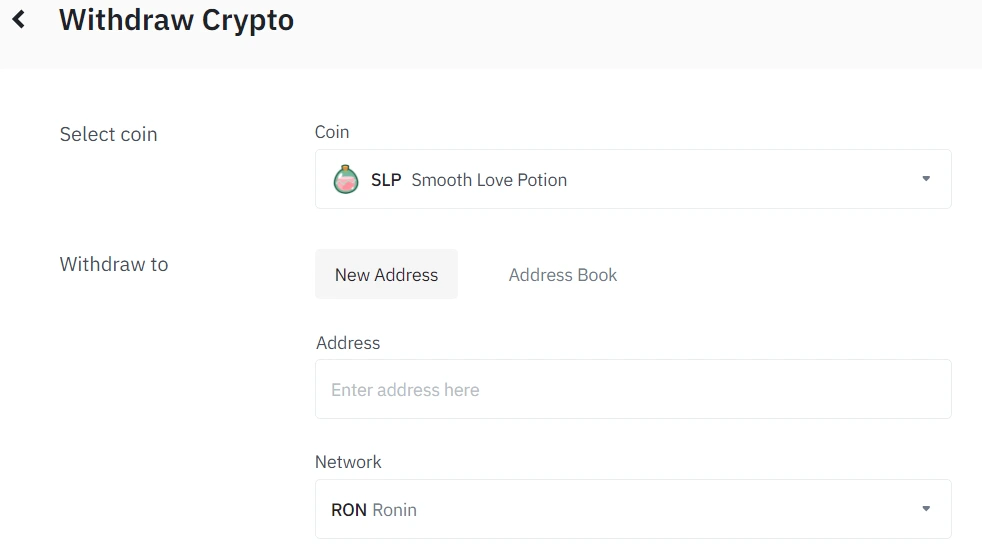 Then, paste in the wallet address you copied earlier, select the number of tokens to withdraw, and confirm the transaction.
The withdrawal from Ronin Wallet should be completed in just a few minutes.
Bottom Line
Withdrawing or depositing through Ronin Bridge is easy. All you need is just a few minutes of your time and two different wallets – Ronin Wallet to hold tokens on the Ronin network and, second, Ethereum Wallet.
If you are withdrawing from Ronin, your second wallet can be whatever, even an exchange wallet. In case you want to deposit through Ronin Bridge, it won't give you any other option than to use the MetaMask wallet.
Then simply enter the amount of tokens and confirm the transaction. And you're all done.