"Korvio wallet is one of the best wallet in cryptocurrency world…" that's the beginning of the official description of Korvio wallet, which you can find on the Google Play Store. Well, we wouldn't say it's the best, as some skeletons are hidden in the closet.
From the fact that the wallet looks like it was created by a high school student to suspicions of financial fraud happening in the background.
This is an honest review of the multi-chain wallet Korvio. Although highly negative views made an impact on us, we tried to put all biases aside and form our own objective opinion. Even so, Korvio wallet did not make a positive impression on us. But let's review the self-proclaimed best multi-chain wallet in the world; Korvio.
Korvio Wallet Overview
Korvio wallet claims to be the best multi-chain wallet, with interesting features that give it a competitive advantage. This includes zero broker fees, easy registration, and global system and security.
It's also fair to say that the product description and the website is in poor English. Or rather, it's written grammatically correctly, but it doesn't make much sense. An example of this can be:
The purpose of multichains is to enable the decentralized aggregation, ordering, time stamping and archiving of any type of information, including structured data, correspondence or documentation.
As people familiar with blockchain technology, we can see a bit of sense behind this, but truly barely. It seems like whoever created this wallet is trying to sound really professional, but in reality, it has quite the opposite effect.
We are not sure how easy registration makes an advantage. An advantage is to be a real non-custodial wallet, which Korvio claims to be. However, with the need to register with an email address, it seems suspicious.
But let's go back to the beginning. Korvio is available as a web wallet or for mobile devices with Android OS. Why the app isn't available for iOS is unclear, but it probably didn't fulfill all the security requirements made by Apple.
After you open the app, you must sign up using an email address and a password. Once again, Korvio claims to be a non-custodial wallet, but it offers a few options to recover your wallet even without the recovery phrase. Weird.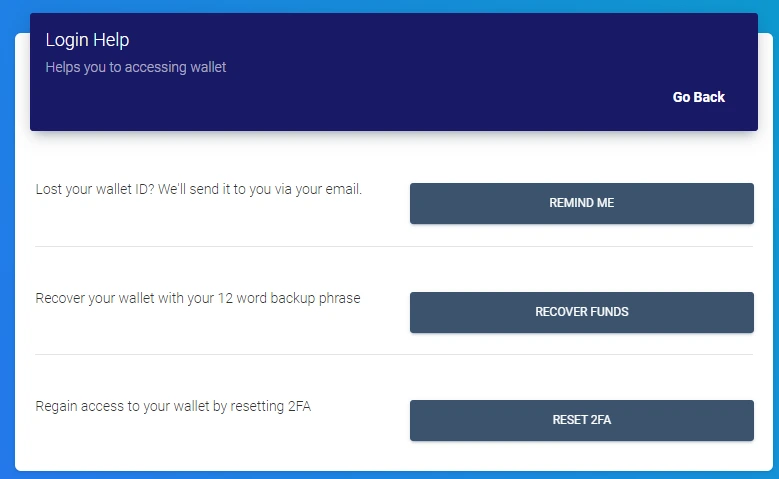 After you have signed up, you'll need to remember a long and confusing Wallet ID to log in to the app every time. This is inconvenient in the slightest, as there is no option to "Keep me signed in" or "Remember my Wallet ID."
Korvio Wallet Design
Now, let's take a review Korvio wallet user interface. The wallet went with a really simple 2 color design, issuing white and blue.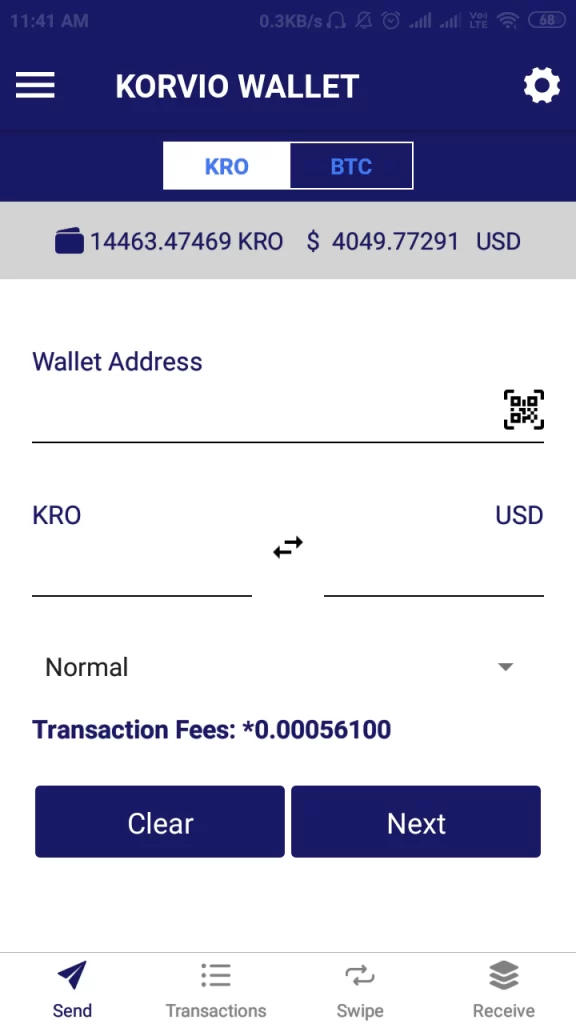 The person in charge of design may have saved themselves some work, but for an app, you should trust your money, it looks cheesy.
There is also an omnipresent bottom bar including 4 basic functions of the wallet.
Send
Transaction history
Swipe, which supposes to be "Swap"
And Receive
Korvio Wallet Security; A really Fishy Security
If you are looking for a crypto wallet, its security should be the first thing you examine. Although, Korvio says on their website that they provide the "best data security," something really fishy is going on.
Should Non-custodial Wallet be Custodial?
A non-custodial wallet is a wallet that allows you to own and control your private keys. That's, for instance, MetaMask, where you can easily export your private keys, and when you lose your recovery phrase and private keys, there is no way to recover your funds.
And Korvio really does give you a seed phrase during the creation process, but we didn't find an option to export your private keys.
Also:
Korvio wants you to register using your e-mail and offers a few options to recover your wallet without using your recovery phrase. How a wallet that doesn't keep a record of your private keys has the option to recover your wallet?
When you take a look at the Korvio Terms and Conditions, there is one really interesting sentence:
We may terminate or suspend your account immediately, without prior notice or liability, for any reason whatsoever, including without limitation if you breach the Terms.
They can terminate your wallet without access to it? Seems about right.
A Coin Resembling a Multi-Level Marketing
Now, let's take a look at Korvio's own coin called KRO. There are also several red flags associated with this.
First of all, the coin isn't offered publicly anywhere. Nor on exchange or dApp. But it's offered exclusively to the users of this wallet. Just to be clear here… since the coin isn't listed anywhere, it doesn't have any real value, as there is no supply and demand behind this coin. And even if there was a hidden supply and demand, the price is fully controlled by Korvio. And the coin is currently valued at $10, according to Korvio.
But here is where it gets interesting. It guarantees a 4% weekly return and a 10% referral commission. Basically, make people pay for a non-existent coin, and we'll give you 10%. It can distantly resemble an MLM or Pyramid scheme.
A second interesting thing about this coin and Korvio wallet is that the wallet offers just one wallet for both Bitcoin and KRO, which is technically impossible.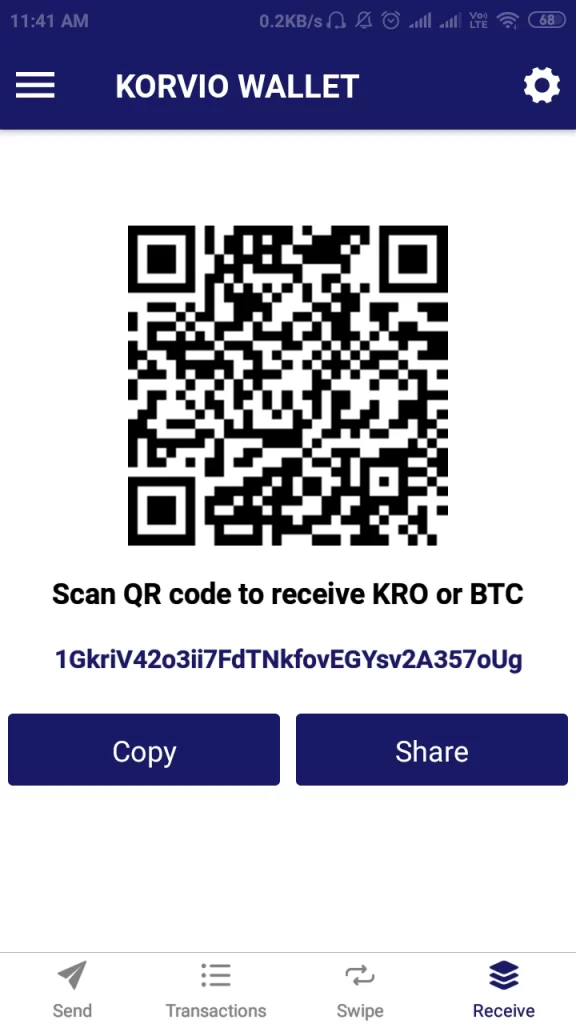 The non-existence of this coin is also not indicated by the unavailability of the KRO explorer at the time of writing this Korvio review.

But using a web archive, we retrieved the last version of this page from 20th April 2021. There were a couple of transactions visible. Once we opened one of the transactions, we could actually see the receiving wallet and the content of the transaction.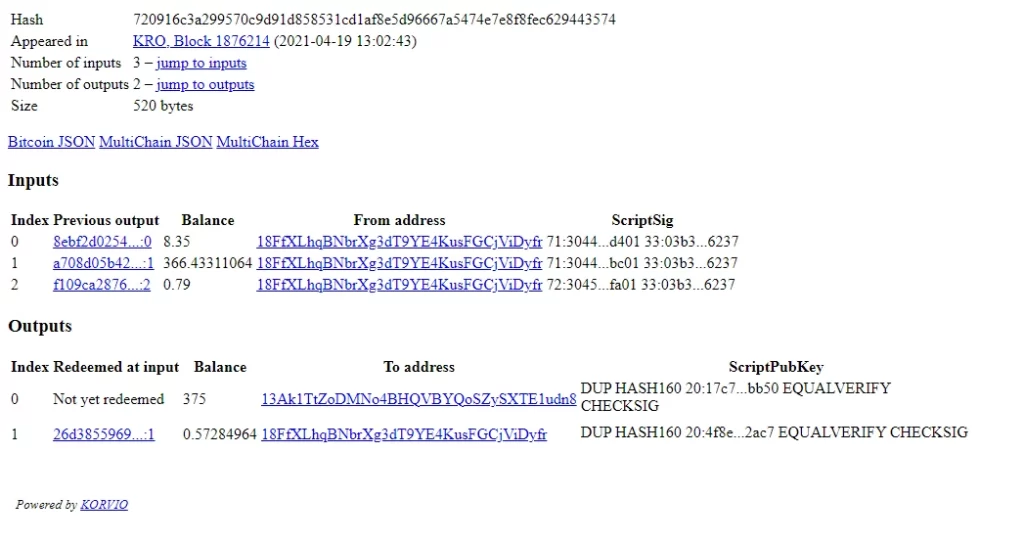 If we opened one of the transactions on a proper block explorer, it didn't show any transaction that day. Not even in that year. That's justifiable if these transactions are really internal transactions on the Korvio network. But who knows?
Korvio Users Reviews
The users of this wallet also don't hold a positive attitude. All the users seem to share the same story. They bought KRO using Bitcoin, but when they tried to swap it back; KRO to Bitcoin, the transaction went through, but there wasn't any impact on the wallet content. It seems like the app only auto-generates a transaction ID, which doesn't lead to any actual transaction.
That's what a user under the nickname dhruv dogra also says:
Swapping kro to btc is a real problem.Kro is getting debited to some other auto generated id, but in turn bitcoin is not getting credited. This is big isssue which has to be resolved. Otherwise this app is working only on cash transactions. There is no way to convert it elsewhere.
Conclusion
This Korvio review was, in fact, really different. It was more like an investigation, and we really enjoyed finding all the dirt on this supposed-to-be secure, non-custodial wallet. Because even though we tried, there were no good aspects to be seen.
We also contacted their support via email, as we would love to see their point of view. But the message came back as undeliverable.
In conclusion, we do not recommend using this wallet. Even a single red flag on a crypto wallet should mean a big no. And here we have several.
There are many great crypto wallets on the market, so there is no real to choose Korvio in particular.
Although we read many negative comments about this crypto wallet, we tried to keep an objective attitude during this Korvio review. But it was hard since there are not many nice things to say about this self-proclaimed best multi-chain wallet in the world.
It seems like not only it has a very cheaply looking design and only a few really basic functions every wallet has. Korvio also tries to hide some scammy-looking things in the background.
You can read the complete analysis in the review, but summarize, the wallet is not open-source, and although it claims to be a non-custodial wallet, it applies very fishy practices. Also, for the uninitiated users, their coin, called KRO, might seem like MLM or Pyramid scheme. Thanks to big promises and affiliate commissions.