Binance NFT Marketplace opened up Minting Access for everyone on the first of July 2022. Now, in a few easy steps, you can mint your own NFTs on the Ethereum network or the Binance Smart Chain. Which will be appreciated by all Binance fans. From now on you will be able to have everything on one platform. This new feature lowers the barrier of entry into the world of NFTs.  
We will look into this cool new feature and its requirements in this article. Let's get started!
Binance NFT minting requirements
This feature is open to everyone with a fully verified Binance account. Therefore, if you have already traded on Binance, this feature is available to you. 
If not and you would still like to use Binance NFT Marketplace then there is nothing easier than to create a new account and confirm your identity.
The second requirement may be a little harder for some. You will need 5 followers on your Binance NFT profile. I'm not sure why Binance added this extra requirement. Most likely to get more people on the Binance Marketplace and to avoid spam just a bit.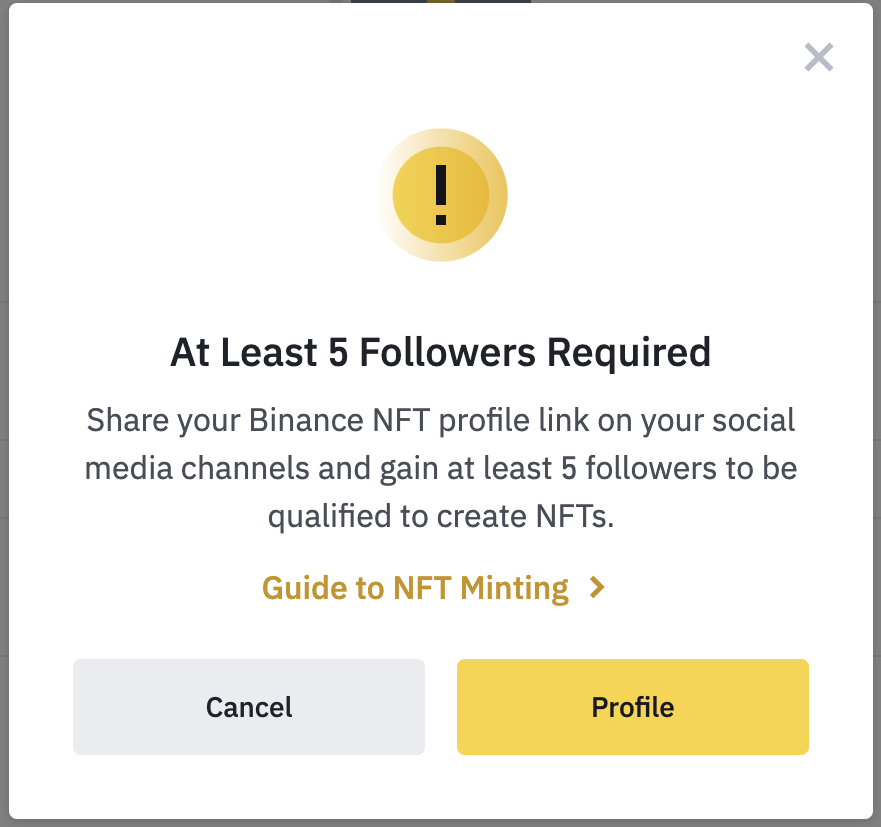 Maybe in the future, I would also like to try creating an NFT on the Binance NFT Marketplace. But to make it possible, I'd like you to follow me on my Binance NFT Marketplace profile.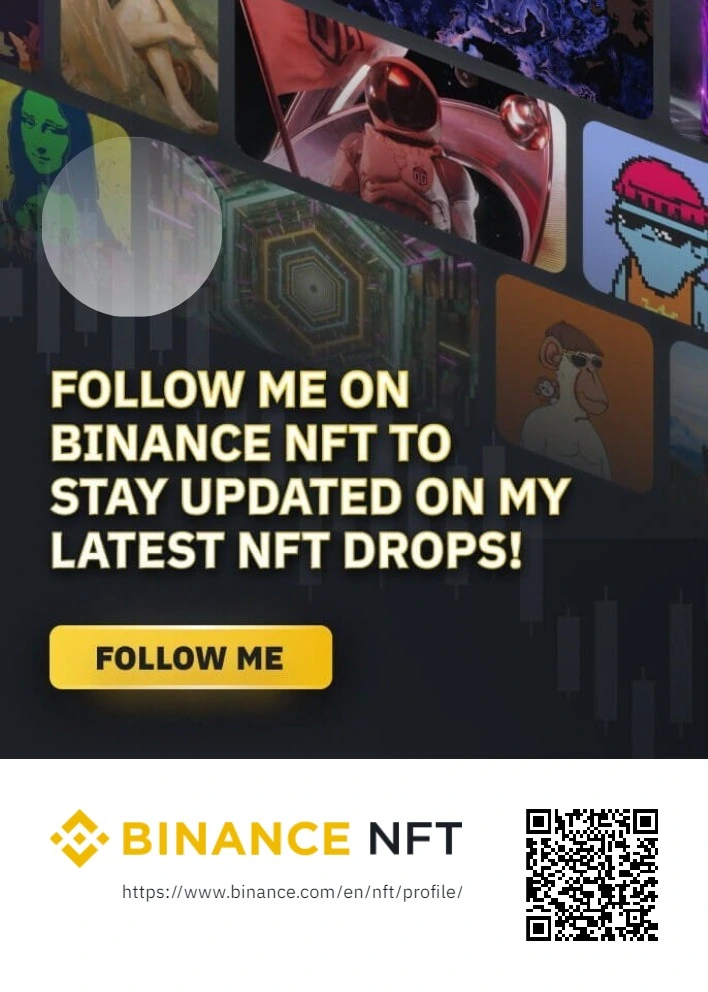 How to Create your NFT on Binance Marketplace
After you have successfully gained 5 loyal followers you can mint your first NFT. Make sure you have enough BNB or ETH balance in your wallet to cover fees. BNB when minting on the Binance Smart Chain or ETH when minting on the Ethereum network. 
First, you will need to create an NFT collection. A collection is a list of NFTs that share a characteristic feature of your choice. When creating a collection, you will need to select:
Collection name
Description

Disclose what your collection is about. 

 Category

You can choose from several categories such as Art, Sport, Gaming, Esport, Entertainment, and more…
 Logo and Banner Image
Network

Select if you want your NFTs to be minted either on the BNB smart chain or the Ethereum network. 
Ethereum network comes with very high fees, therefore I recommend going with BNB.

Symbol

Same as any Cryptocurrencies have their own symbol also your NFTs can have one. For instance Bitcoin = BTC.  You can enter up to 10 characters. The best practice is to go with the same symbol as the name of your collection for consistency. 

Select a network and wallet

You can either create NFT on Binance smart chain or the Ethereum network. Then select your own corresponding wallet address. 
Creating an NFT collection is a subject of verification for possible inappropriate content. You might need to be patient.
After your collection was created you can Mint your first NFT. You can upload Images, Videos, or Audio files with a maximum file size of under 50MB. For each NFT there will be a minting fee. 
0.022 BNB or approximately $5 for creations on the BNB Smart Chain.
0.012 ETH or approximately $13 for creations on the Ethereum network.   
Conclusion
This is a big step for the sake of the simplicity of NFT trading. I have used the Binance NFT marketplace once before when I won NFT from CoinMarketPlace diamonds. The UI is really simple and easy to use. For those who like to keep things simple, it's great news that the NFTs will also be on one Binance platform. You might also want to learn how your NFTs can't be copied.