A lot of trading volume is slowly shifting from centralized exchanges and traditional altcoins to the decentralized world and smaller tokens. That's partly due to the greater level of anonymity and security these platforms offer but also for the great investment opportunities that lie there.
And although CoinGecko or CoinMarketCap might be great for checking prices, you can easily get lost in the jungle of hundreds of different DeFi platforms. And here's where DEXTools comes in.
DEXTools is a powerful suite of tools and services designed to help users navigate the decentralized finance (DeFi) ecosystem.
The platform provides a wide range of functionalities, including analytics, market data, and trading tools, as well as a variety of educational resources to help users better understand the complex world of DeFi.
Let's take a deep dive into DEXTools and discover what it has to offer and how can you use it to better your investing strategy.
What is DEXTools
In the early days, it was hard to be fully informed about DeX trading. As there was no such analytics tool that would give you a detailed overview of the trade history of small cap tokens.
You could follow transactions using block explorers, but that's time-consuming and limit you to only one token, whereas there are hundreds of interesting projects.
And that's where DEXTools come to fill the gap.
At its core, DEXTools is an analytics platform that provides real-time data and insights on the most popular DeFi protocols and assets.
The platform's analytics dashboard allows users to track the performance of their investments, view historical data, and compare the performance of different protocols and assets.
This information is presented in an easy-to-use interface that enables to quickly identify trends and patterns and make data-driven decisions using many different features we'll cover shortly.
Although it might sound like a tool for advanced traders who know their way through detailed analytics and complex data sheets, DEXTools also offers a variety of educational resources, including tutorials, guides, and webinars, to help users better understand the complex world of DeFi.
Company Overview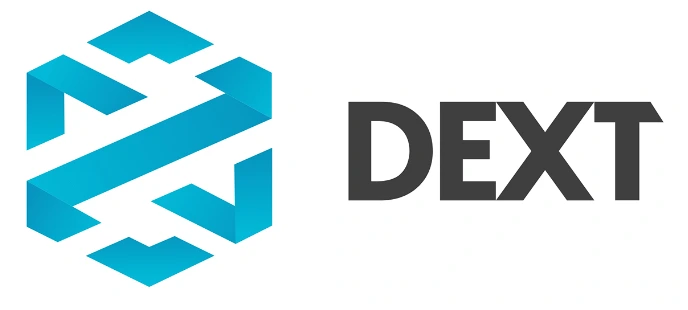 DEXTools is developed and maintained by a company of the same name, who launched its application in June 2020 to a public beta.
But the story started back in 2017 when the two founders, Frederick and Javier, met at a trader's conference.
Both were experienced traders and developers but didn't create any big project until then, as they used only their own funds. But they took the risk, and it paid off.
DexTools immediately ranked among the top DeFi platforms for trading analytics. Since then, it has experienced incredible growth both technology and usage-wise.
Over 50 million monthly users are using DEXTools to analyze their trades across more than 60 chains.
DEXTools Key Features
To help navigate users through the complex decentralized finance ecosystem, DEXTools offers a wide range of features and functionalities. Here are some of the top perks of the platform.
Accurate Pricing
The issue with many price tracking websites is the delay behind the live prices. But DEXTools offers real-time stats.
This feature can save you a lot of money when initiating market orders, as the price at which your trade is initiated can be a lot higher than the one you are seeing on your exchange.
We have decided to test this feature with a few small-cap coins. And from our testing, it looks like the price chart is updated almost immediately, but not every transaction is shown in the transaction history.
Fortunately, it seems like only a small transaction sometimes doesn't get listed in the transaction history, but it still impacts the price chart.
Trending Tokens
The middle section of your DEXTools dashboard gives you an overview of currently trending tokens and trading pairs.

You can filter the results by the network, tokens age, safety score and community rating, trading volume, or by decentralized exchanges that support that token. If that's not enough, you can also create custom filters.
Pool Explorer
With the pool information section of any token pair, you can simply monitor the liquidity trends. How many transactions were completed, what's the total liquidity, or even or even what percentage of liquidity is locked and for what time.
This feature also includes quick access links to all the important information, including a quick add to MetaMask button.
Pair Explorer
The pair explorer feature provides users with detailed information and analysis on individual trading pairs.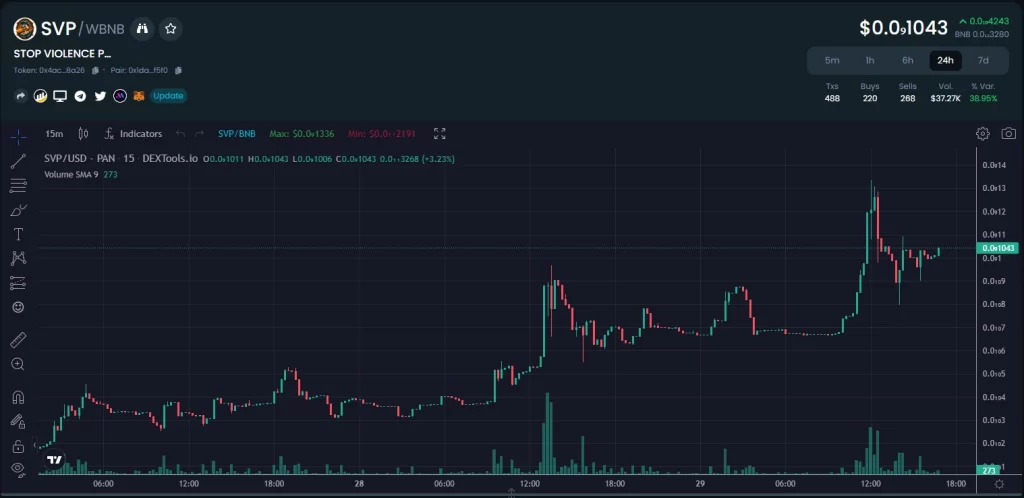 Once you open on any trading pair, you'll be provided with a detailed view of the trading pair's historical data, including price, volume, and order book depth.
Users can also view real-time data, such as the current bid and ask prices, as well as the spread between the two.
Additionally, the Pair Explorer feature also provides various charting tools that you might know from TradingView. You can switch between different chart styles or add advanced indicators.
P&L Tracking Feature
It is easy to track your profit/loss ratio with one opened position. However, if you are trading across multiple pools, you might get lost.
DEXTools features a built-in P&L tracking feature with a history function to easily track your trading decisions and improve your strategy over time.
Track Big Traders with Big Swaps
Big traders, commonly known as crypto whales, can very easily manipulate the market. Especially since we are moving on the decentralized land, where tokens have very limited liquidity.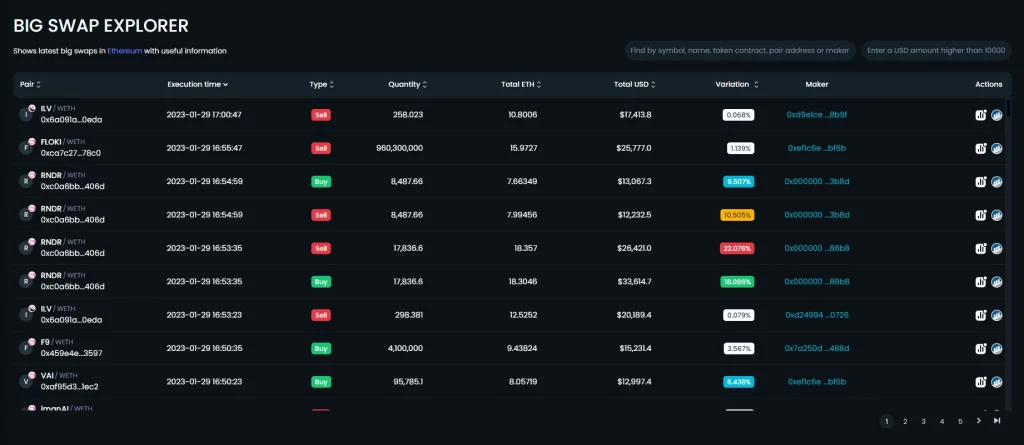 The Big Swap feature allows you to track any bigger transaction across all the trading pairs. And filter it by the amount, trading pairs, or the trade's impact.
Price Notifications
Although there are many external platforms providing cryptocurrency notifications, it's always best if you can get notifications directly on the platform to lower your reaction time.
The price notification feature can be particularly useful for users who want to take advantage of market opportunities or minimize risk.
For instance, you can set alerts for a specific trading pair when the price falls below a certain level, indicating a potential buying opportunity. Similarly, you can set alerts for when the price rises above a certain level, indicating a potential selling opportunity.
Notifications can be set on any trading pair. Once the alert is set, you will receive an email, SMS, or in-app notification when the price reaches the specified level.
You can also set to receive a notification about your portfolio.
MutliSwap & MultiChart
With DEXTools, you can watch and think through your strategy on up to 10 charts simultaneously. And on the second browser tab, you can also open an unlimited amount of trading pairs with MultiSwap and faster your trades.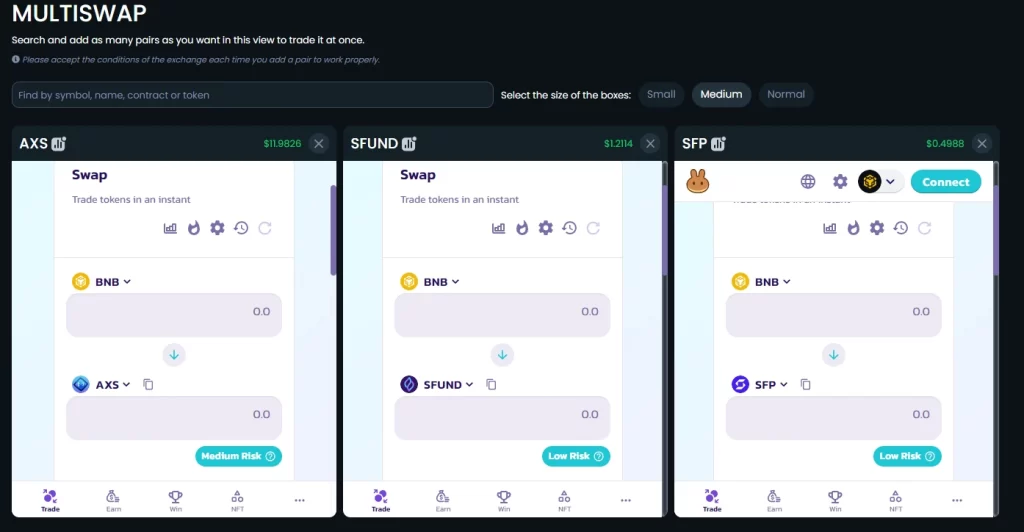 This enables you to use advanced trading strategies and risk management.
For instance, you can execute a trade on a trading pair with high liquidity and a low spread while simultaneously executing a trade on a trading pair with lower liquidity and a higher spread.
What sets DEXTools apart from Other Similar Projects
All these features are a great example of why DEXTools is a really powerful tool. And all users know that, as more than 10% of all Uniswap traffic is done through DEXTools.
A part of DEXTools' development is also based on community feedback. The company also supports interesting projects through DEXT Force Ventures.
And it's safe to say that no other tool features that great integration within the DeFi ecosystem. But what holds the future for DEXTools?
What is in the Future for DEXTools
It's difficult to say with certainty what will happen in the future. But we can probably look forward to the expansion to other blockchains and, with that, integration with other DeFi protocols.
DEXTools' goals also include some additional features like advanced bot trading, and we'll probably also get more analytical tools to make crypto trading more accessible for newcomers.
If DEXTools maintain this growth rate and the accuracy of its services, it has the potential to become an essential tool for crypto traders. Therefore it may be a good idea to invest in the platform's native token, DEXT, which we'll discuss in a few moments.
How can I Trade Through DEXTools
As we already disclosed, one of the greatest features of DEXTools is MultiSwap. Through multiswap, you can directly connect to multiple DEX (UniSwap, SushiSwap, PancakeSwap, etc.) at the same time.
Once connected, you can initiate trades at the same time across multiple networks and token pairs.
Apart from that, DEXTools features direct integration with KyberSwap, a decentralized exchange working across multiple chains and featuring almost every trading pair that DEXTools does.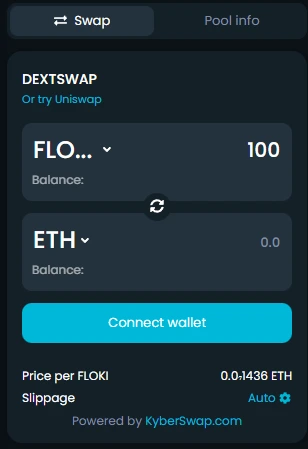 By connecting your wallet to DEXTools, you can initiate trades almost seamlessly through KyberSwap.
What is DEXTools Academy
To help you start in the DeFi ecosystem, DEXTools Academy offers a wide range of resources across many different topics.
You can not only learn about the platform but also about cryptocurrencies and watch relevant news.
The educational videos in the Academy are free to watch on YouTube and are designed to be accessible to users of all skill levels. From beginners who are new to DeFi to experienced traders looking to improve their skills.
What is the DEXTools Token (DEXT)
Together with the launch of DEXTools, the company also launched its native token called DEXT with a 200 million initial supply.  
It is a multi-chain token that exists both on the Ethereum blockchain and on the Binance Smart Chain, whose main use case is to either pay or unlock advanced platform features.
As DEXTools features three different subscription tiers, you are given the opportunity to either pay in DEXT for your subscription or hold a higher amount of the token to get the subscription for free.
The free tier is, well, free.
The standard tier requires you to pay $100 in DEXT every month or hold at least 1,000 DEXT, which equals to around $210.
The premium tier requires holding of at least 100,000 DEXT, equaling around $2,100.
Each tier comes with some extra features, but you'll be fine with the free version as well to make basic crypto analysis.
When it comes to DEXT Tokenomics, here is how the token's maximum supply is divided:
200 million initial supply;
100 million coins set aside as team funds;
50% of the team funds burnt, leaving 150M coins in circulation;
10% of subscription fees paid in DEXT is burnt each month.
DEXT Price Prediction
Since DEXT is the utility token of fastly growing and well-established platform, it has the potential to grow in the upcoming years together with DEXTools.
Also, the token has an active burning mechanism that burns 10% of every subscription fee paid, the supply of this is slowly falling down, and more than 50% has been already destroyed, which makes the token deflationary.
Deflationary tokens are tokens with limited supply but high and consistent demand. And it's the demand that can drive the price up really high.
Frequently Asked Questions
Is DEXTools an Exchange?
Although DEXTools allows users to perform swaps directly through the platform, thanks to the integration of KyperSwap, DEXTools is not an exchange.

But you can use the platform as a gateway to connect to your favorite swaps, including PancakeSwap, SushiSwap, UniSwap, and others. Also, thanks to a feature called MultiSwap, you can initiate multiple trades simultaneously from the same window.
Does DEXTools Have a Mobile App?
DEXTools feature a mobile app for both Android and iOS devices. Both versions have very positive reviews and include all the features you will get in the desktop version.

Apart from that, you can also get useful widgets to track your favorite cryptocurrencies directly from your smartphone home screen.
Is DEXTools Safe and Legit, and Should you Use it?
DEXTools is safe and legit to use. Also, there are no risks involved in the platform, as you are not directly exchanging your money through DEXTools.

However, you should stay alert, as many crypto projects are scams, and you can find these on the platform as well. But DEXTools include safety and user ratings besides every token to help you decide whether or not to invest.
Is DEXTools Free to Use?
DEXTools also comes with a free version that includes some of the basic features, such as unlimited real-time data and charts, alerts, bigswap explorer, or multiswap.

However, you can also pay for a higher tier that comes with advanced features. But you'll be fine with the free version.

But if you want to subscribe, the standard tier comes at a $100 subscription fee paid in DEXT or for free if you hold more than 1,000 DEXT tokens. Or you can get a premium tier if you hold more than 100,000 DEXT.
Conclusion
DEXTools is one of the most powerful tools you can use within the DeFi ecosystem. It features real-time data and insights on the most popular DeFi protocols and assets on more than 60 networks.
The platform features some great features, including Pair Explorer, which allows users to view detailed information about trading pairs and market trends using TradingView. Price Notification to stay informed about the latest price trends and important price movements. Or MultiSwap and MultiChart to execute and monitor multiple pairs at once.
Unless there are some skeletons in the closet hidden, the future for the company looks bright. A shining future is also awaiting their utility token DEXT, which might be a great investment now, as the prices are still pretty low.
Overall, DEXTools is definitely worth checking out if you're interested in the DeFi space.