If you ask anyone about blockchain games, the first game that will likely cross their mind is Axie Infinity.
You can find Axie Infinity in the top 5 games by market capitalization at all times. People simply love it—a lot of earning opportunities, fun gameplay, and great staking yield.
But with that many people playing the game every day, many might try to twist the terms of use for their gain. And Sky Mavis, the company behind Axie, doesn't like that, mass banning everyone that exploits a bug or does not comply with the terms.
In this article, we'll analyze the Axie Infinity terms of use for you to see what is bannable and what is not and give you tips to avoid a sudden ban on your account!
What is prohibited by Axie Infinity Terms of Service
The terms of service that you are signing when creating a new Axie Infinity account include a long list of prohibited activities. We did the math, and as of today, there are 26 bullet points of bannable activities.
Bet you didn't read it when signing up, right? But don't worry, here is a quick summary of all ban rules in Axie Infinity, so you don't need to.
Using any bots or programs to collect data, play the game for you, send messages, or automatically engage on the market is prohibited.
Using the site or app to advertise goods or services.
You also should not scam people on Axie Infinity. This includes impersonating others.
Selling or transferring Axie accounts.
Use the site or app to create your own copy of the game.
Attempt to bypass any measures or abuse bugs. This includes attempting to bypass server maintenance.
You should not hack or try to hack the site.
Use the site or app in a manner inconsistent with applicable laws or regulations.
Manipulating the outcome of the game. For instance, by win trading, we'll get to that later.
Having multiple accounts or using the same Axies on multiple accounts.
These are the basic Axie Infinity rules. If you follow these and simply play the game in the way it should be played, your account won't get banned.
For a better understanding, let's explore these rules in more depth by applying them to the game.
How to Avoid Ban on Axie Infinity
As was said before, you should not get your account banned by playing genuinely playing the game as best you can.
At some point, we all tried to use some shortcut in any game, especially if the game required a lot of grind. But it's not appropriate to do if money is at stake.
In this section, we'll give you a set of things to remember to secure your account from the dev's and anti-cheat's eye.
Do not Play on Multiple Accounts or Share your Device with Another Axie
One player should only have one Axie Infinity account.
Also, in theory, you should be able to share your device with another player, but don't do that. That's simply because you won't be able to prove that two different players play on two different accounts. In the game's eyes, it'll be seen as you switching accounts to get multiple rewards.
You should be able to share your account with another player, but make sure not to be logged in at the same time. You are able to farm a maximum of 100 SLP per day in PVE, after all.
Do not Enter the Game and Go Away From Keyboard (AFK)
The game uses a system to verify that a real person is playing the game. This includes random attention checks.
These verification checks can look something like this: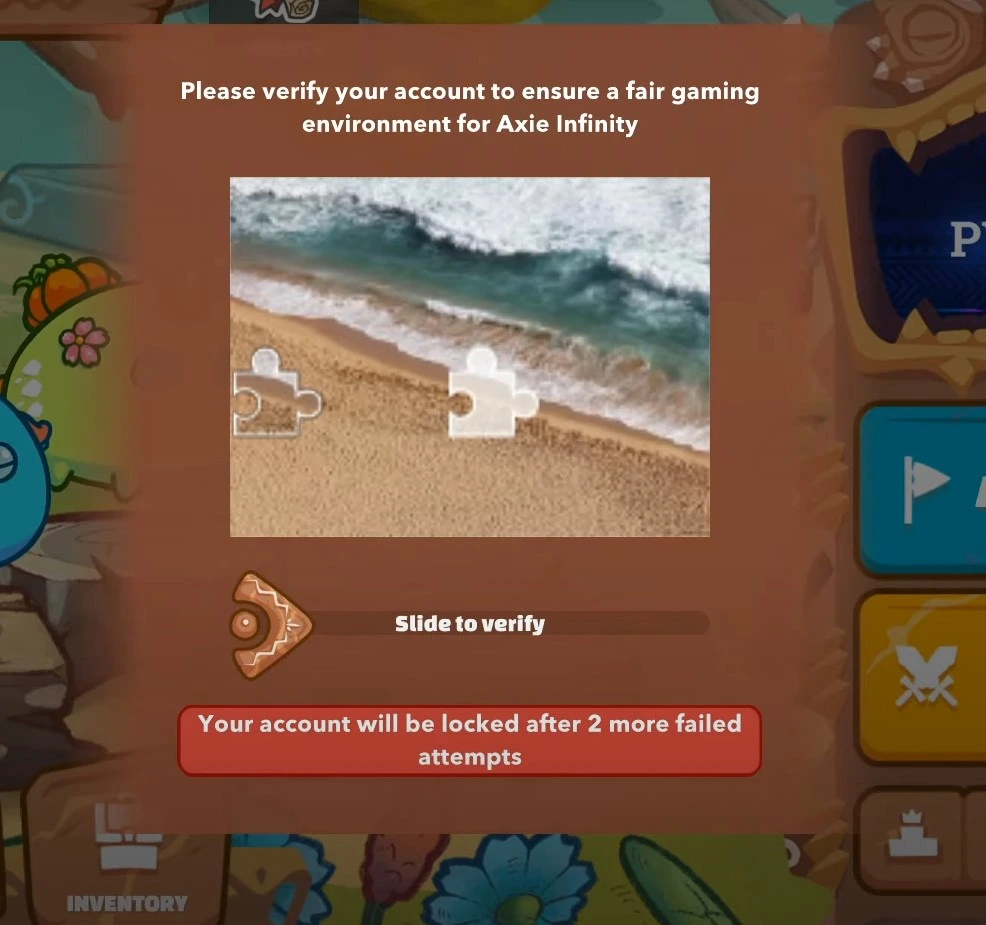 But there are many different methods that Axie uses to verify that you are actually playing the game and not letting a bot handle things. For instance:
Easy mathematical question
Selecting numbers in the correct order
Rotating Axie until it stands
Failing your attention check once does not result in a ban. However, you should very much avoid failing multiple times in a short period of time.
Never Change your Device's Time
In the past, reset of your daily quests was not done server-side, and it depended on your device's time. So you could easily skip the waiting time by moving the time by a couple of hours.
Currently, resets of all Axie Infinity game mechanics are done on the server side. Although this will no longer give you any game advantage, the system might still see it as cheating and ban your account.
Energy Manipulation and Using the same Axie on Multiple Accounts
All players in Axie Infinity have an energy resource, which is depleted by playing the game.
You start with 20 energy, but the more Axies you own, the more energy you have.
By that means, you could send a creature that is right on the threshold of extra energy back and forth to a different account to get the energy refiled.
This behavior is explicitly prohibited in the terms and could get you a ban on your Axie Infinity account.
Avoid Win Trading and Other Game Manipulation
Win trading refers to an exploit where players intentionally lose a match to boost the other players matchmaking rating. Or both sides intentionally force a draw to prevent MMR loss for both.
In Axie Infinity, win trading usually happens on high elo. As there are not many players, a group of players will make an arrangement to take turns winning the matches to go up together.
Do not Cheat in the Game
Although we probably don't need to mention this, using any external program will certainly get your Axie account banned.
This includes using scripts to send automated messages or scrape data or bots that trade for you on the market.
What to do if your Axie Infinity Account gets Banned
The length of the ban on your Axie Infinity account and its reversibility depends on each individual case.
Sky Mavis, the company behind Axie Infinity, usually performs extensive ban waves affecting thousands of accounts simultaneously. In such cases, it is primarily a situation where there is no doubt about the legitimacy of the ban, and these bans are usually permanent and irreversible.
For instance, in one of the latest ban waves, around 30,000 accounts were banned for abusing the energy system.
In other cases, that ban could be for a really long time. For example, 210 players were recently banned for win trading, but not permanently but for 999 days.
The point here is that although abusing the system might be temporarily worth it, it's highly outweighed by the penalty. And once you get your Axie Infinity account banned, whether indefinitely or for a set period, it won't likely be reversed.
Conclusion
As Axie Infinity offers a really attractive play-to-earn system, players can try to improve their situation and earnings by exploiting the game mechanics or straight-up cheating.
Sky Mavis takes this behavior very seriously and issues mass bans regularly.
Once your account gets banned, you will probably never be able to play the game again. As account ban is usually irreversible and permanent.
The moral of the story is to play the game the way it should be played. Without exploiting, botting, and so like. You can also increase your earning potential in non-violating ways, like by staking excess AXS tokens.