Smooth Love Potion (SLP) tokens are earned by playing the Axie Infinity game, in addition to the primary token called the Axie Infinity Shard. While AXS is used to reward the best players, SLP can be obtained by winning battles.
Since SLP is built on the Ethereum network, it's relatively easy to add it as a custom token. Besides that, SLP tokens exist on a few other chains. That's Solana, Ronin, and Binance Smart Chain. Neither Solana nor Ronin can't be added to MetaMask, however, BNB Chain can.
In this article, we will look at how to add SLP to MetaMask on both the Ethereum network and Binance Smart Chain. Let's dive in!
Add SLP to MetaMask using Binance Smart Chain (BNB Chain)
1. Import BNB Chain as a Custom Network to MetaMask
Let's start with the harder first. Since the BNB chain doesn't come prepacked with your wallet, we need to add it manually. To do so, open your Metamask extension, click on your profile picture, and tap "Add network."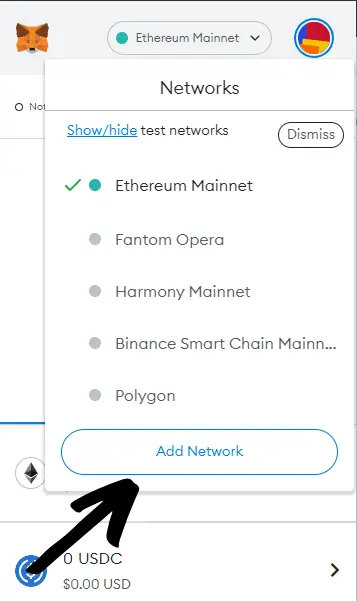 A new window will pop up where you need to fill in the network details. Fill in: 
Network Name: Smart Chain
New RPC URL: https://bsc-dataseed.binance.org/
ChainID: 56
Currency Symbol: BNB
Block Explorer URL: https://bscscan.com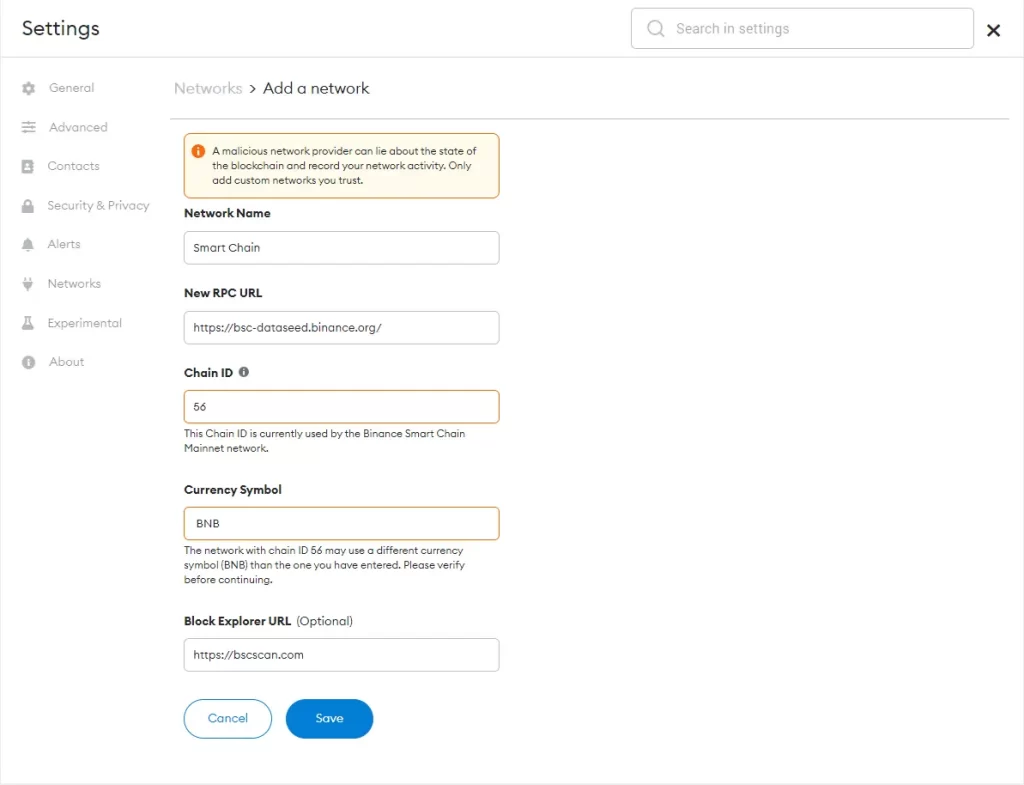 These details can be found in the official Binance guide, here.
After hitting Save BNB chain was successfully imported. Now what is left to do is to add SLP itself to Metamask.
2. Ensure you are Using the Right Network and Tap "Import tokens"
First, ensure you have the right network selected. To select the correct network on MetaMask, open the network selector drop-down menu. Since we are adding a BNB Chain token, select the newly added Smart Chain.
Now scroll down until you find an "Import tokens" button and tap it.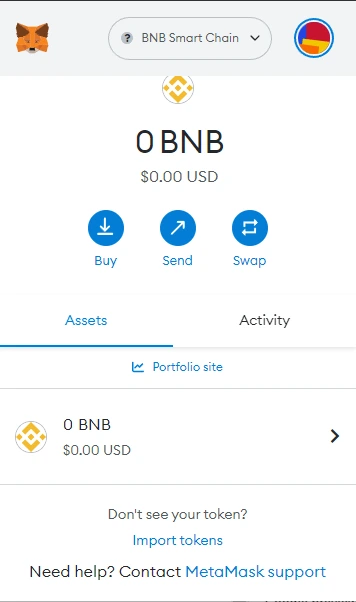 3. Find SLP Contract Address and Copy it
Since SLP is listed on CoinMarketCap, it makes our work much easier. Visit the SLP token page on CoinMarketCap. There, you'll also find the contract address, among other information about the token.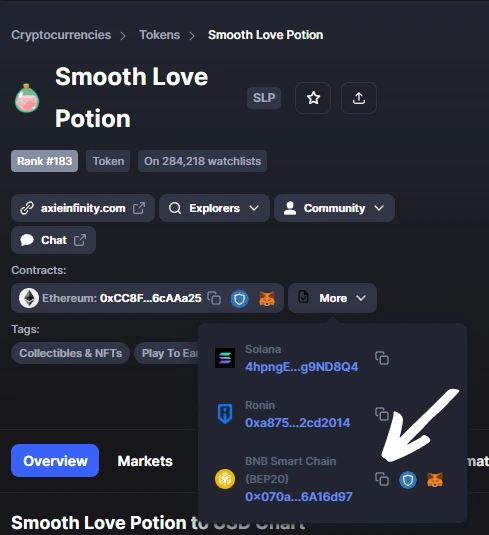 Now tap the little copy button beside the contract.
For the lazier of you, the contract address is: 0x070a08BeEF8d36734dD67A491202fF35a6A16d97
4. Add SLP to MetaMask as a Custom Token
Once you've copied the SLP contract address, open the MetaMask extension again and paste it into the "Token Contract Address" field.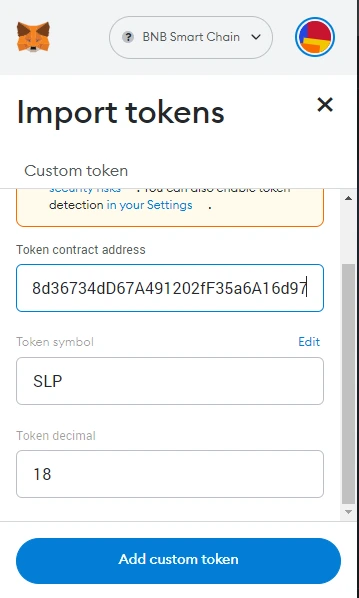 If you've pasted the correct contract address, other windows should be auto-filled, and SLP should appear as a token symbol.
Finish by pressing the "Add custom token" button. Once you've successfully imported SLP to your MetaMask wallet, it should appear as one of your tokens under the BNB Smart Chain.
Add SLP to MetaMask on the Ethereum Network
The steps here are, to a certain degree, the same as when we were importing SLP on the Binance Smart Chain.
First, ensure you have the Ethereum network selected and tap "Import Tokens" at the bottom of the MetaMask window.
Now, visit the SLP page on CoinMarketCap, but instead of copying the BNB Chain address, copy the Ethereum contract address. For the ones of you, who are looking just for the contract address, here it is: 0xCC8Fa225D80b9c7D42F96e9570156c65D6cAAa25
Go back to MetaMask and paste the contract address into the "Token contract address" field.
Conclusion
Smooth Love Potion (SLP) can be added to MetaMask either on the Ethereum network or on the Binance Smart Chain. There is not much difference between those two; it's only up to your usage case.
To do that, start by copying the SLP contract address from a trusted source, like CoinMarketCap. Once you have the correct contract address, paste it to MetaMask using the "Import custom token" button.
After adding your token to MetaMask, you can use SLP on various centralized and decentralized exchanges, including Binance or KuCoin.