The company behind one of the most successful crypto wallets in the market, Trezor, has been working hard for roughly two years to deliver its own wallet software to shield up the entire Trezor ecosystem. And finally, SatoshiLabs, the parent company behind Trezor, launched Trezor Suite to the public on July 14th, 2021.
The developers announced this on their blog and sounded very excited about it. And we're just as excited. Not only does the Trezor Suite dilute the oligopoly of the small group of software wallets that dominate the market – mostly MetaMask and Trust Wallet.
But this handy app also offers some exciting features that we'll look at today.
This Trezor Suite Review will cover all the aspects of this wallet software, so by the end of this read, you'll have all the information needed to decide whether or not to give this wallet a shot. 
What is Trezor Suite
It was only a matter of time before Trezor came with its own application. After all, Ledger has Ledger Live, SecuX has SecuXess, and most of the hardware wallets you can think of also have their apps. It's not needed, but it highly enhances the user experience.
While researching for this review, we come across an interview with one of the Trezor co-founders, Slush, from the time before the launch of Trezor Suite.
He explained that the main reason behind Suite is to eliminate phishing attacks and to increase the company's transparency. 
And they also intended to add some unique features introduced in the roadmap to make their wallet one of a kind.
Features such as CoinJoin, a process to fully anonymize transactions. Or better control of your coins with UTXO management. Many of these features have already been incorporated into the final app, and we will take a closer look at them during this Trezor Suite review.
Key Features of Trezor Suite
Multi-Currency Support
Naturally, you want your wallet to support as many altcoins as possible. Both Trezor devices and Trezor Suite natively support all Ethereum ERC20 tokens and fourteen other cryptocurrencies.
Since some cryptocurrencies use specific technology, it's impossible to support all of them. Thus, this is the end of Trezor Suite support. However, you can connect your hardware wallet to another third-party wallet and use your device to sign any crypto transaction.
You can find the complete list of Trezor Suite supported coins here.
Easy-to-Use Interface and Multi-System Support 
Trezor Suite is available on Windows, macOS, and Linux. 
Why Android and iOS isn't on the list? That's because Suite can't be used as a software wallet without owning a Trezor hardware wallet.  It's quite unfortunate that others can't get to this software and experience all the features it offers. However, in the roadmap, there is a field named "Android mobile app" under the "Being Implemented" column. That could possibly mean that Trezor Suite can become a standalone software wallet in the near future.
The desktop app offers a beautiful user interface full of colors but simple to navigate through.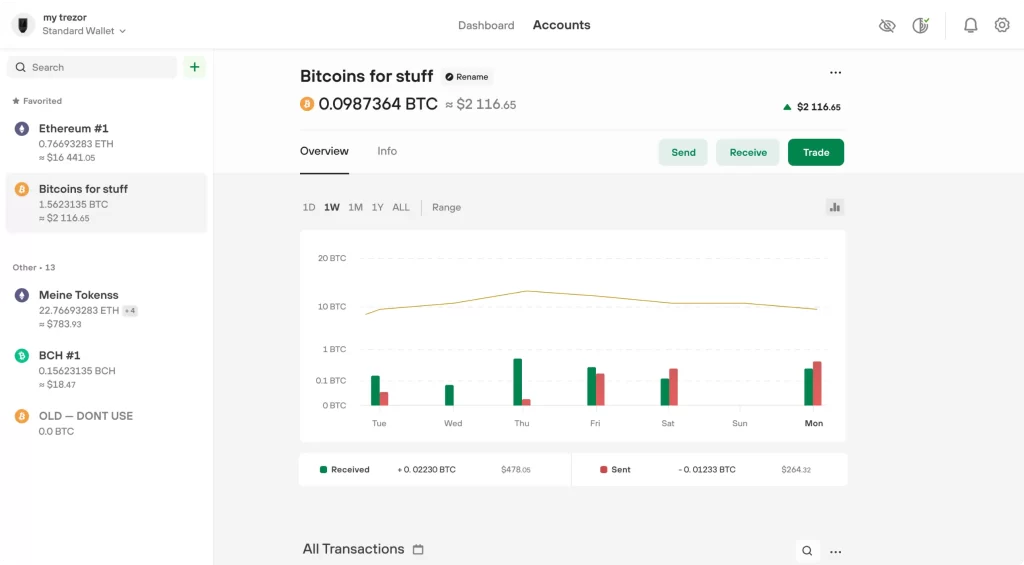 We really liked the account overview, including a graph of your account balance, which looks very professional and almost reminiscent of a bank account overview.
Advanced Features
Trezor Suite already contains many advanced features. Let's take a look at some of the most interesting ones, as we promised at the beginning of this Trezor Suite review.  
Replace by Fee
Replace by Fee is one of two possible ways to cancel unconfirmed crypto transactions. This feature allows users to replace one version of an unconfirmed transaction with another by paying higher transaction fees. This means you can replace coins sent by mistake with the smallest transaction amount possible and pay only the gas fees. 
When creating a new transaction in your Trezor Suite, RBF is on by default, giving you a lot of time to replace the transaction if you need to. 
To learn more about how replace by fee works, you can check our guide on canceling unconfirmed transactions. 
Multiple Accounts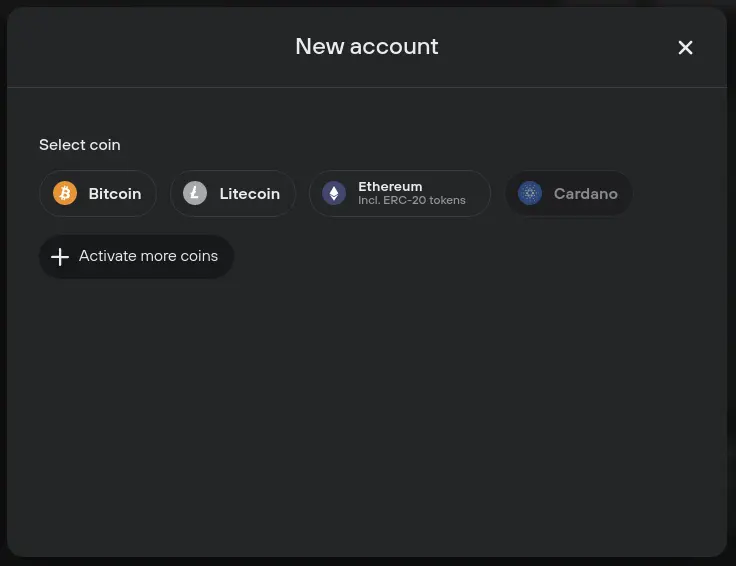 The number of accounts supported by Trezor is not limited, but in the Trezor suite, you can only keep up to ten accounts. But you can quickly delete one wallet account from the view and replace it with other if you need more than ten accounts. 
Buy Crypto Directly in Trezor Suite
Trezor Suite is fully integrated with Invity. Invity compares dozens of crypto exchanges to give you the best deal. 
You can enter your desired amount and get a list of exchanges. Then choose the deal you want, and Invity will take care of the rest.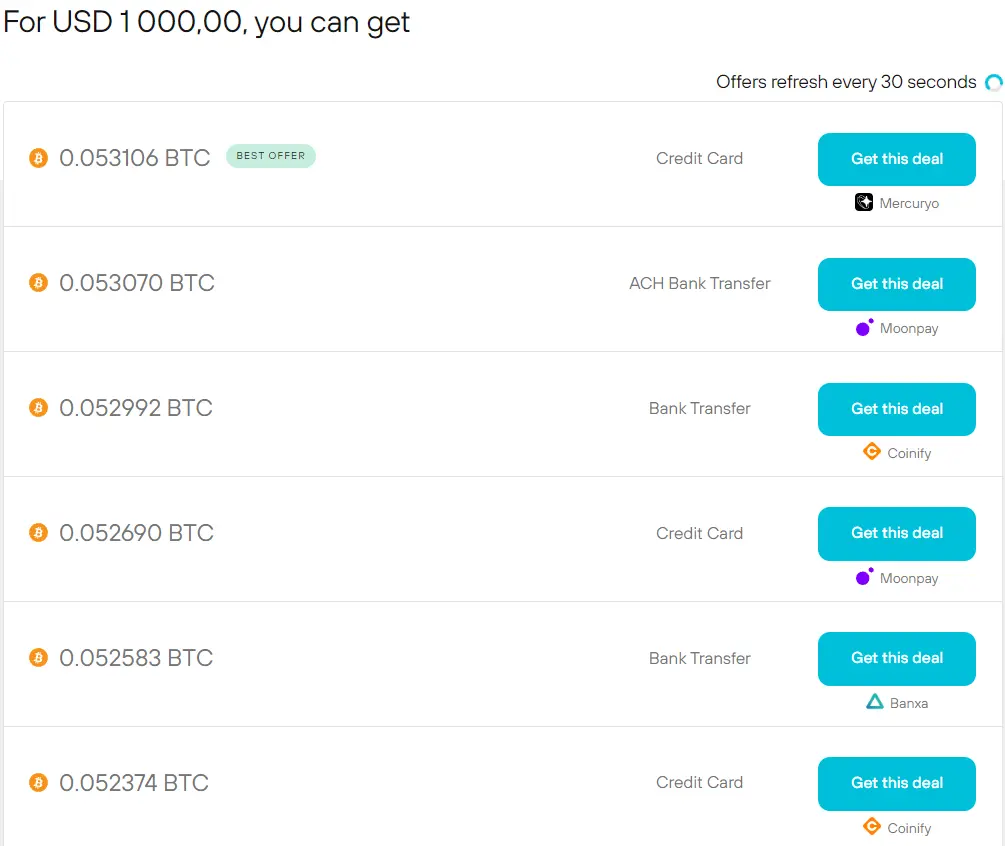 If you are more of a safer investor, you can also choose to DCA. All you need to do is schedule buys directly to your Trezor.
Give Labels to your Transactions
Labeling is a tool that helps you stay organized. You can rename your transactions and give them different labels so you know exactly what the transaction was for, for instance, "Business," "Fun," "Investing," etc. 
Transaction Synced to your Google Drive or Dropbox
Apart from labeling your transactions, you can also turn on synchronization to your Dropbox account or Google Drive. 
Synced transactions will either carry the name of your account or the label you gave it.
And don't worry; this doesn't mean a security risk. All files are encrypted using a private key derived from your Trezor for this single purpose. 
Advanced Security Features
If something Trezor Suite does well, it's security. Now we'll review a few of the most interesting ones.
Tor Browser Routing
Trezor Suite routes your connection via Tor to boost your privacy. 
Transactions are made on the blockchain, so you have to connect to it. The developers made the extra step to route the connection via Tor. Tor prevents someone from watching your connection. By that, it is nearly impossible for Trezor or anybody else to associate your actual IP address with your Bitcoin transactions.  
New Address for Each Transaction
Although there is not much risk involved with others knowing your crypto address, but it allows others to track your receiving and spending habits easily. 
Therefore Trezor Suite generates a fresh address for each transaction. You can actually generate multiple crypto addresses at the same time and use them for different transactions.
Trezor will generate a new address each time you click "Show full address" in the receive menu. 
Shamir Backup
Shamir backup is a new, far more secure security standard that eliminates the two most significant risks involved in protecting your recovery phrase – theft and destruction. 
With Shamir backup, you can create multiple, unique, 20 or 33-word recovery phrases and specify the number of these unique phrases that must be collected and used to recover your wallet.
Using the Shamir backup standard, you can create up to 16 recovery phrases, distribute them among friends or store them in separate locations and set a number of phrases needed to recover your wallet. For instance, you can set three seed phrases required to recover your wallet.
In one of our previous articles, which was focused on the best seed phrase storages, we also covered a technique involving splitting your seed phrase into multiple parts. Shamir backup is, in principle, the same, but far more secure since you are not left with, for instance, three parts consisting of 4 words, but with 16 full parts, which are only some needed.
Coinjoin
While cryptocurrencies offer a certain degree of anonymity, they're not entirely private since transactions are made publicly on the blockchain, and your balance is visible on the blockchain as well. 
But with Coinjoin, transactions are nearly fully anonymous. Coinjoin protocol takes multiple transactions from various senders into a single transaction. Once the transaction is completed, the receiver will get its coin from a completely different address, and it is extremely difficult for others to deduct who sent the funds and who received them.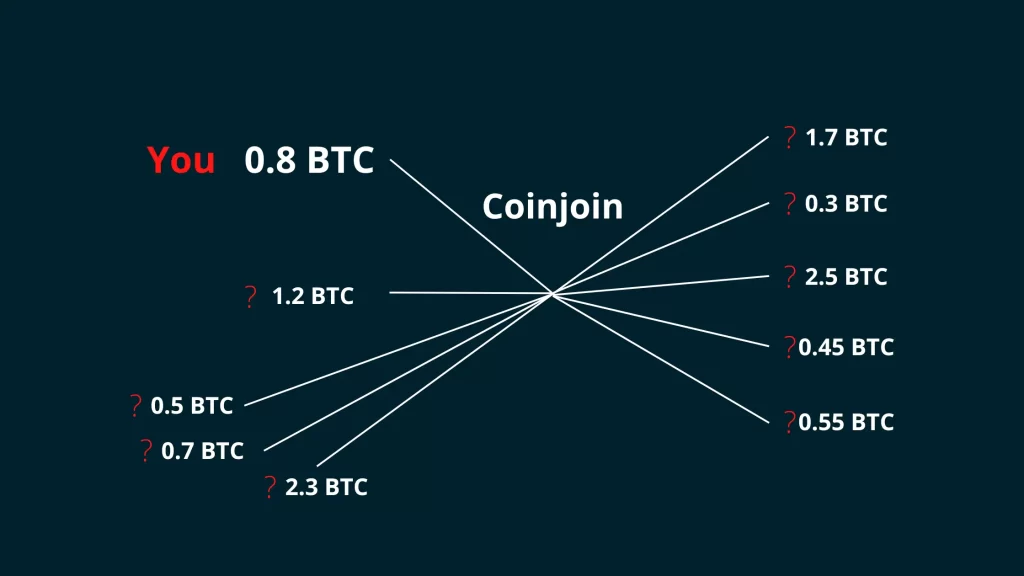 Conclusion
We tried a different approach with this review to give you a complete overview of the things that Trezor Suite does well. 
The biggest downside is, of course, that it's not a standalone application, and you have to own a Trezor device to make it work. However, if you really care about the security of your coins, there is no doubt that you should get a hardware wallet. 
Trezor offers two different models, Model T and Model One. Trezor Model T can be obtained for $264.99. It is definitely the more luxurious model, with quite a large touchscreen and other extra features. 
While Trezor Model One is an affordable version, just for $83.49, offering all you need.
Both devices will give you an entry ticket to Trezor Suite we reviewed in this article. Now let's jump to points rating and highlight what we liked and what we didn't like so much.         
We think that this Trezor Suite review has convinced you that Suite is one of the better cryptocurrency wallets out there. But even though it isn't a clean 10 points.
We had to deduct points mainly for a few reasons. Firstly, it is an exclusive wallet for Trezor hardware wallets. This also opens doors for scammers, pretending their application is the official Trezor one, which doesn't exist.
Secondly, since it's an exclusive wallet, many dApps and third-party software don't integrate with it. This can be dealt with by connecting your Trezor to a different wallet for this sole purpose - such as MetaMask. But it doesn't feel adequate to expose your wallet to such risk by connecting it from a reasonably secure wallet to not so much.