Although it might have confused you since there are a few different crypto tokens with the same ticker, MIM. In this article, we'll add the Magic Internet Money token to MetaMask.
MIM token is the stablecoin pegged to the US dollar of the online lending platform Abracadabra. You can deposit and use a wide variety of coins on this platform and use your tokens as collateral to borrow MIM tokens.
MIM can be used on many DeFi exchanges in almost 100 trading pairs. But to do that, you'll need to add the MIM token to MetaMask first. This article will show you how to do that in just three steps. Let's dive in!
How to Add Magic Internet Money (MIM) to MetaMask
MIM, like any other stablecoin, can be used on many different networks and chains. Thus your first job is to decide on which chain you would like to import MIM to MetaMask.
The list includes:
Ethereum Mainnet;
Binance Smart Chain;
Fantom network;
AVAX-C Chain;
And other…
The process for adding MIM on all these different networks will be more or less the same. You just need to import the network first. However, Ethereum Mainnet is configured in MetaMask by default, so this guide will be focused on adding MIM on this network.
1. Select "Import Tokens" and then "Import Custom Token"
With the right network selected and your wallet opened, scroll down until you see an "Import Tokens" button. If you are adding MIM on the Ethereum network as we do, you'll then need to select "Import Custom Token."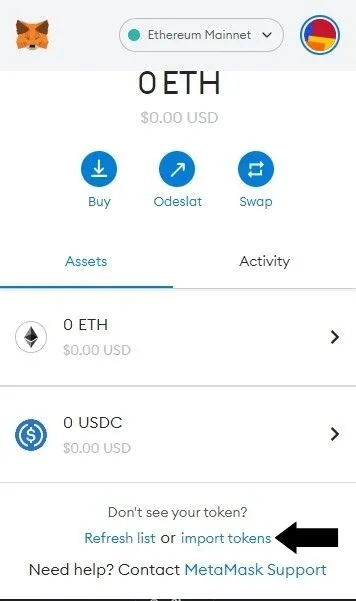 2. Copy the MIM Token Contract Address
For the next part, you'll need to find and copy the MIM contract address from a trusted source. The contract address can be usually found in the official documentation of the token. But we can make our job easier by checking the CoinMarketCap page of the token.
As you are on the CoinMarketCap page of MIM, find a section called Contracts. There is the Ethereum contract address shown by default, but if you are importing MIM using another network, you can tap "More" to see other contracts.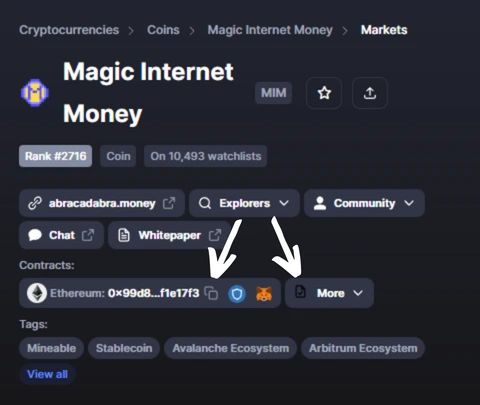 For the lazier of you, the contract addresses are:
Ethereum Network: 0x99d8a9c45b2eca8864373a26d1459e3dff1e17f3
BNB Chain: 0xfe19f0b51438fd612f6fd59c1dbb3ea319f433ba
Fantom Network: 0x82f0b8b456c1a451378467398982d4834b6829c1
AVAX C-Chain: 0x130966628846BFd36ff31a822705796e8cb8C18D
3. Add MIM to MetaMask as a Custom Token
Once you've copied the MIM contract address, open the MetaMask extension again and paste it into the "Token Contract Address" field, which should appear after clicking the "Import custom token" button.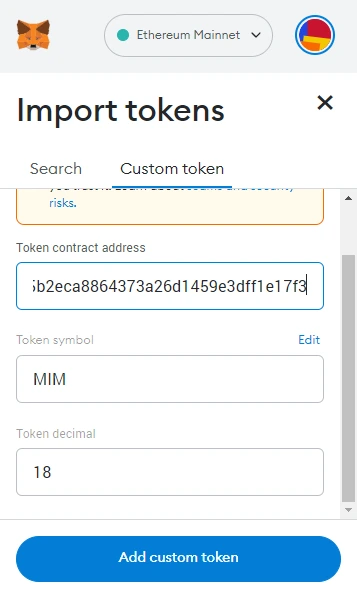 If you've pasted the correct contract address, other windows should be auto-filled, and MIM should appear as a token symbol.
Finish by pressing the "Add custom token" button. Once you've successfully imported the Magic Internet Money token to your MetaMask wallet, it should appear as one of your tokens under one of the chains you used.
Conclusion
Congratulation! You've successfully added the MIM token to your MetaMask wallet. By following the few steps outlined in our article, you can now quickly start using the MIM, or Magic Internet Money, on multiple chains.
Now go ahead and start exploring all the possibilities that stablecoin MIM has to offer, or visit one of our other articles to become a crypto pro!