The binance mobile app includes multiple layouts, including Binance Pro and Binance Lite. 
By default, the Lite version of Binance will be selected. It is more user-friendly, without complicated charts and a load of buttons—ideal for checking the value of your portfolio or simply placing a market order.   
But as you progress with your skills in cryptocurrency trading, you might be ready to switch to the Pro version. That includes more features and advanced UI, including an order book and charts. 
But as with the setting to switch to dark mode, the developers have pretty much buried this option down deep in settings.
---
If you are not yet registered on Binance, you can start by using this link or "BQQK8CQW" as the referral code.
Both the link and the referral code will grant you a sweet 5% cashback on paid transaction fees.
---
In this guide, you'll learn how to switch to Binance Pro from Binance Lite and vice versa on the Binance mobile app.
What is the difference between Binance Pro and Binance Lite
With more people entering the crypto space than ever, developers are trying to make their exchanges as intuitive and easy to use as possible. 
And so, these two separate versions of Binance were created. 
Initially, Binance Lite was only an experimental function available in selected countries. However, as of now, Binance Lite and Binance Pro are already available in almost all countries. But what is the difference?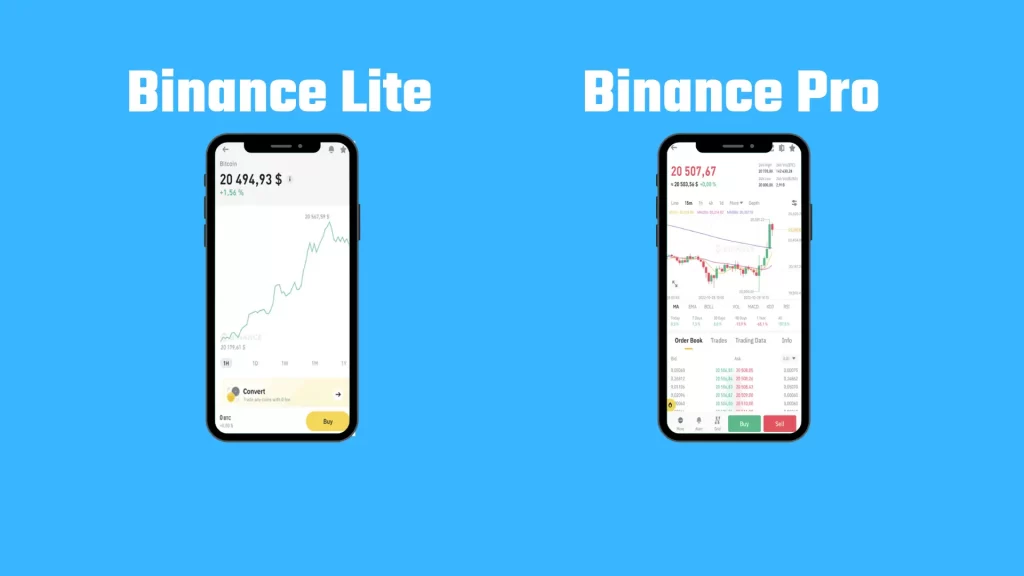 Binance Lite
Better for first-time crypto users
Simplified and intuitive interface
Limited Features
Binance Pro
Suitable for advanced traders
All features available:
Futures
Options Trading
Binance Lite vs Binance Pro and Supported Coins
Both versions contain the same variety of cryptocurrencies; currently, over 600 different cryptocurrencies and tokens.  
And more coins are being added to this list now and then. 
Binance Lite vs Binance Pro and Fees
Binance Lite does not charge additional fees compared to the Pro version, as you may be used to when comparing Coinbase and Coinbase Pro.
Both versions have the same and very attractive fee structure. The maximum trading fee you will ever pay is 0.1%. In addition to that, Binance features free BTC trading and fee-less trading on all BUSD trading pairs. 
On top of that, when you use this link to register for Binance, you will get 5% cashback on trading fees. Forever.
How to switch to Binance Pro
To switch to Binance Pro, you must log in to the Binance mobile app and tap on your profile picture in the top left corner. 
A new menu will open. This includes a small toggle option to switch to and from Binance Pro. 
Here's how to switch to Binance Pro. 
1. Log in to Binance and tap on the Profile picture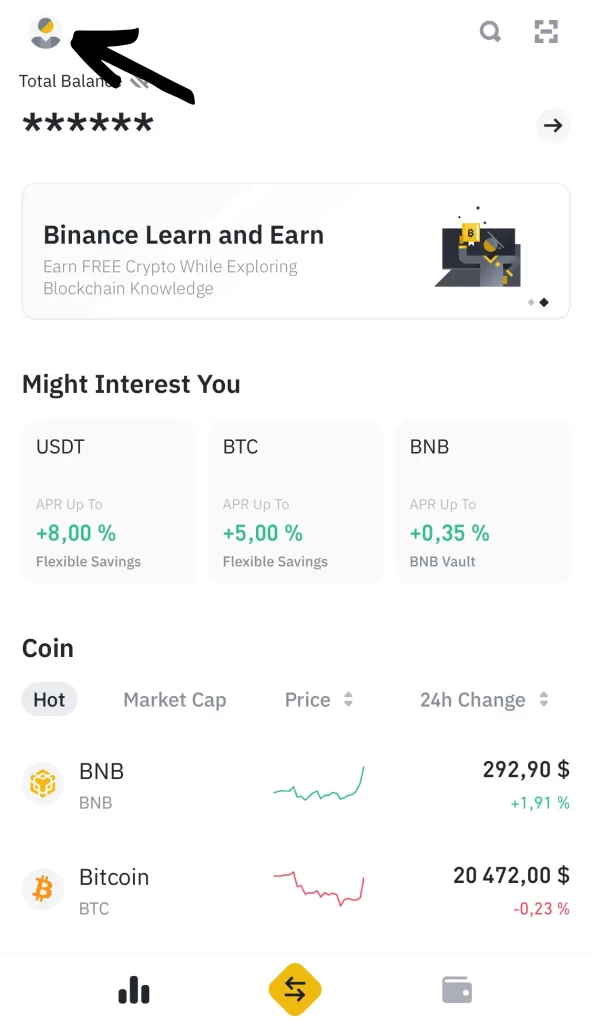 The first step is to log in to your account. 
Once you land on the Binance homepage, you can see a few options in the top navigation bar. Including a search option, an option to scan QR codes, and a small profile icon. Tap on that profile icon.
This will open a new menu. 
2. Turn off Binance Lite
Once a new menu opens, you will see a toggler as one of the first options. 
By default, the Binance Lite will be turned on. To turn it off, tap the toggler.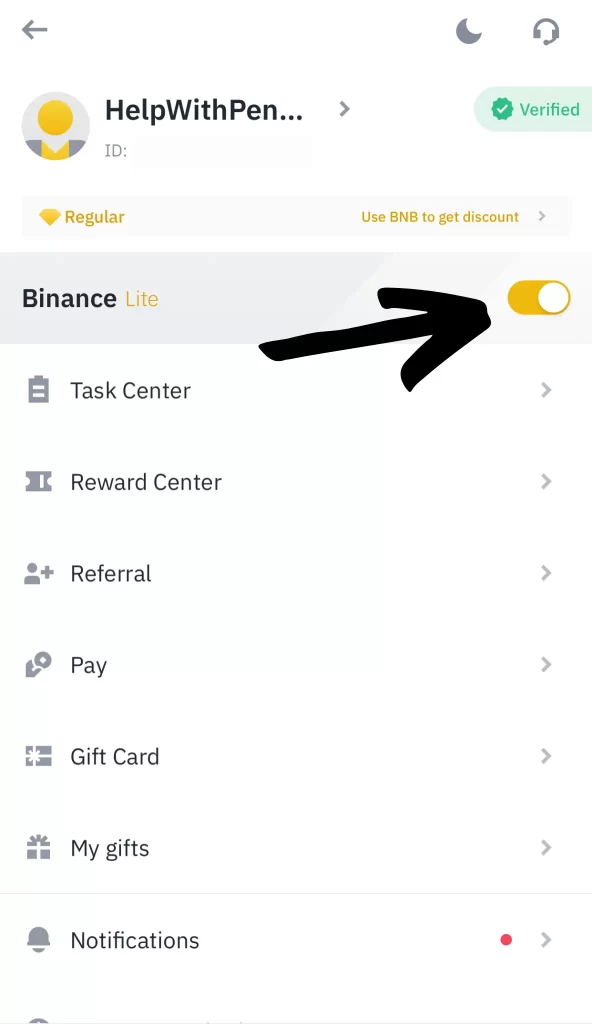 Binance will then start reloading the application. Once the loading is complete, you will see that you have successfully switched to Binance Pro. 
You can tell that you successfully switched to Binance Pro by the complex dashboard. 
The Lite version includes just three simple buttons at the bottom. But now there is a whole bunch of new options.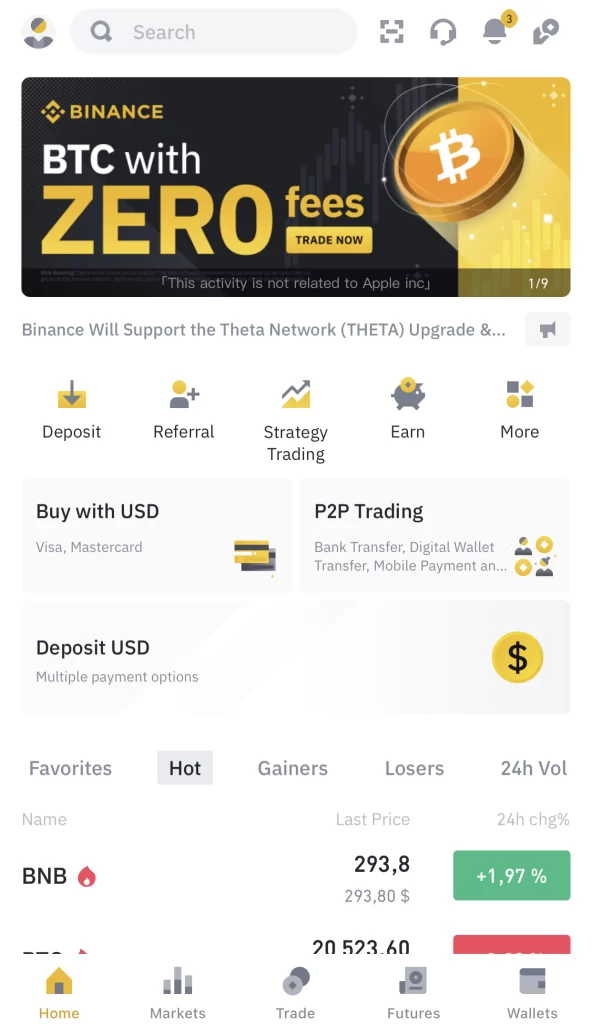 How to switch to Binance Lite
The process to switch from Binance Pro to Binance Lite is pretty much the same. 
Just log in to your Binance account first.  
Once you land on the homepage, tap on the profile icon in the top left corner. 
You can see the same toggler as when switching from Lite to Pro. Only now it's turned off.
Tap on that switch to turn on the Binance Lite version. 
Conclusion
If you are a beginner trader, Binance Lite is an excellent option. And once you find your way around the exchange app, you can switch to Binance Pro.
As an experienced trader with Binance Pro, you can take advantage of advanced features such as Margin Trading, Futures, or Options. 
However, making these crucial trades is far better on a computer. And the Lite version is just enough for just simple portfolio checks. 
But the choice remains yours. And if you don't like the changes, you can switch between Binance Pro and Binance Lite anytime. 
And to enhance your trading experience a little more, you can also switch to dark mode by following our guide.  
Learn further with Binance How to's
How to set up Binance price Alerts on both mobile and desktop.
How to Know When Binance will List a Coin
How to Change Your Email Address on Binance
How to Change Your Phone Number on Binance: Without Access