Made some money swapping and trading here and there and want to take the profits? But unfortunately, Trust Wallet doesn't allow direct deposits to your bank account. or even FIAT trading pairs. Let's be honest; it would cause more trouble as Trust Wallet is a non-custodial wallet, thus, there is no one to make sure no money is being laundered.
However, you can very quickly send your crypto to an exchange of your choice and withdraw it to your bank account. And this guide will show you how. Let's dive into the guide on How to withdraw from Trust Wallet to your Bank Account.
How to Withdraw from Trust Wallet to a Bank Account
As was already stated, you can't directly withdraw money from Trust Wallet and send it to your bank account, but you need help from a centralized exchange. There are also other ways to do this (which we'll show you later on), but this is the easiest way to withdraw.
1. Choose a Crypto Exchange
You can send your crypto to practically any crypto exchange. If you already have an account created with one of them, you are set to go.
If not, we would recommend choosing an exchange with a wide variety of trading pairs and long history. If you can't decide, choose the one that meets your special needs the best.
For instance, if you are looking for an exchange with many opportunities to earn free crypto, you could choose Binance. Or BiTrue for great interest rates on your holdings.
2. Swap your Tokens
Let's say you really love blockchain games, and you own quite a few small market cap coins from these games. Such as Axie Infinity AXS & SLP or ROY from Crypto Royale. The issue is that not every exchange accepts these cryptocurrencies nor has a trading pair with them.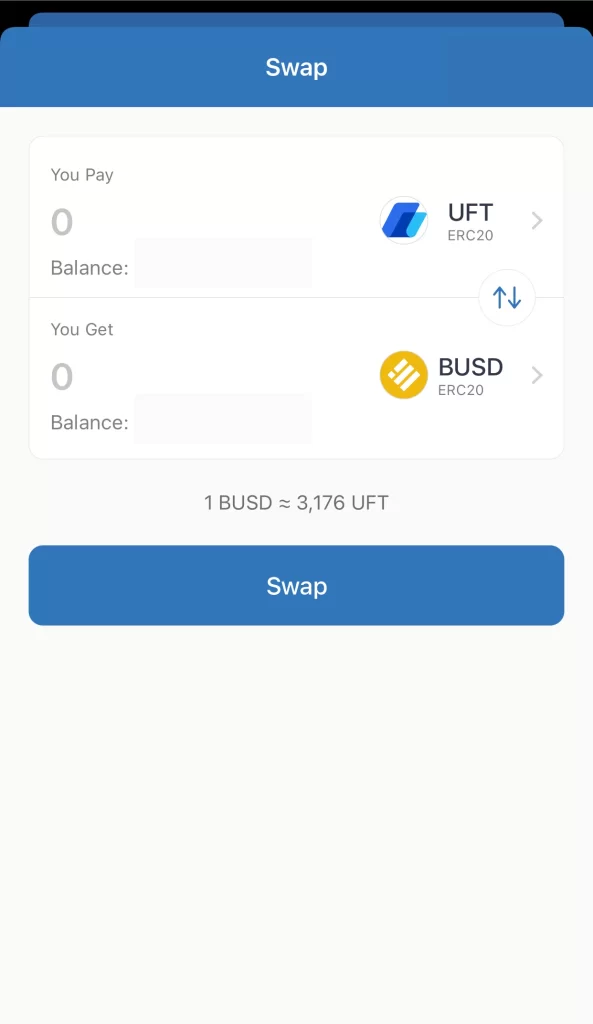 So you should swap all tokens you want to sell for one that your exchange supports. Take gas fees also into consideration.
3. Withdraw Crypto from Trust Wallet to your Exchange
Now it's time to send your crypto over to the exchange of your choice. To do so, you have to get your crypto address first. We'll show you how to do that in Binance.
First, navigate to the top right corner and tap the little wallet icon. Now go to "Fiat & Spot." The Spot wallet is the only one you can withdraw from and send to.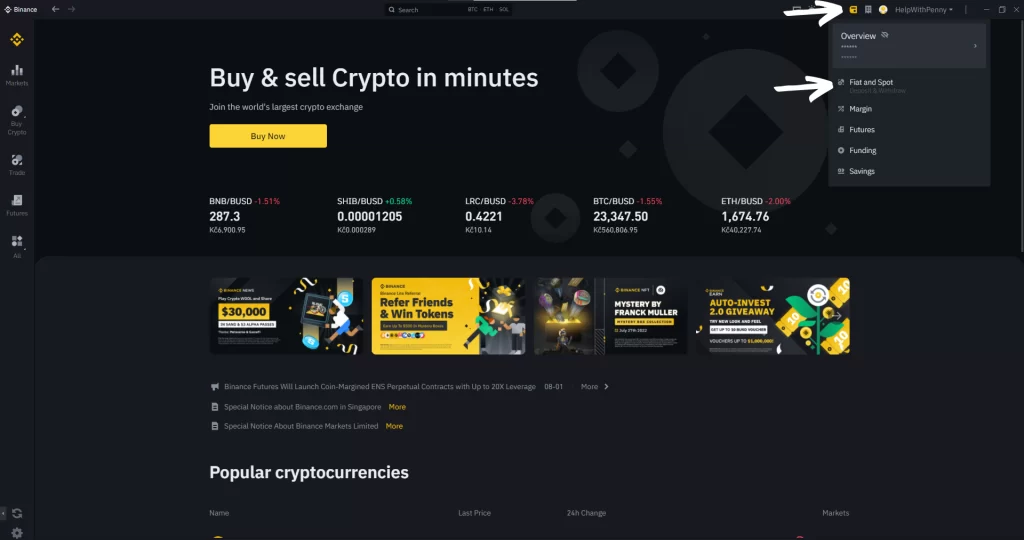 Once you are in your Binance wallet, you'll see a few buttons, including "Deposit." Select deposit and then "Crypto Deposit."

You'll get to a new page, where you need to select the coin you wish to deposit and also the network on which you are going to send your coins. Once you select all that, your crypto address will show. Copy that and go back to Trust Wallet with it.
Now, in the Trust Wallet, tap "Send" and the select coin you wish to send. Paste in your Binance (or other exchange) address and send your crypto. If you are a bit afraid about filling in the transaction on your mobile, you can also use Trust Wallet on your desktop with a simple trick.
4. Sell Crypto for FIAT on an Exchange
Once your crypto has arrived on the exchange, you can now sell it for a FIAT currency of your choice; USD, EUR, GBP, or whatever you need. But note that many exchanges do offer fiat trading pairs only with fiat stablecoins. For instance, EUR/BUSD. You might need to trade your coin for a stablecoin first if you haven't done so.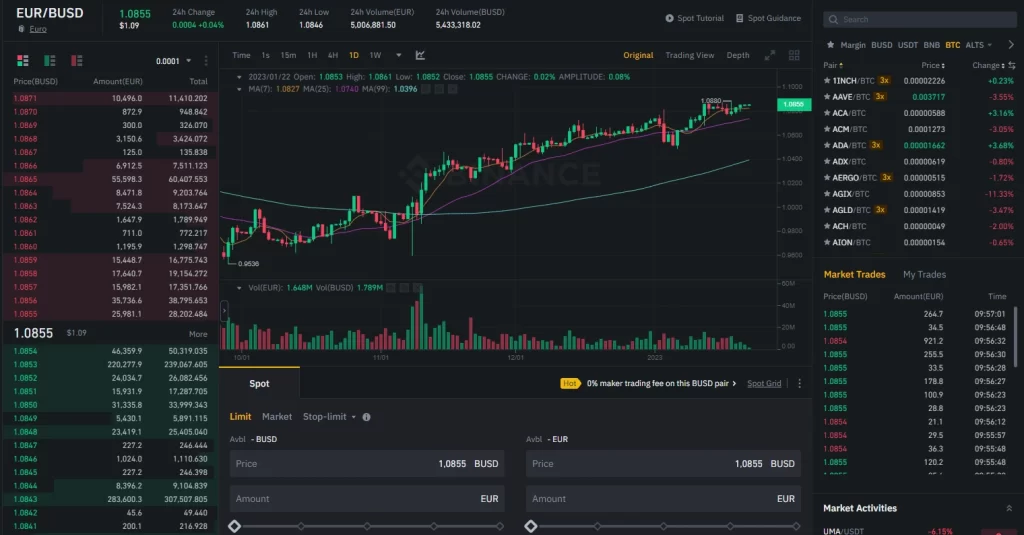 5. Withdraw Money from Exchange to Bank Account
Now, as you have sold your crypto for money, you can link your bank account to the crypto exchange and withdraw it.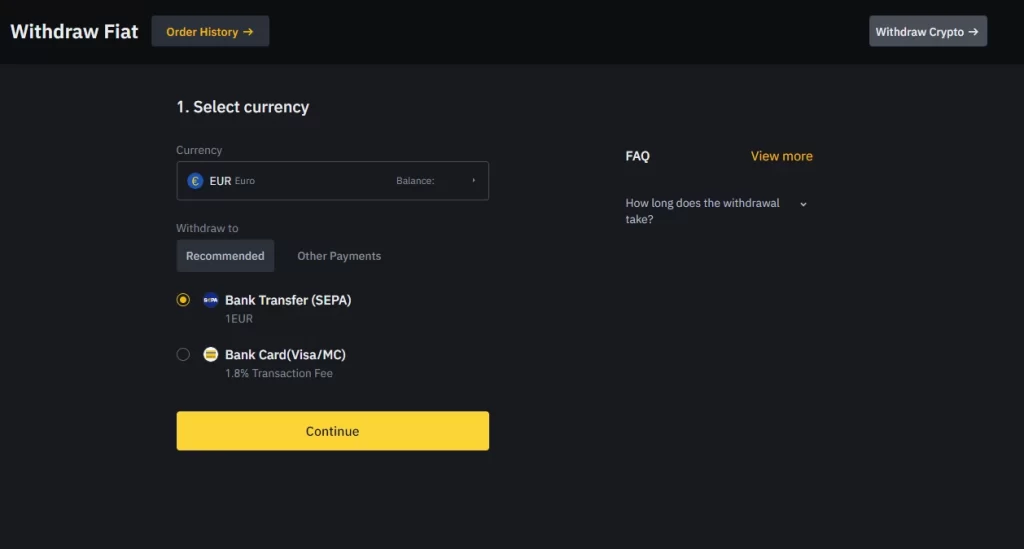 Congratulation! You have withdrawn money from Trust Wallet to your Bank account. We know it wasn't as easy as you might have imagined. We also wish to make withdrawing from Trust Wallet to a bank account simple, but at this time, it's not possible. But take it from the other side, if it were possible, cryptocurrencies wouldn't be decentralized anymore.
But there is one additional way we would like to show you. In that way, you won't need to create an account on an exchange. Let's take a look.
How to Withdraw from Trust Wallet Without Binance (or other exchange)
We bet you've ever met a Bitcoin ATM in a shopping mall or train station. Bitcoin ATMs will give you the option to sell your cryptocurrencies for FIAT from your Trust Wallet in a completely anonymous way.
The downside? Enormous fees. While on Binance, you would pay a 0.1% fee on your trades, plus get a 5% back with our referral link. With Bitcoin ATMs, you will pay a 12, sometimes even a 20% fee. If that's something you are willing to pay to stay anonymous, let's take a look at how to withdraw money from Trust Wallet without Binance or any other exchange using Bitcoin ATM.
First, find the nearest machine. You can either use Coin ATM Radar or type  "Bitcoin ATM near me" into your search engine.
Once you have located one, come and visit it. The Bitcoin ATM itself should guide you through the process of selling your crypto.
Also, depending on the ATM issuer, you can be requested to prove your identity. Since you want to pay the higher fee, we suppose you want to remain anonymous. Using the Coin ATM Radar website, you can find ATMs that don't require verification.
After that, the machine will likely show you a QR code with an address to where you should send your coins. Once the coins arrive, the machine will give you money, and you have successfully withdrawn money from Trust Wallet without using an exchange.
Conclusion
At this moment, it is not possible to withdraw from Trust Wallet directly to your bank account. To do so, you would need the help of any centralized exchange.
Then the process is quite simple. Send your coins over to the exchange, trade them for FIAT and send the money to your bank account.
However, if you want an anonymous way to withdraw from Trust Wallet, you should be ready to pay high fees, even around 20%. That's withdrawing money from Trust Wallet using Bitcoin ATMs.