Two-factor authentication (2FA) is a convenient way to add an extra layer of security to your online account beyond your password and username. You can easily set them on your smartphone, which you always have on hand, and no one without it can access your accounts.
But what if you lose your device with 2FA on it? What now? At most, you can go through a lengthy process of changing your passwords and setting up 2FA again. After all, 2FA would be pointless if everyone had the option to reset it.
This article will give you an overview of the necessary steps if you lost your device with 2FA on it or if it was stolen, broken, etc… And lastly, we'll show you two real-life examples for resetting your 2FA on Binance and Kraken.
Reset Two-factor authentication (2FA) with Export Codes
An export code, or often a QR code, is a string of numbers and letters that back up one specific account. For instance, when you set a new 2FA for Binance, your authentication application will give you a backup code for this account. But to fully recover your authenticator, you would need backup codes from all the accounts. Thus it's not enough to have one backup code.
That's why it's always wise to have 2FA installed and configured on more than one device. You can import this between devices just by using this code. In this case, you have two devices available that give you the same authentication codes; if you lose one, you can always use the other.
But there is also another type of code that will give you access to your account no matter what.
Get Access to your Account with 2FA Activated using Backup Codes
The backup code (or recovery code) is a unique code provided by sites once you activate 2FA on them. Your authenticator app can't provide you with these codes since they are generated by the website, not by your application.
These backup codes can vary in length or quantity. But they are usually longer alphanumeric strings. Each backup code you receive can only be used once, and, in principle, you can request new codes, which will invalidate the old ones.
The recovery code can be used instead of the 2FA code, giving you universal access to your account.
But remember that not every website gives out backup codes for your authentication. These sites usually have an alternative option to regain access to your account.
How to Store your Backup Codes and Export Codes
Apart from having multiple devices with your two-factor authentication on them, keeping your backup and export codes safely stored somewhere is also a good practice.
Tip: Two-factor authentication has long been associated not only with mobile devices. Most 
password manager browser extensions also come with the option of authentication keys. Password managers usually offer a really affordable price and have their own recovery options. 
Thus, you don't need to always hardly reset your account; just keep a password to your 
password manager in your mind. 
But what makes a good backup code repository great? For storing your authentication codes, we can follow the general rules we apply to storing seed phrases to your crypto assets.
The storage should be durable;
Easily editable;
And easily accessible by you, not by others.
Especially the second and third point is really important. As your backup codes have only one-time use, you'll need to replace them with new ones. Thus a steel plate, for instance, would be inappropriate for storing these codes.
On the other hand, storing your codes on an encrypted USB drive sounds like a good idea. You can even disconnect from the internet when plugging the USB in for extra safety.
If you like the idea of an encrypted drive, you can check our guide for storing seed phrases on an encrypted USB drive using VeraCrypt.
Account Recovery with Lost 2FA in Practise
How to Reset Binance Two-factor Authentication (2FA)
The process is slightly different whether you have access to your account or not. If you are still logged into your account, it's fairly easy to turn off your Google authentication (or another authenticator service) from the security settings.
In the second case, you'll have to complete an identity verification, but more to that later.
Reset Two-factor Authentication on Binance, if you have Access to the Account
First, log in to your Binance account and navigate to your profile icon, and then "Security."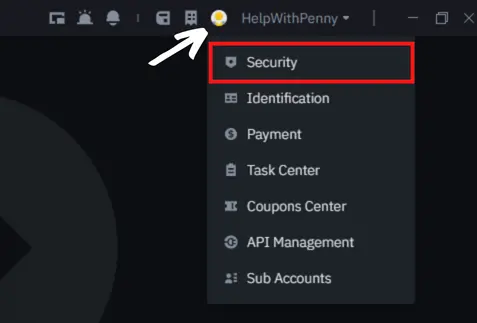 On the security page, you will see various settings regarding your account. Here you can change your email address, change your phone number, or reset your Google authenticator. Click the "change" button beside the authenticator.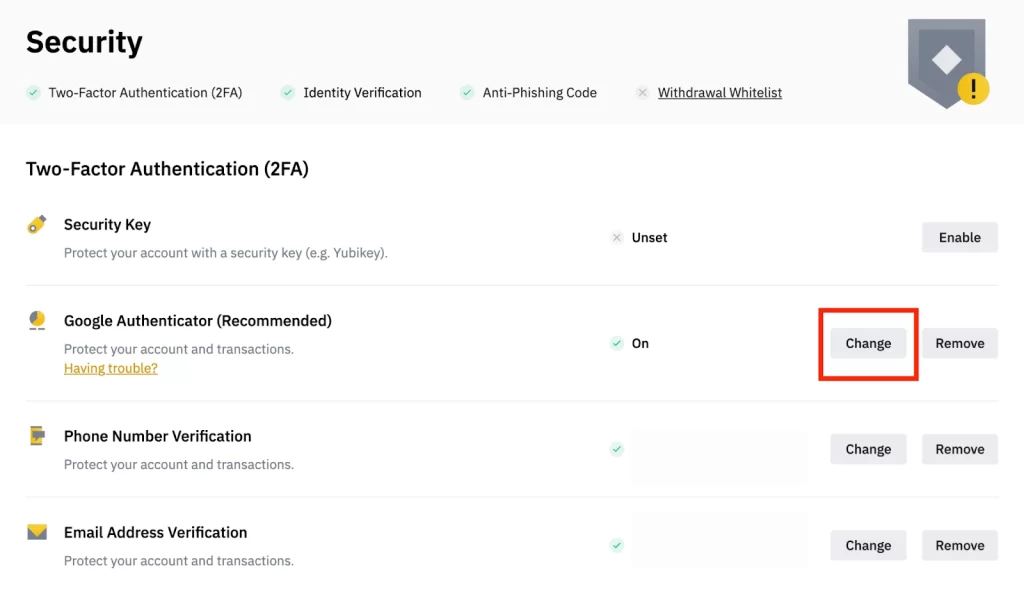 Keep in mind that resetting your authenticator on Binance will disable your account for 24 hours. Now navigate through the instructions provided on the screen. This will include verifying your email and phone number and other steps.
Reset Binance 2FA without Access to the Account, nor Authenticator
If you can't log in to your Binance account because you have lost your device with an authenticator, you'll need to complete a full identity verification.
Start by going to the login page of Binance and entering your email and password. Once the website wants you to complete the verification, tap "Security verification unavailable?" in the bottom corner.
On the other page, you can select whether your email, phone number, or Google authentication is unavailable and you would like to reset it.
You'll then have to complete a series of questions about your account within a 10-minute time limit. This can be questions regarding your recent transactions, the approximate value of your assets, etc. After that, you'll need to complete a face verification while holding your ID.
How to Reset Two-factor authentication (2FA) on Kraken
Kraken exchange will issue you up to four different 2FAs, for different account functions. Thus before contacting support or resetting your authenticator, check that you are using the correct code for the correct function.
If you can't log in to Kraken because of a lost 2FA device, there are two ways how to reset it, depending on whether or not you remember your Master Key.
To recover sign-in to Kraken with your Master Key, access this website. Enter your email, username, and master key, and Kraken will email you a bypass code that you can use instead of the 2FA code.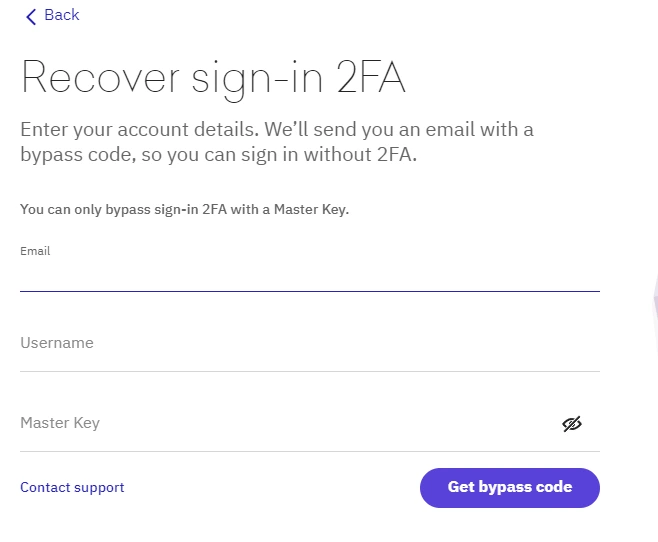 If you don't remember your master key, you must contact the support team by creating a new request. On the "Submit a ticket request" page, select the categories as follows:
Account sign-in & security category;
I can't sign-in to my account;
Issue with Two-Factor authentication (2FA);
As the last, select category that applies to you better.
You'll then need to fill in a short form including details about your account. For instance, what is your approximate account balance, or what coins do you currently hold on that account.
The contact team will contact you shortly after via email with other steps.
Conclusion
As you can see, it's usually a pretty elaborate process to reset your 2FA. After all, it is securing your account.
To summarize, don't forget to keep a copy of your authentication codes somewhere. You can either get a backup code from the website, which you could store. Or you should have a spare device with the same 2FA on it. But, two-factor authentication has long been associated not only with mobile devices. You can also download a password manager to your desktop or notebook, that's not that easy to lose.