Using VVS Finance either for farming CRO farming pools or for staking VVS became very attractive with steady, semi-high APRs. However, since it's a completely separate ecosystem that requires you to use two different apps and make them work together, not so few users don't know their way around.
For those of you, this step-by-step guide will give you all the necessary information to start using VVS with crypto.com for both staking VVS tokens or yield farming with your CRO tokens. After all, DeFi stands for decentralized finance – you're moving your funds away from all authorities, and that's why it's important to don't make any mistakes in the meantime.
Without further ado, let's dive in!
What is VVS Finance
Simply said, VVS Finance is a DeFi project based on the Cronos Chain. It's a decentralized exchange based on the Automated Market Maker model.
This means that the exchange process is happening not based on matching sellers with buyers, but the exchange rate is algorithmically predefined based on the ratio of tokens in the liquidity pool. You may know other AMM exchanges like PancakeSwap built on BSC or Uniswap running on Ethereum.
As liquidity pools form the foundation of those exchanges, so do liquidity providers. And your tokens will be part of this system when you're done with this guide.
How to Use VVS Finance with Crypto.com
Step 1. Set up Crypto.com and Crypto.com DeFi Wallet
Crypto.com and Crypto.com DeFi Wallet are two different apps, and you need to have both downloaded in your device.
Crypto.com app is the exchange that you'll use to buy CRO. Next to that, you'll use the DeFi wallet to connect to VVS Finance and send your tokens to the liquidity pool or stake it. Note that "Crypto.com Exchange" is a third, completely different app, and you don't want that one. It's a bit tricky, simply search for crypto.com on your mobile app store of choice.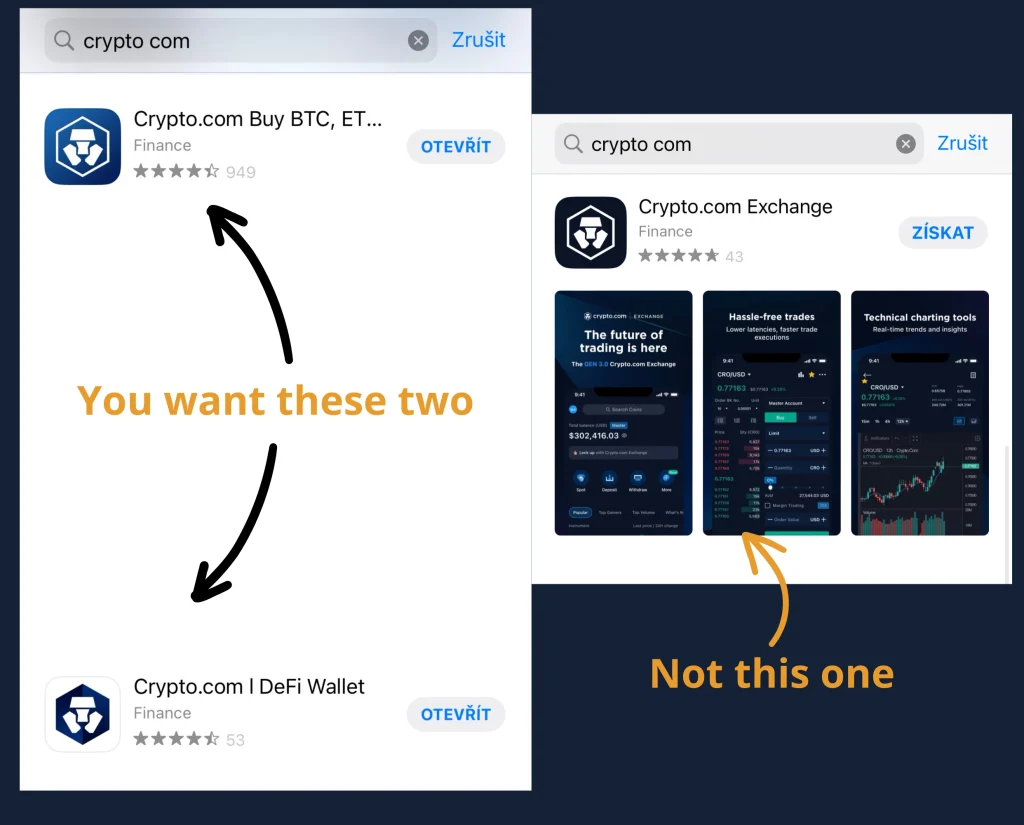 You'll need to complete KYC to use the exchange. It might take a day or two for the staff to verify your identity.
As the DeFi wallet is decentralized, you don't need to do any of this. Simply launch the app and tap "Create a new wallet." You'll be walked through a similar process as for creating any other similar wallet – for instance, MetaMask or TrustWallet.
Create a PIN code that will be used to locally access the wallet and write down the presented recovery phrase. Once done, you're ready to fund your wallet.
Step 2. Connect DeFi Wallet to Crypto.com
After setting up your wallet, we'll link the "exchange" account with the DeFi wallet.
You absolutely can send your funds over by simply copying your wallet address, pasting it on the exchange, and doing it all manually, but this is not only a more secure way to fund your wallet but also a lot faster. Once you connect those two apps together, you would be able to seamlessly transfer assets between them.
In your DeFi wallet, tap your profile picture in the top left corner, scroll down a bit, and hit "Connect to Crypto.com App."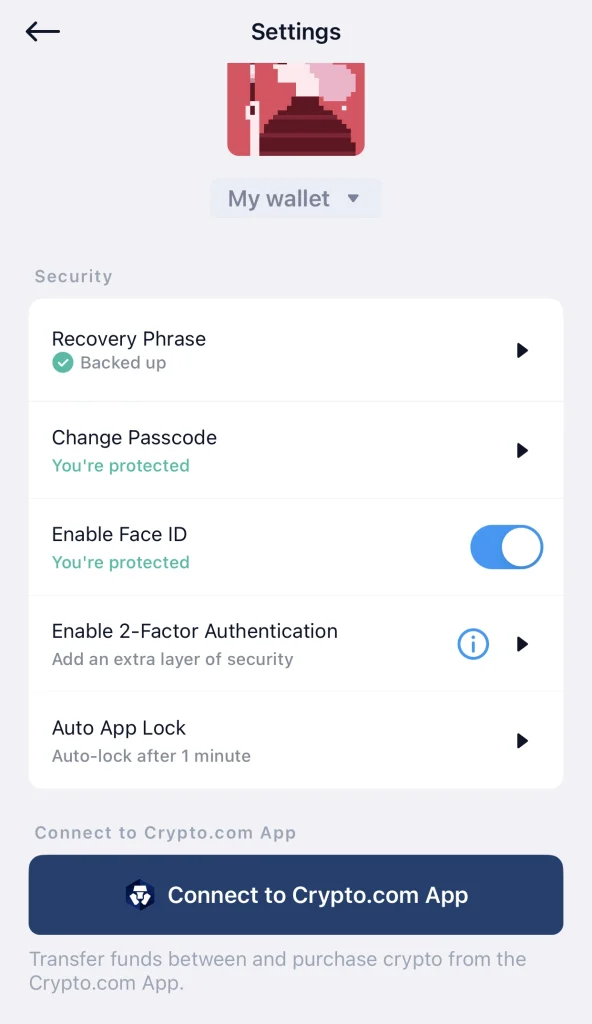 Now follow the steps on the screen to connect the apps together. You'll need to approve the terms and conditions and confirm the connection via the link that landed in your email inbox.
Step 3. Buy VVS or CRO on Crypto.com
Now it's time to get tokens to your DeFi Wallet. Here you have two options. You can either go with VVS tokens or CRO.
There are a few things to remember before choosing which token to go for. First, you can swap CRO and VVS in the DeFi Wallet, so your choice doesn't define your options. But you can effectively avoid extra fees this way.
If you decide to go with VVS tokens, you can stake them. Staking represents a smaller risk, and it's very automatic. On the other hand, you'll be able to become a liquidity provider with your CRO coins. Depending on the pair, it represents a higher risk but also higher APRs.
Using the Crypto.com app, buy one of those two coins to transfer them over to the DeFi wallet.
Find the token you want
Click Buy
Enter the number of tokens you want to buy and confirm the transaction
Step 4. Transfer Tokens over to Crypto.com DeFi Wallet
After funding your wallet, you'll see your balance under the accounts tab. Tap on that token to see three options – Buy, Sell, or Transfer. Hit Transfer and then Withdraw.
Since we connected our DeFi wallet to the app earlier, you can select DeFi wallet as the withdrawal option. It'll probably give you a warning message about whether you trust this address.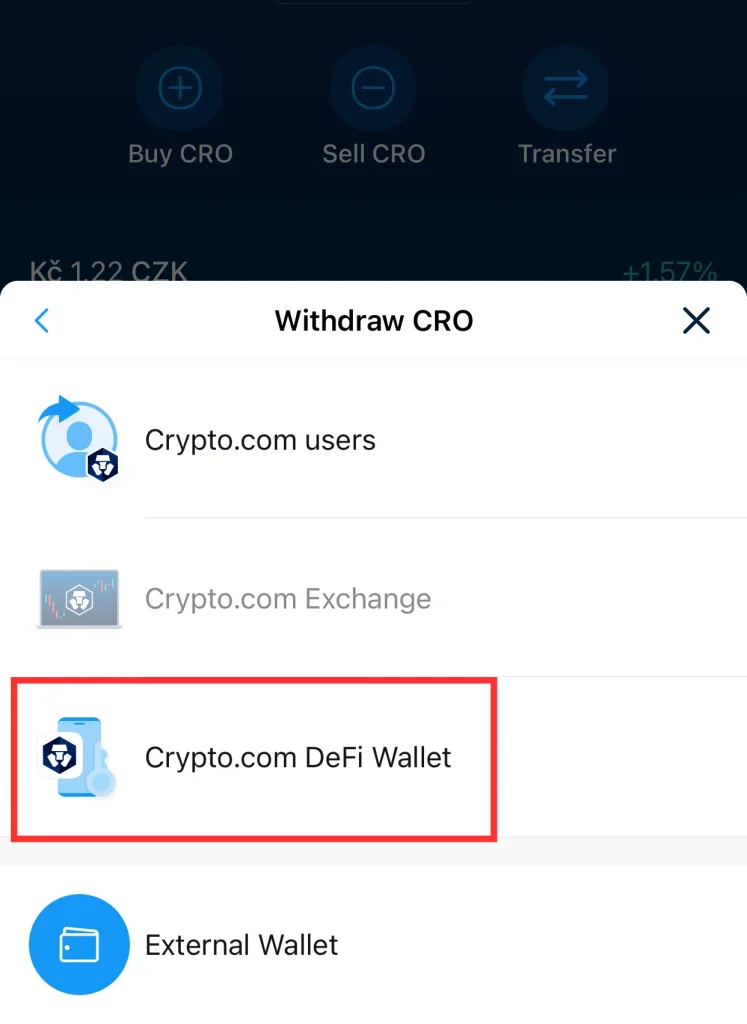 You should first send just a couple of tokens (like 1) to see if everything about the connection is working. As the sending network, choose Cronos (CRC-20), that's the chain used to interact with DApps. In contrast, the Crypto.org network is used for staking with validators.
Step 5. Access VVS Finance
From now on, for even better control over your earnings, you can download the Crypto.com wallet extension. It's completely optional, you can do everything from the mobile app. But it's easier and more intuitive to control from a computer.
For those of you, who stick with the DeFi app on your mobile device, go to the Browser menu and, under DApps, search for VVS Finance.
If you decided to try the extension, visit vvs.finance and connect your wallet using the button in the upper right corner.
Step 6.1. Stake VVS on VVS.FINANCE using DeFi Wallet
If you opted for the safer staking option, go to the earn option and click on Mines. Here you have two options – auto staking or manual. The only difference is how the tokens are compounded.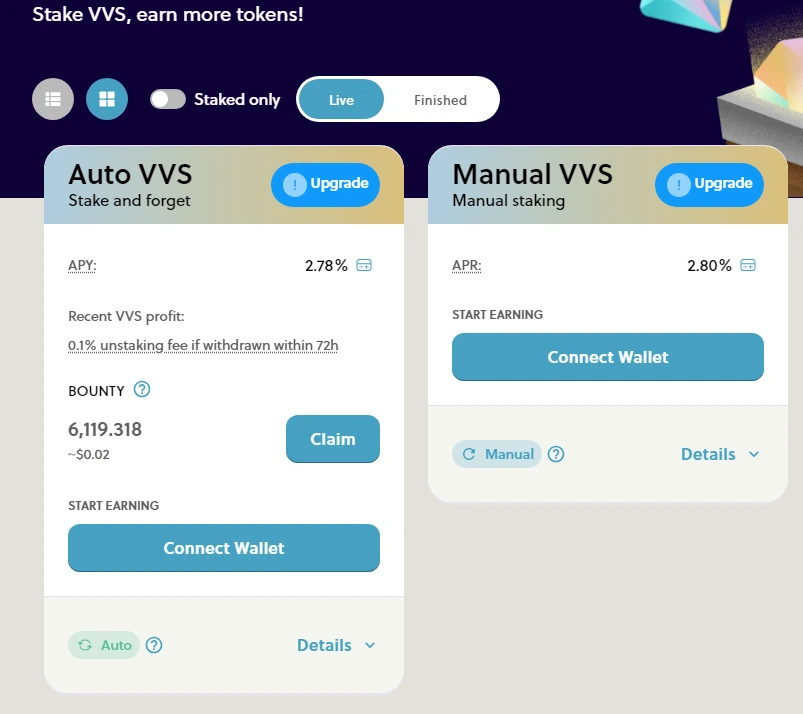 Auto VVS offers just a tiny bit lower APRs, but your earnings are automatically harvested and restaked whenever anybody claims the bounty. That's usually done very often, which leads to higher ROI.
When you choose manual staking, you'll have to claim the earnings and restake them manually. Although it offers a bit higher APRs, it will usually lead to lower ROI.
To put it simply, with autostaking, your bag will be fuller at any moment, whereas with manual, you'll be staking only your initial investment until you manually click the button – usually a lot less often than other users will do it for you.
Check out this calculator to see what a different delay between claims will do for you.
Then enter the amount of VVS you want to stake and confirm the action in your wallet. If you are using the browser extension, you'll also need to confirm it in the mobile app.
Step 6.2. Farm Liquidity with CRO or VVS on VVS.FINANCE
To farm liquidity with your Crypto.com DeFi wallet, go to earn and farms. Here you can see a list of all available liquidity pools.
Deciding which one to participate in is not only a question of offered APR. As with any investment, a higher yield also means a higher risk. Tokens that offer APRs that look too good to be true usually lose value very fast.
It's important to remember that if you choose, let's say, CRO-ETH liquidity pool, you need to have both those coins. And to withdraw your earnings from the given liquidity pool, the reward is dependent also on the price of the other coin. So even if you start with VVS or CRO, both considered relatively safe investments, but choose a pair with a poorly performing token, you may lose everything.
Conclusion
And that's how you use vvs.finance. It can be a lot to take in when staking your tokens for the first time. But it's actually quite easy once you familiarize yourself with it.
Buy VVS or CRO on Crypto.com, send it over to your DeFi wallet, and start staking or liquidity farming.
Especially when deciding to participate in liquidity pools, do yourself a favor and do enough research about the token, its supply, tokenomics, and price predictions.