PipeFlare, as it's known today, is a play-to-earn crypto gaming platform powered by the 1FLR. But it's far more than that.
We have been keeping an eye on this platform for a much longer time. So back in time, that PipeFlare was just Matic & ZEC Faucet.
Since the launch of this platform in 2020, tons of new features were added. Using their faucet, you can claim ZEC, Matic, and 1FLR once a day. Or you can choose from over 15 games and participate in weekly tournaments. Then, once you earn enough tokens, you can stake them for up to 47% APY.
In this PipeFlare review, we'll take a closer look at the features this platform offers and give tips on maximizing your earnings.
What is PipeFlare
PipeFlare is, in our opinion, one of the best play-to-earn platforms since it offers real earning opportunities for everyone without the need for investment.
PipeFlare was launched in 2020 and is growing rapidly, currently averaging 1.5 million visits per month.
It was published as another crypto faucet featuring ZEC and PIVX. Featuring a referral multiplier and loyalty bonus, and that was it.
Shortly after, the DASH token joined the faucet, making everyone earn three different coins every 20 hours.
PipeFlare stayed in this shape until mid-2022. At that time, the platform shifted to the form we know today. As the 1FLR token is a native token on the Polygon Mainnet, PIVX, and DASH needed to be replaced with no other than Polygon (MATIC) and Flare tokens.
Apart from that, you can also earn Flare tokens by playing one of their games, and if you are really good, you can compete for ZEC in weekly leaderboard competitions.
As with any other free play-to-earn platform, you can't expect to earn a ton of money from PipeFlare, but it does add up over time. Especially if you keep your claiming streak, that'll grant you a small multiplayer.
How to Earn on PipeFlare
There are multiple earning opportunities that PipeFlare offers. Each comes with a different earning level that can be multiplied if you become a PipeFlare supporter.
But essentially, all the options are open for everyone, these include:
ZEC, Matic, and 1FLR Faucet
1FLR Gaming rewards
Weekly Tournaments
Bonus lottery spins
Staking rewards
Airdrops
NFTs
Let's now review every one of these options.
Claim PipeFlare Crypto Faucet
PipeFlare allows you to claim free Matic, ZEC, and 1FLR every 24 hours.
You can opt-in to get a notification when the coin is ready to claim or implement it into your everyday routine. For instance, claim it every night or after waking up.
Every day you keep your claiming streak, you'll earn a small reward multiplayer, and once every 6 days, you can spin the lottery wheel to earn an additional up to $5 in ZEC.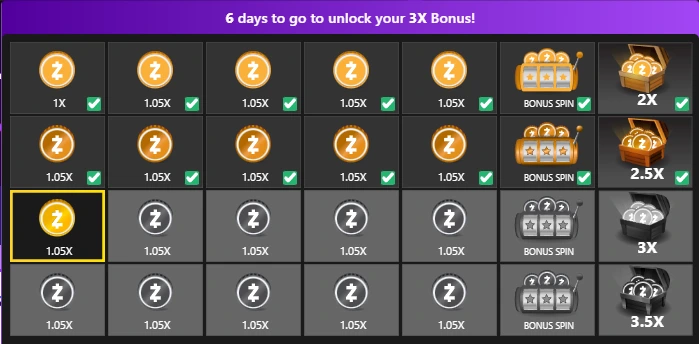 You'll need a lot of luck to get a full 5 dollars in bonus spin. However, you can expect, on average extra $0.3 every week.
You can also push your luck a bit by activating one of the available multipliers.
If you use Brave Browser, you'll get 2x;
Get up to 5x with Faucet multipliers NFTs;
Up to 1.9x multiplier by linking your social media accounts;
Or up to 3x multiplier by playing a Rock Paper Scissors game.
Also, ZEC is paid out instantly. It's always a really small amount, so make sure your wallet doesn't have a minimum amount required. We found a really good practice in sending your ZEC directly to Binance and staking it in one of their flexible pools. This way, you'll earn even more free crypto.
Matic stays in PipeFlare until you have more than 0.25, then, you can withdraw it. And 1FLR also stays in the app indefinitely. You can always withdraw it to an external wallet, but it's better to leave it there, subscribed to one of their staking options.
Play One of the Available Games
There are over 15 games you can choose from on PipeFlare. But not each offers rewards.
PipeFlare works with independent game developers around the globe to help them launch and monetize games to a global community. Apart from that, the platform also develops its own games.
As a rule of thumb, games by independent creators do not offer rewards. But the native does.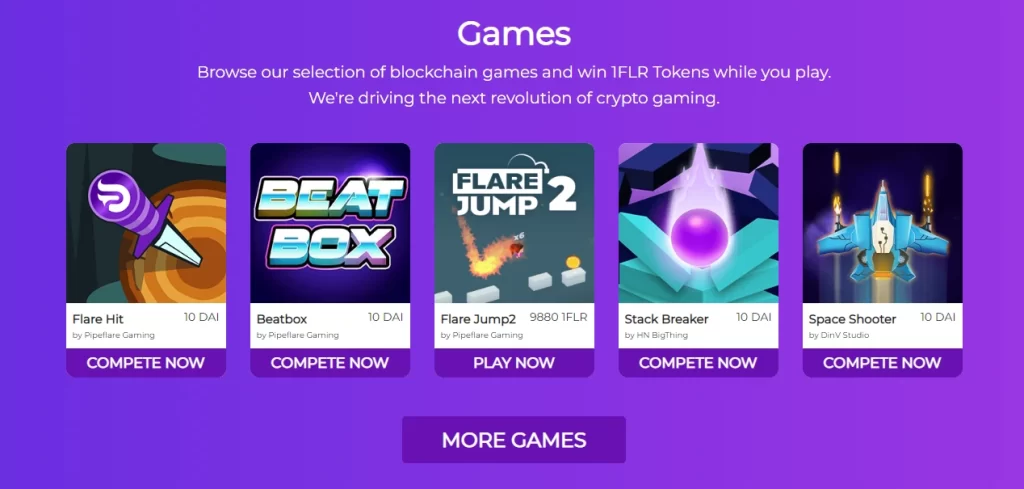 There are two types of rewards you can earn by playing games. 1FLR tokens that can be collected inside the game and weekly leaderboard prizes, depending on your leaderboard ranking.
Each game developed by PipeFlare Gaming offers some way to earn Flare tokens in-game. For instance, in the game Flare Hit, you can hit 1FLR tokens instead of gold coins.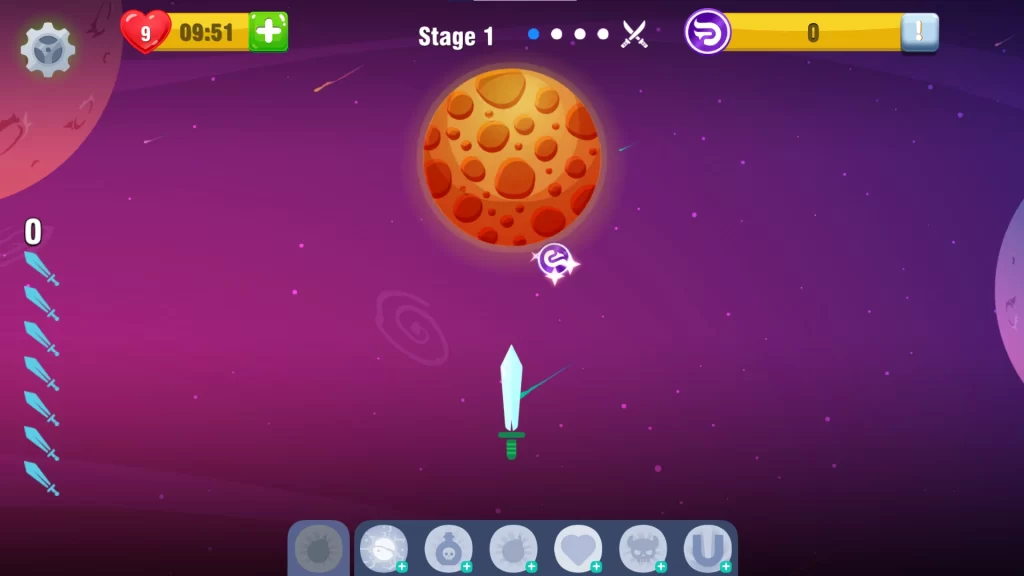 The collected tokens will then be added to your total 1FLR balance.
If you are really good at one of these games, you can also compete with others. If you place withing the 200 places, you'll get a price.
There are two different price levels. If you are a PipeFlare supporter, which costs just $1.5 per month, you can win 10 times as much in rewards, and your in-game tokens drop will be 2.5 times as common.
All the games are quite fun to play. What really stood out for us were Flare Hit and BeatBox.
PipeFlare Airdrops
PipeFlare hosts multiple airdrops every month. But unfortunately, only a handful is available for all users. As shown in the picture below, only two out of eight are available to all non-paying users.
Your share of the airdrop depends on how many games you play and how much 1FLR token you have in your on-site wallet. To get more, you must play more or buy more tokens.
Other, bigger aidrops are available only to supporters of PipeFlare. As we already disclosed, the cheapest subscription comes at $1.5 a month. It might be worth it if you consider playing multiple games a day.
One airdrop each month is also reserved for Pyro NFT holders. NFTs also give you other advantages, as a claim multiplier or one extra faucet claim every day. You can currently buy 20 mystery eggs for $15.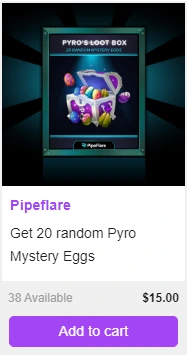 PipeFlare Staking
Before we give you some earning tips, let's review one last significant PipeFlare earning option, and that's staking.
The maximum APY you can get seems to be 47%. However, there are other bonuses you can get, and we are not completely sure if they don't add up or if they are already calculated in the APY. If they do, you can get up to 57% APY.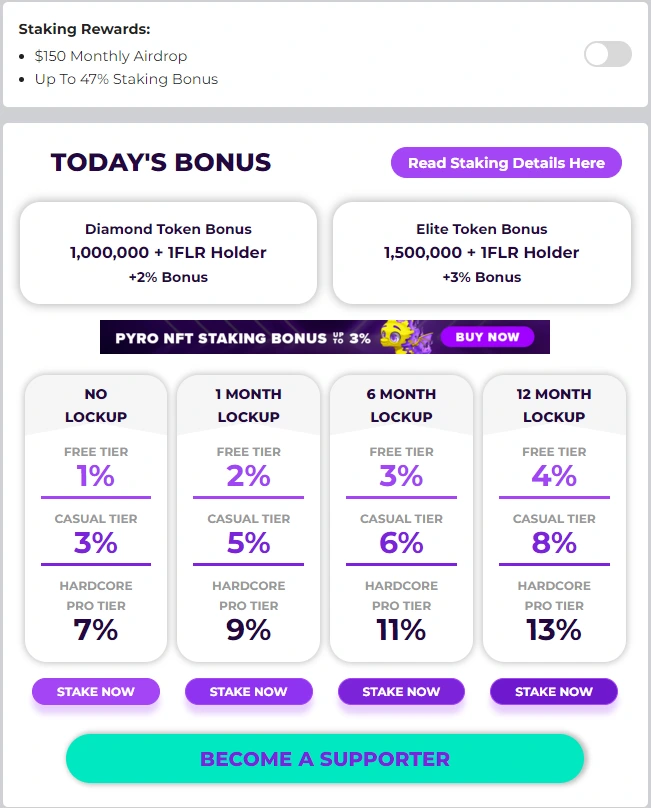 The base staking rates are quite low. If you are new to PipeFlare and didn't invest money to buy 1FLR, you'll get a maximum of 4% APY.
If you become a supporter, your APY will more than triple to 13% APY.
You can also higher your percentage yield by:
Having a lot of coins in your in-game wallet. You'll get a 2% bonus if you have more than one million tokens and a 3% bonus for more than 1.5 million.
If you have more than 150,000 tokens, you can turn on the "Staking Rewards" to be enrolled in a monthly bonus airdrop. 150,000 comes only at around $60, so it might be worth considering.
If you buy the Pyro NFT, you'll get an extra 3% bonus.
There are other NFTs available that will higher your yield. There is one that will double your staking yield.
Tips to Maximize your PipeFlare Earnings
It's safe to say that everyone wants to earn as much as possible without leaving money on the table. In the last part of this PipeFlare review, let's focus on some tips and tricks to maximize your earnings.
1. Active all Bonuses and Multipliers
Before you start claiming your faucet, it's a good idea to activate all the free bonuses and consider subscribing to a higher tier or investing in the Flare token.
The free multiplier you should activate right away is gained through connecting your socials.

You can get up to 1.9x if you verify four social media to your account. If yo don't own LinkedIn or Apple account, consider creating one just for this sole purpose, as the four accounts will give you a 0.7x extra.
You can then support the team by subscribing to a higher tier. PipeFlare comes with three different paid levels, with the cheapest one being just $1.5 a month, giving you a 1.5x multiplier.
The higher tiear, apart from an up to 2.5x faucet multiplier, can also claim the faucet automatically for you.
Finally, you can also consider buying an NFT that also facilitates a wide range of bonuses.
2. Claim the PipeFlare Faucet Daily
To maximize your earnings, you should, of course, claim your rewards daily. Ideally, you should claim your earnings at the same time every day to minimize the offset.
Do not also forget to check the daily bonus rewards tab for free spins, which are available every six days. You can find that in the top right corner of the website.
3. Put your Spare Tokens to Work
Each day, you are claiming just a fraction of a dollar, but this can add up pretty quickly. Especially if you put your spare tokens into a staking pool or a lending program.
1FLR token as a native token of PipeFlare can be staked directly inside your game wallet. You can find the option under the "earn" tab.
To stake ZEC and Matic, consider using an exchange with generous APYs. We got our coins usually on Binance or BiTrue.
4. Rank in the Leaderboard Every Week
Most of the playable games on PipeFlare host a weekly tournament for great rewards.
You can rank in each of them or choose one you really enjoy and master it. The first twenty places will grand you at least $1. If you rank yourself higher, you can get up to $10 for each game.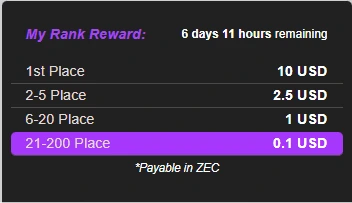 Bottom Line
To conclude this PipeFlare review, in our opinion, it's a really good and legit platform to earn free crypto bit by bit.
It offers many different earning opportunities that are not very repetitive and can keep you entertained for many nights for free. But you can also invest in the platform to maximize your earnings.
Let's now take a look at the rating on a point scale.
PipeFlare Review on a Point Scale
The thing with many different play-to-earn platforms is that when something is free to use, it won't generate much. Although it is surely true in this case, it's not as bad as it may seem at first glance.
PipeFlare offers many different ways to earn free ZEC, Matic, and 1FLR tokens, and if you utilize them, you can earn a pretty decent amount in no time. Especially if you became really good at one of the games that host weekly tournaments.
However, it wouldn't be a good review if we didn't deduct points for anything. What we didn't like a bit is the notification system.
The leaderboard changes a lot; at any given moment, anyone can beat you. And there is no good notification system that would alert you once the week is over if you either won or not. Similarly, with airdrops. In the notification tab, you'll get a message that you received a share of an airdrop, but information about how big is this stake is missing.
You can get more information about that on the history page, but that's just too confusing.
Investment to Reward Ratio