MetaMask is a popular choice when it comes to Cryptocurrency wallets. With a wide variety of features, a large number of supported DApps (Decentralized Applications), and a user base of over 21 million.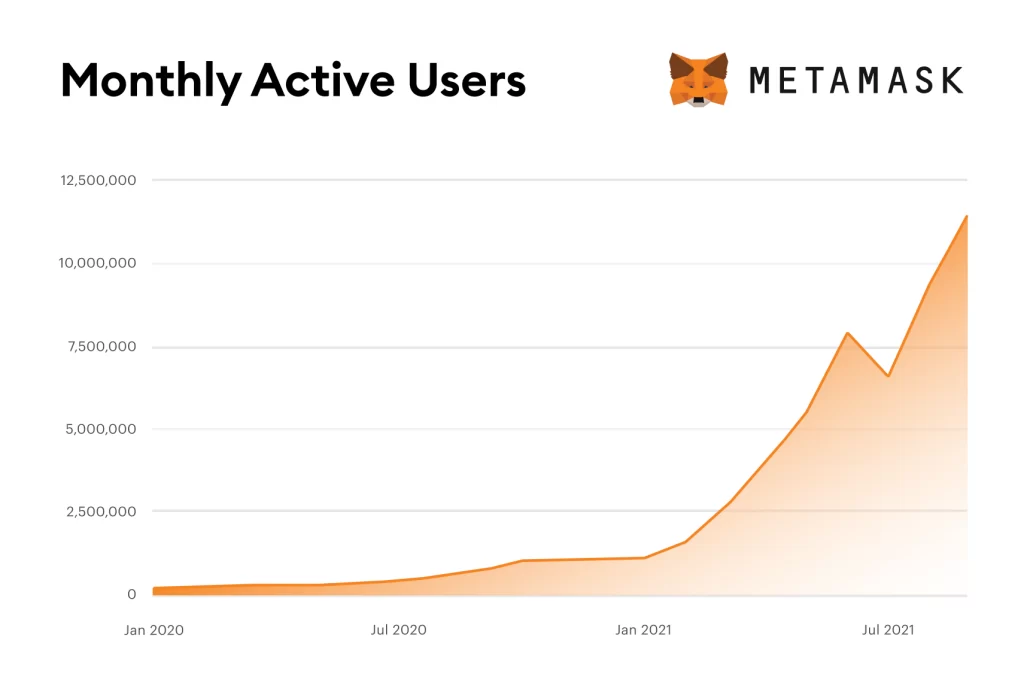 This graph from ConsenSys, a company that owns MetaMask should give you a good example of how fast the platform grows.
Unfortunately, they didn't create a new chart to celebrate 21 million users, but you can read their article here.
But what makes this browser wallet so popular and is it a good choice for you?
We will try to answer all these questions in this article. And we'll also be giving you a step-by-step detailed guide on How to Create a MetaMask wallet.
What is MetaMask?
Metamask is a free-to-use browser extension and also a mobile app wallet that allows its users to interact with the Ethereum blockchain.
On MetaMask you can receive and send coins, swap tokens and interact with a wide variety of Decentralized Applications like OpenSea, PancakeSwap, or ViperSwap. Or a wide variety of Play to Earn games.
Your Wallet is protected under secure login with your unique 12-word recovery phrase, compliant with the BIP39 standard. Under the BIP39 standard, your seed phrase from one wallet can be used in another one, and vice versa.
Passwords and private keys are generated locally, on your device, so only you have access to your accounts and cryptocurrencies. But this also means a big responsibility associated with the possible loss of this data.
As there is no authority performing, possible loss of seed phrases and private keys means losing access to your wallet.
Is MetaMask a hot wallet?
Is MetaMask a hot wallet? Yes, the MetaMask wallet is a hot wallet. This comes from the definition of hot wallets.
The "Hot Wallet" term refers to cryptocurrency wallets that are always connected to the internet and crypto network.
Because they are connected to the internet, they are at greater security risk than "Cold Wallets".
Private Keys prove the ownership of your crypto tokens. Whoever holds them, holds the crypto. And hot wallets store your private keys in the online environment. Allowing you to store, send and otherwise handle your cryptocurrency asserts.
Cold wallets, on the other hand, store your private keys in an offline environment. A cold wallet is for instance the SecuX cryptocurrency wallet or even your DIY USB wallet.
However, by no means are hot wallets the place where your cryptocurrencies are located. Your assets are located on the blockchain, which is where your crypto address is stored. Cryptocurrency wallets only allow you to manipulate them.
This is also why your private keys can be imported into other wallets.
Now let's take a look at How to create a New MetaMask wallet.
How to set up MetaMask Wallet
How long does it take to set up MetaMask
Creating a new wallet on MetaMask is only a matter of 5 minutes. This process contains downloading the extension or mobile app, setting your password, and memorizing your 12-word seed phrase.
Although we will show you only the process from the perspective of Google Chrome and it may vary a bit for other browsers, it should give you a good idea of what you will need to do.
Also, stay with us as you'll learn important information related to creating and securing your account.
Step 1: Download MetaMask Wallet
First, you will need to download MetaMask to your desired device from MetaMask's official website. You can either download the browser extension or the MetaMask mobile app for your iOS or Android device.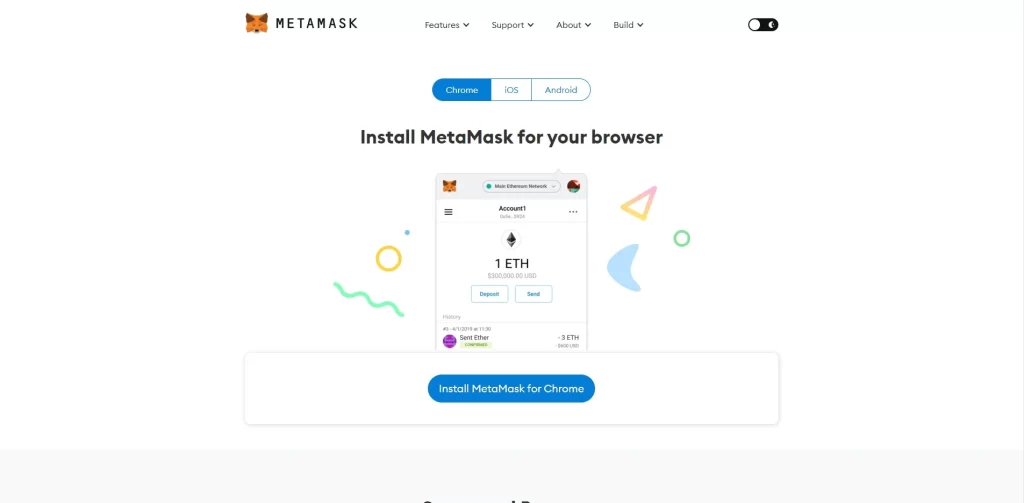 MetaMask supports the most commonly used browsers: Chrome, Firefox, Brave, and Edge. Brave users need not worry, however, as Brave Browser is built on Chromium and supports all Chrome extensions.
For iOS compatibility, you will need at least iOS 11 or later. The Android version of MetaMask requires Android 6 and up.
So select the appropriate option and download it.
If you are using the MetaMask browser extension navigate to the right upper corner of your browser and open the extension tab. From your available extensions choose MetaMask and tap "Get Started".
This is slightly different for mobile users who will need to open the MetaMask app, that is probably installed on your home screen.
Step 2: Create a wallet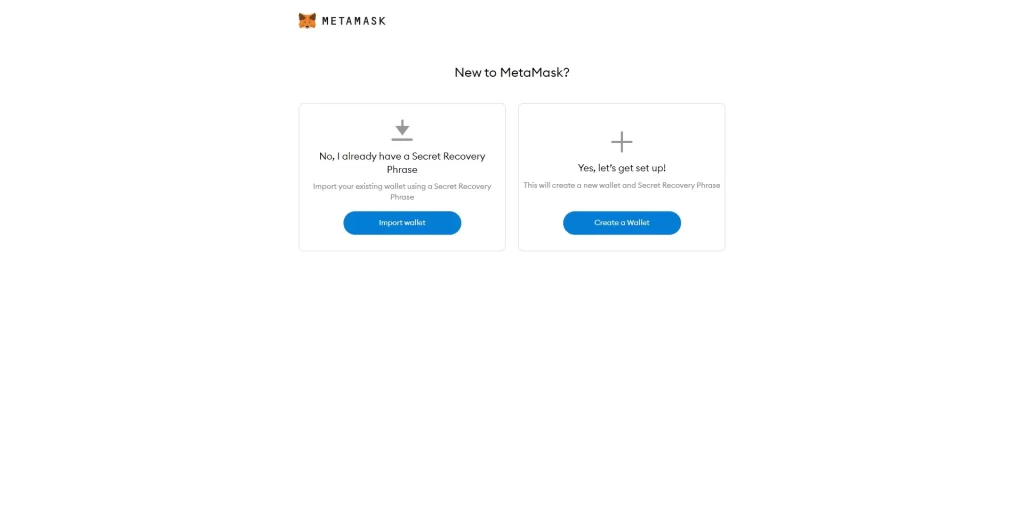 Two different options will show up. You can either Import your existing wallet using Secret Recovery Phrase or create a new one.
As a new user, you want to select the option "Create a wallet". Import wallet is for users who already have an existing MetaMask wallet that they would like to import using their secret recovery phrase.
Step 2.1: Select a Password
After selecting "Create a wallet" you will be asked to create a password. This password will be used every time you access your MetaMask wallet. But it doesn't substitute for the Secret Seed phrase, which will be generated in just a moment.
The password is only used to access the wallet locally. This password can not be changed in the browser extension without resetting your wallet. You can find more information about changing the metamask password here.
Step 2.2: Write down your Recovery Phrase
After you choose a password you will see your Secret Recovery Phrase. Recovery Phrase is 12 randomly generated words in exact order. The words cannot be swapped and the nor replaced. The Recovery Phrase must be used in the way you see it on your screen.
Carefully write down each word on a piece of paper and store it safely. It is a good idea to keep multiple physical copies of your Recovery Phrase. And definitely don't share your Recovery Phrase with anyone. Ever. 
Once you have memorized your Recovery Phrase, congratulation! You have successfully created a MetaMask wallet, and your wallet is ready to use!
Using MetaMask Wallet: Tips & Tricks
Once your wallet is created you can use it for any activity you wish to. But first a few useful tips.
Where to find MetaMask settings
You can navigate to the settings tab by clicking on your profile picture. Then a small window will pop up. And among the last options is setting.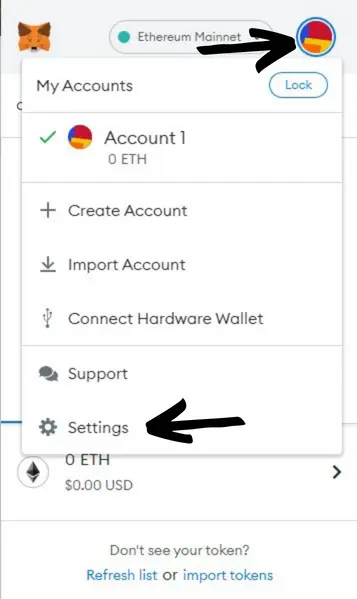 Here you can set your primary currency, whether the value of your cryptocurrencies will be displayed in FIAT currency or in the native token, and more. 
It is a good idea to go through the settings yourself and choose what suits you best. But there is nothing essential without which MetaMask will not work. 
But what I would recommend turning on is under the "Security & Privacy" setting.
Here you can turn on notifications for incoming transactions – this is useful when you're sending yourself some cryptocurrency and this way you'll be sure you've sent it correctly before the transaction is completed.
It is also useful to enable the "Use phishing detection" option. This will show you a warning in case you are connecting to a potentially dangerous site.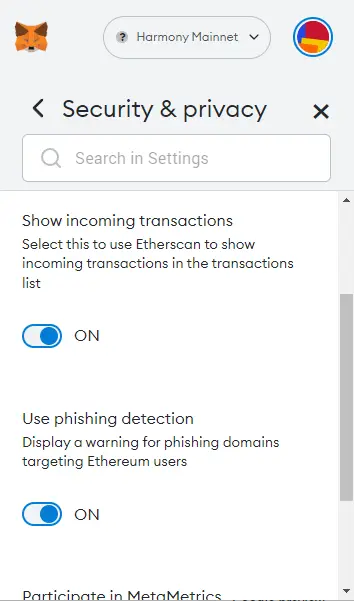 MetaMask Public Address
The foundation of using MetaMask is your public address. This is the address you share with other people, exchanges, or sites in order to receive crypto coins and tokens to your MetaMask. You can find it at the top of the screen, under your account name. By default named Account 1.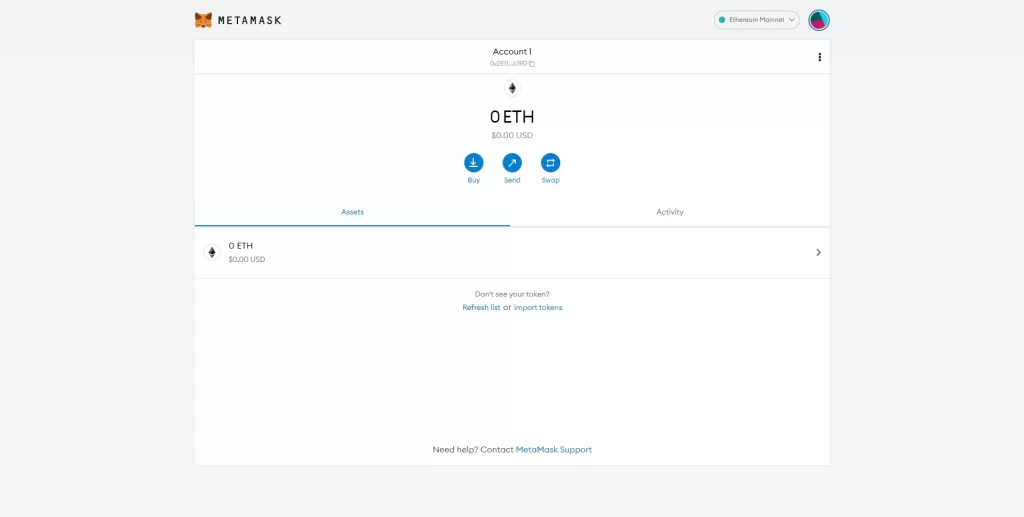 By default, there is only Ethereum imported to your wallet. Thus if you accept other Ethereum-based cryptocurrencies other than Ethereum, they will not appear in your wallet.
The tokens will not disappear, you will have them in your wallet. But you will not be able to see that balance.
Importing Custom Tokens and Networks
But you can import custom tokens to your MetaMask. Since the process can vary cryptocurrency by cryptocurrency we have already made numerous guides on different cryptocurrencies. You can find them all in one place here.
You can also add other Ethereum-based networks to your MetaMask.  Such as the Harmony (ONE) network. You will find all articles dedicated to this topic also here.
Besides receiving and sending cryptocurrencies you also can purchase cryptocurrencies in MetaMask. Which is a third-party service. This service is not provided directly by Metamask but is provided in partnership with another site. These services have their own fee structure and their own terms of use.
Swapping cryptocurrencies is also a possibility.
MetaMask fees
A regular user who just transfers cryptocurrencies from his wallet to MetaMask and vice versa will not be hit with any special fees.      
But you always have to have gas fees in mind. The gas fee is a payment that you make for the computing energy required to process and validate your transaction. The MetaMask wallet itself has no influence on this.
You can set the gas fee for each transaction. How much you are willing to pay will affect the speed of the transaction. The more you pay, the faster the transaction will go through.
How to check gas fee prices? A great solution is EthGasStation or EtherScan. You can check gas fees on CoinMarketCap as well.
Conclusion
MetaMask wallet makes a great opportunity for anyone who wants to anonymously receive and send cryptocurrencies anywhere and anytime, thanks to its built-in browser extension and smartphone app option.
This allows you to operate with a large number of Ethereum-based tokens. All quickly and securely.
The ability to connect MetaMask with numerous Decentralized Applications, especially Play to Earn games, can also come in handy.
Overall MetaMask is a great entry point into the world of cryptocurrencies.
And what about you? Have you already started using MetaMask? Or how was your experience so far? Let us know in the comments!