When it comes to Play to Earn games, Axie Infinity might be the first thing that comes to your mind. As one of the biggest Blockchain games. Third biggest Play to Earn game based on market cap, according to CoinMarketCap, to be specific.
AXS, or Axie Infinity Shards, represents the governance token of the Axie Universe. AXS can be earned in multiple ways, but most importantly by playing the game itself. But there the earning possibilities don't end.
The staking program is one of the great ways to earn passive income on, already-owned, tokens, while more or less doing nothing.
In this article, we'll present you a few different ways how to Stake AXS and start making interest on your crypto tokens. Let's dive in!
Can you Stake AXS
Yes, you can Stake AXS.
Axie launched its staking program back in September 2021. With initial APYs around 400%.
If you are not familiar with staking, staking is a thing at Blockchains, that uses the Proof-of-Stake mechanism. You "stake" your coins, lock them for a specific time and earn rewards over time. Behind the scene your coins are put to work, helping to verify transactions.
The POS mechanism is a lot more convenient than the POW (Proof-of-Work). More investors get the chance to earn, without owning any special equipment.
And as more AXS get staked, and more people come in, the APY is progressively decreasing. But even today's APYs are very generous. Nowadays you can expect anywhere around 50% APY.
Where to Stake AXS
Before you start you need to think about where you want to stake AXS. You got two options.
You can either stake AXS at Ronin Wallet, which is let's say the official wallet associated with the Axie Infinity game.
Or you can stake directly inside your exchange.
Currently, only a few exchanges have the Staking or Lending possibilities for Axie Infinity Token. Dominated by Binance with by far the best APYs.
How to Stake Axie Infinity Tokens
Stake AXS in Ronin Wallet
First, make sure you are holding enough AXS tokens. But, the minimal staking amount is pretty low. Even if you own only a couple of dollars worth of AXS, you will be able to stake.
Use Ronin Bridge
The next thing you have to keep in mind is to have Axie Infinity Tokens on the right network. On the Ronin Network.
A lot of exchanges will give you only one option. That is to send your tokens on the Ethereum Network. If this is your case, you'll need to use Ronin Bridge, to transfer your tokens from Ethereum Network to the Ronin one. If your exchange has the option to choose the network, you can skip this step.
Tap on "Deposit"
You'll now need to connect your MetaMask wallet. Unfortunately, there is no option to choose another wallet, thus if you are using, let's say Trust Wallet, you will have to either send your funds to MetaMask. Or you can also import your Trust Wallet into MetaMask using a method we mentioned in our article about Using Trust Wallet on Computer.
Once your wallet is connected copy your Ronin Wallet address and paste it into the window "RONIN ADDRESS DESTINATION".
Select the asset from the list – AXS.
Enter the amount you would like to bridge over to the Ronin network.
Click submit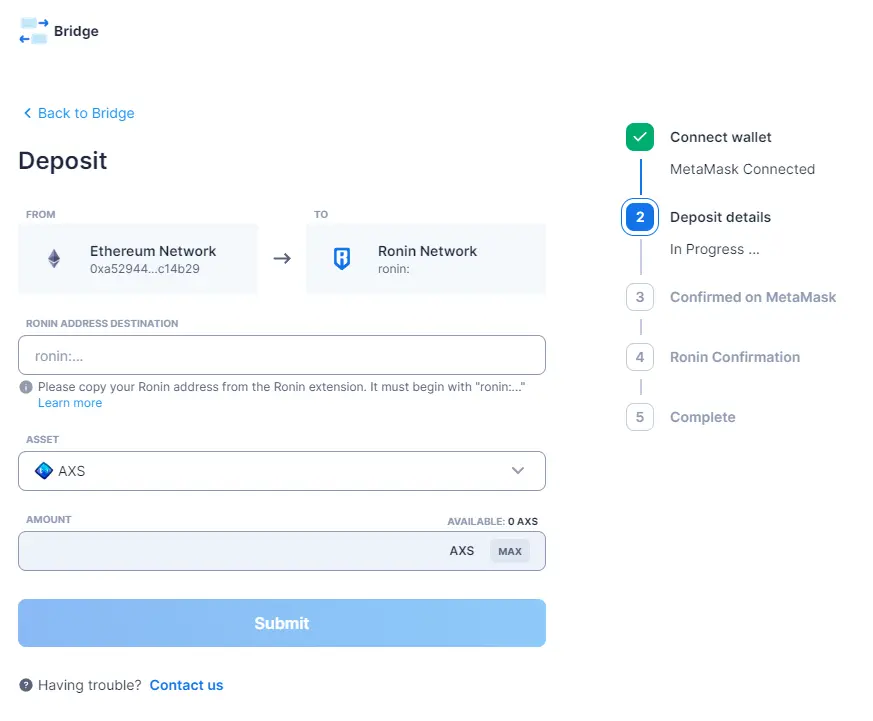 After that, you will need to confirm the transaction in MetaMask and just wait for AXS to arrive in your Ronin wallet.
Connect your wallet to the AXS Staking Page
Once you have your coins inside your Ronin wallet you can start earning interest. When staking AXS inside the Ronin Wallet you can currently expect around 50% APY. But the rate fluctuates daily. It all comes down to how many Axie Infinity tokens are currently staked. More Tokens equal fewer rewards.
The advantage of staking directly using your Ronin wallet is that your tokens are not locked. It is what is referred to as Flexible Staking. You can withdraw your stake at any time. And you can also instantly reinvest your earned interest.
To stake your AXS tokens first head to this page: https://stake.axieinfinity.com/
Click on "Connect Ronin Wallet". You'll need to confirm your connection.
Now, use the "Stake" button and enter the number of tokens, you wish to stake. Alternatively, you can tap "Max" to use all your available funds. Since it is a Flexible Staking, you can safely do that.
Click "Stake" once again
Confirm the transaction in your Ronin Wallet
Congratulation, your assets are now being staked.
Now you can see in your dashboard how your earned interest is accumulating in real-time. Apart from that your dashboard also contains the current APY.
Beside your earned interest you'll see two buttons. One that says "Restake" and one with "Claim".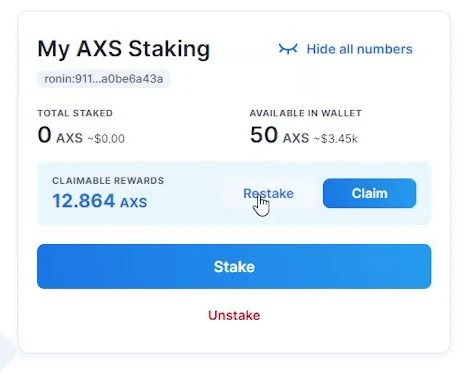 If you choose to "Claim" your rewards, the earned interest will be sent over to your wallet.
On the other hand, if you choose to "Restake" your earnings, they'll be automatically added to your current staking amount.
How Often to Restake your Rewards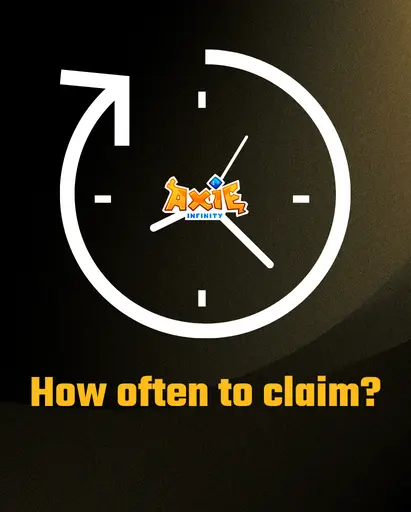 Since Ronin Wallet offers some free transactions, it is very safe to do as you'd like. Once you have no more free transactions left you'll need to pay gas fees for every re-stake.
Also, you can claim your rewards only once in 24 hours. And that is probably the best you can do. The only exception would be if you have really few tokens where almost nothing will be generated in 24 hours. Then you can leave it there for a week or so.
Stake AXS on Binance
You can also stake AXS on Binance. Binance also offers really genuine APY. You have multiple options with Binance. You can either go with Flexible Staking, which offers lower interest, but you don't need to lock your assets.
Or you can lock your funds for 30, 60, or 90 days and earn higher interest.
Even though the resulting interest will be lower or similar to Ronin Wallet, it has one undeniable advantage. You can have all your funds in one account, without the need to send them back and forth.
Also, the security risks are smaller since you don't risk forgetting your Seed Phrase. But one drawback is, that it can be limited. You are generally limited on how much you can stake. But these quotas are usually pretty big, thus if you don't own thousands worth of Axie Infinity Shards, you will be good.
To Stake AXS on Binance first access your wallet. Beside your tokens, there will be an "earn button". After tapping it you will be given different options to earn interest on. Now choose whichever you like the most.
What is the minimum amount of AXS you can stake
There is no minimum, required amount to stake AXS in Ronin Wallet.
However, to stake Axie Infinity tokens on Binance, you'll need at least 0.01 AXS. That's equal to about $1.
How to Calculate AXS Staking Rewards
To calculate AXS Staking Rewards you can use one handy online tool. The website is called Staking Rewards and it offers calculators for nearly every stakable coin.
First, head to this website: https://www.stakingrewards.com/earn/axie-infinity/
If you scroll about halfway down, you will find a calculator.
Fill in your invested amount, either in AXS or in USD. Under "Term" choose how long you expect to leave your tokens in the staking pool.
Under the "Type" option you can choose either if you are staking AXS in the Ronin Wallet, or Lending your tokens.
And the "Price" option refers to the price of the token. So with this setting, the calculator will show you, how much you'll earn with 10 AXS staked when the price stays on the same level, for one year.
Also, don't forget to tick the compound toggler, since you want to keep restaking your AXS rewards.
Is it a Good Idea to Stake AXS Today & Risks of Staking AXS
Staking any coin or token doesn't come without risks. However, the risks are more or less only tied to having your funds locked for a certain period.
When you lock your funds for some time and the token prices drop, there is nothing you can do. You often can't access your funds.
However, on Binance, for example, you can withdraw your funds earlier even with locked Stacking, but your earned interest is being deducted.
Generally, there are other risks tied to Staking, but that's not our case. You are not investing in a small-cap coin and there is only one validator, with 100% uptime.
Conclusion
All you need to start earning sweet staking rewards is a few dollars worth of AXS. You can then send your funds either to Ronin Wallet, or stake directly on Binance for greater convenience.
Keep in mind to restake your tokens once in a while. On Binance, that can be done automatically, by turning on the "Auto transfer of earn" option.
Once you delegate your Axue Infinity Shards, you can also check out our guide on staking Splintershards, which offers similar APYs, but the staking happens very conveniently, directly in-game.