As cryptocurrencies are rising in popularity, so are the cases of crypto being stolen.
And once something like this happens, the question of whether or not your can recover your stolen cryptocurrencies often arises.
If you count yourself among those cases, it's unfortunately quite unprobable that you'll ever see your crypto again.
It varies in each case, and as cryptocurrencies are meant to be decentralized, it's extremely hard to operate without any authority.
Here is everything you need to know about the recovery of stolen crypto.
Why is Crypto Nearly Impossible to Recover
It's relatively easy to trace where your money went when your credit card gets stolen.
There's a bank you can contact right away that has it's own security measures. The state laws protect you, and even the police can help you.
But with cryptocurrencies, things are different. Crypto is meant to be decentralized, and if you are sending your assets in a direct wallet to wallet transaction, there is no intermediatory.
Crypto exchanges are undermining this decentralization and anonymity a bit. On the one hand, if your crypto gets stolen from an exchange, it's likely insured, and they'll help you recover it.
On the other hand, a transaction from an exchange is still a wallet to wallet transaction rather than person to person. Thus nothing is certain when it comes to crypto recovery.
Thus, when you send your cryptocurrencies, no third party actually knows who a particular wallet belongs to. Nor what you are doing with the money outside the crypto exchange.
That's why if you told someone your seed phrase or clicked on a fraudulent email, unfortunately, the chances of recovery are quite slim.
That is unless the scammer is completely foolish.
For instance, if a scammer sends the funds, he stole from your wallet directly to a centralized exchange run under his name.
You can always follow your stolen cryptocurrencies whenever they go, as blockchain is public. But in practice, that's meaningless due to blockchain anonymity. And also, the tief will likely use a crypto mixer to split the assets into hundreds of transactions, so you won't be able to trace it all the way.
But we understand that you want to do the absolute maximum you can. Let's take a look at the cases in which crypto is most commonly stolen first and then check the recovery options.
How can Cryptocurrency be Stolen
Cryptocurrency Exchange Hacks
Crypto exchanges come in two distinct models. Centralized and decentralized.
A centralized exchange is an exchange where you can purchase cryptocurrencies with FIAT and hold these funds until you decide to withdraw them or exchange them further. For instance, Binance. On this type of exchange, you are also asked to verify your identity (KYC), as these are somewhat regulated.
Decentralized exchanges, on the other hand, do not hold onto user funds and instead allow users to trade directly from their own wallets.
Thus in the case of cryptocurrency hacks, decentralized exchanges are much safer. In the event of a hack, users are only at risk of losing their own funds, not the exchange's funds.
However, as you'll see in the statistic bellow, decentralized exchanges can often also be hacked for quite a lot of money.
The chart above represents the biggest Crypto Heists by estimated losses. These are always cases of hacking, not scams using phishing emails or malware.
For instance, the two biggest crypto hacks happened on decentralized applications. PolyNetwork is a cross-chain dApp that allows you to bridge coins via various blockchains. And Ronin wallet is a native wallet for the ronin chain, used to play Axie Infinity.
Crypto risk assessment experts from Crystal Blockchain, a research platform that offers a thorough perspective of the public blockchain ecosystem, estimate that hackers made more than $4.2 billion in cryptocurrency in 76 significant incidents in 2021.
Hackers usually exploit some weaknesses in the exchange infrastructure.
However, these weaknesses are not usually related to the way blockchain works.
It's rather about breaching two-factor authentication, obtaining API keys, and other information needed to carry out such a big heist.
But thankfully, when it comes to centralized exchanges, they typically admit their mistake and replace the majority or all of the stolen cryptocurrency. 
For instance, Binance repaid all $40 million in losses caused by a hack in 2019.
But even though centralized exchanges are often insured, it doesn't mean that it's safe to keep your holdings on these hot wallets. A far safer option is a cold wallet, keeping your fund stored offline.
And you can even make your own cold wallet from USB.
Crypto Theft on Individuals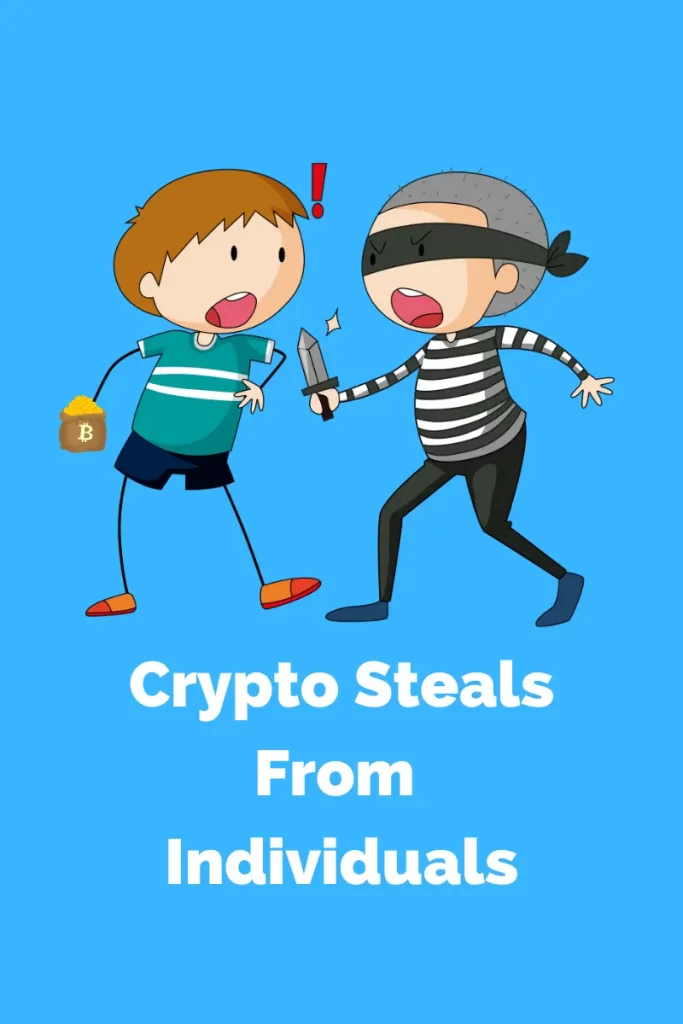 Scams targeting individuals are significantly more frequent. They won't steal millions since crypto whales know their way around crypto but are easier to perform.
It doesn't need a lot of planning or a technologically brilliant mind.
These scams take advantage of human nature. The fact that people are afraid of missing out, trusting "authority" too much, or wanting to indulge in a bit of happiness.
Scamers might try to steal your crypto in many different ways, which are certain modifications of traditional scams. 
You may encounter a Romance Scam where the scammer will ask for cryptocurrency instead of money. Phishing emails instead of your bank will pretend to be a crypto exchange, etc.
What to do if Your Crypto is Stolen
As we already said, there is no certainty in recovering your stolen crypto. However, there are some options worth trying.
Secure your Remaining Assets
If your crypto got stolen, the first thing you should do is secure your remaining assets.
You can do this by transferring your remaining funds to a secure wallet, such as a hardware wallet or a reputable software wallet with strong security features.
If your crypto storage got breached using a password, another important step is to enable multi-factor authentication (MFA) on your accounts.
At least 2FA adds an extra layer of security by requiring a unique code and password to access your accounts. This helps prevent unauthorized access even if your password is compromised.
Contact the Police
This will not only increase the chances of recovering your stolen funds, but it will also help in investigating and preventing similar incidents in the future.
It's important to gather as much information and evidence as possible to assist in the investigation and recovery process, including transaction records and any relevant screenshots or emails.
Contact the Exchange or Wallet
If the theft occurred through an exchange or wallet, reach out to their support team as soon as possible.
They may have mechanisms in place to assist in recovering stolen funds and will be able to guide you through the process.
As with contacting the police, include as much detail as possible to help them understand the situation. This includes the date and time that you noticed that the funds were missing, how you think it happened, and don't forget to include your account information.
Follow stolen Cryptocurrencies 
Any block explorer allows an easy way to follow your stolen funds carefully. And by doing so, you can gather information that can be used in your recovery efforts.
If the funds are sent directly to any centralized exchange, you almost won. As when registering on a centralized exchange, users must complete a KYC verification and submit all kinds of personal data.
You can use any block explorer to do so. Many sites also allow you to receive a notification the moment funds are sent away from that wallet.
Use a service of CryptoHunter
There are also a lot of people and companies that make a living by recovering stolen cryptocurrencies.
Although, you need to be very careful when considering using this type of service. First of all, recovering stolen crypto is really hard, and a lot of people claiming that they can do it are yet another scammers.
Also, make sure you have enough money on hand because it can get quite expensive.
How to Avoid Crypto Scams
As you can see, a far better option is to educate yourself on cryptocurrency security and stay cautious, then rely on your crypto being recovered.
Here are three basic measures when it comes to crypto security you should already know.
NEVER Disclose your Recovery Phrase and Private Key
The seed recovery phrase is used in case you need to access your crypto wallet on another device. Once you tell it to someone, they'll get unlimited access to all your funds that are in that particular wallet.
Not even the support team will ever need to know the phrase.
The same applies to your private keys. Private keys back up your crypto address, not the whole wallet, but a certain address.
Use a Cold Wallet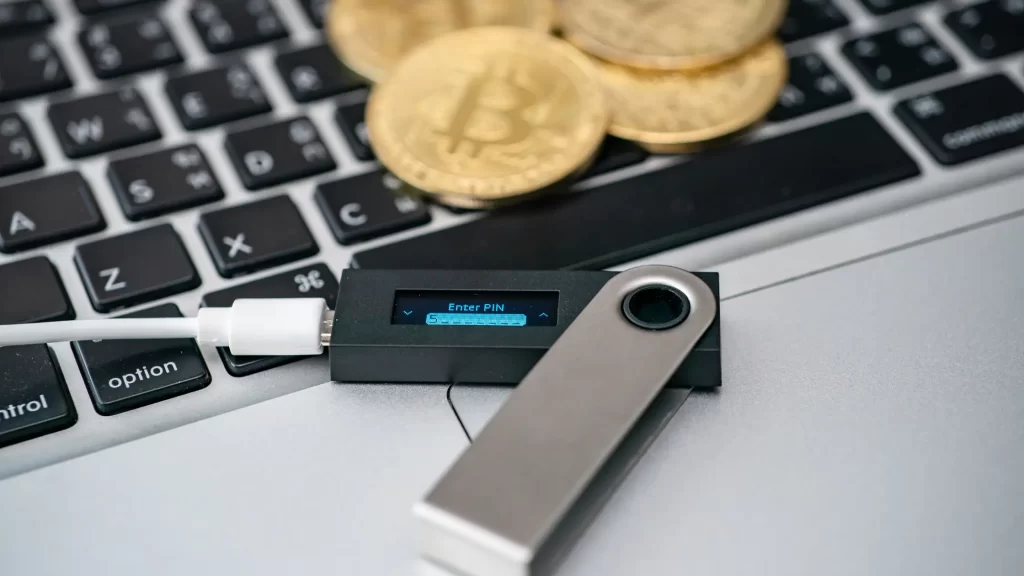 Unlike software wallets, which are connected to the internet and can be vulnerable to hacking, cold wallets are offline devices that store your private keys in a secure environment.
This makes it much more difficult for anyone who wants to steal your crypto to gain access to your funds, as they would need physical access to the device.
Many hardware wallets also come with a wide range of built-in security features to keep you peace of mind.
If you are looking for one, you can check our review on a SecuX W20 wallet that comes with military-grade security elements.
Or, if you are on a budget, you can also make your own DIY crypto wallet from a USB stick, even though it's not that secure.
Use Two-Factor Authentication
Using a strong password with multi-factor authentication enabled is the key to staying safe anywhere online.
Add your phone number, or enable email authentication on your exchange.
This adds another layer of protection. So for a scammer, it won't just be enough to crack your exchange password, but also your email or obtain your phone.
How to Recover Stolen Cryptocurrency FAQ
Can I get back stolen crypto?
Recovering stolen cryptocurrency can be difficult but not impossible. That's due to the decentralized nature of the blockchain.

It depends on various factors, such as the speed of reporting, the type of attack, and the security measures in place.
Can you trace stolen crypto?
Yes, it's possible to trace stolen cryptocurrencies using a block explorer.

This can provide valuable information for recovery efforts. However, it's usually not very effective since blockchain is anonymous, and scammers will usually use advanced technology as crypto mixers to cover their steps.
What if an exchange gets hacked?
Crypto exchanges usually have a wide range of security measures to prevent this from happening.

However, it's not an impossible scenario. And if this happens, you should immediately contact the support team and ask what to do next.
How to avoid crypto scams?
To avoid crypto scams, it is important to educate yourself about common tactics used by scammers, such as phishing scams and Ponzi schemes.

Also, never disclose your private key or recovery phrase, as those give unconditional access to your funds.
Conclusion
Cryptocurrency theft is a growing problem, and it's important to understand the potential risks and take steps to secure your assets.
Cryptocurrency can be stolen both through exchange hacks or targeted attacks on individuals, and once stolen, it is nearly impossible to recover due to the decentralized nature of the technology.
However, by taking steps to secure your assets and promptly reporting any theft to the authorities, you can increase your chances of recovery.
This includes using a cold wallet, two-factor authentication, and being extremely cautious.
In conclusion, it can be difficult and, in many situations, impossible to recover stolen cryptocurrency. For these cases, prevention is the most effective.