STEPN is a popular Web3 fitness game launched in 2021. Since then, more than 2 million players decided to give it a try and downloaded it. Even though STEPN to this day is an invite-only game.
Wondering how all these players get their STEPN activation codes? Well, in this article, we'll cover 5 methods you can get your own activation code for STEPN for free, without any sketchy code generators.
What's STEPN?
STEPN is a fitness game built on the Solana network. It is built around the concept of move-to-earn, so the more active you're, the more you can earn.
After you get your invitation code, you can buy a pair of sneakers based on your type of activity. You can get either a walker type, jogger, runner, or a trainer. Each type is designed and earns the most during a different speed. For instance, to get the most out of walker sneakers, you should move between 1 to 6 kilometers per hour.
Based on your activity, you'll earn Green Satoshi Token ($GST). With GST, you can upgrade or repair your sneakers, mint new NFT sneakers, or withdraw and cash out to your bank account.
We really like the idea, although it definitely has some flaws, it motivates you to live an active and healthy life. But let's back out to the beginning and check out how you can get your STEPN activation code for free.
How to Get a STEPN Activation Code
As mentioned earlier, STEPN is an invite-only game. The developers didn't show an intention to disable the activation system completely, but from time to time, they temporarily disable it to facilitate marketing activities and promotion. So maybe you won't even need any activation code because there's ongoing promotion.
If you do need it, here are 5 different ways to get the STEPN activation code easily.
Get an Activation Code from an Existing STEPN User
This is the main and intended way to get the activation code. If you have a friend who already has access to the game, they can invite you.
Every user will earn one activation code for every 10 energy spent. How much energy you have in the game depends on the number of sneakers you own.
If you first start with the game, you'll only have 2 energy a day – that's enough for 10 minutes of moving & earning. So you would need to be active for 5 days to get an invitation code for your friend. But as you progress in the game and get more sneakers, you'll have up to 20 energy a day for up to 100 minutes of move & earn time.
Get an Activation Code from STEPN Discord Channel
The developers want to keep the game free and accessible, so on the official STEPN Discord Channel, you can find an "activation-code" channel with 10 activation codes dropped every 15 minutes.
Simply join the STEPN Discord at https://discord.com/invite/stepn and complete Captcha. That Captcha thing is a bit confusing, you need to accept the rules of the channel, then a Captcha bot will give you a link to an external site, where you need to verify that you're a human.
Once you successfully joined, browse the available channels to find one with "activation-code" in its name. There will be a whole bunch of activation codes for you to copy and register your account with it.
From a Telegram Group
Similar to Discord, STEPN also has its own official Telegram Group, where they share additional 1,000 activation codes per day.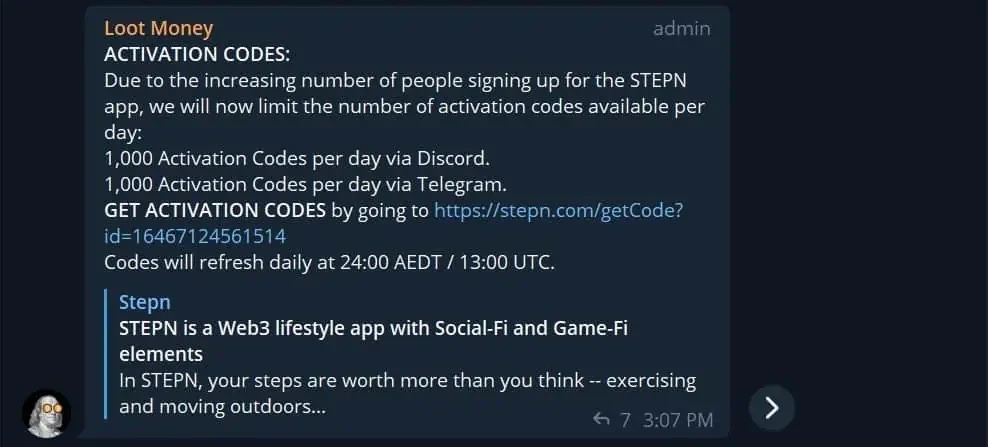 You can join the Telegram Group from this link https://t.me/STEPNofficial. Once you join, simply scroll the group to find the most recent drop of codes. There's probably no way all of them are taken. But if any of them didn't work, wait for another drop or ask an existing user for one.
Get an Activation Code from Facebook
Facebook is one social media that gives place to many cryptocurrency enthusiasts. So you'll for sure find a few fans of STEPN that will have spare invitation codes.
However, unlike Telegram or Discord, there's no official Facebook community. You should be very careful. As we already said, these codes are widely accessible, you should never pay for one. Additionally, do not click any link a user will send you, do not enter your seed phrase, etc. Only accept a few digits number code.
Bottom Line
Since STEPN is an invite-only game, you'll need an activation code before you start earning.
It's not as competitive now as it was at the beginning of the game. You shouldn't have any big issues getting one, either from their official Discord channel or Telegram group.