MetaMask is one of the popular choices when it comes to online crypto wallets. But when you finally decide to use this wallet to accept cryptocurrencies you need to find your MetaMask wallet address first.
MetaMask is an Ethereum-based wallet. Thus, it is used to send and receive tokens on the ERC20 network, or other similar networks, like the BEP20 – or Binance Smart chain.  
You can then copy the address of your network and paste your wallet address to the withdrawal page of any exchange you like, like Binance, and send your crypto.
The withdrawal process to MetaMask usually takes a maximum of 30 to 60 minutes. Depending on the blockchain used.
But we'll show you all that. 
In this article, you'll learn how to find your MetaMask Wallet address. 
How to find your wallet address on MetaMask
Finding your wallet address in MetaMask is fairly easy. It is also a lot easier than finding your address in Trust Wallet. So if you're used to that, no need to be scared.
First, to find your wallet address, you have to open your MetaMask extension or mobile app. Then input your password to unlock it. 
Don't forget to select the right MetaMask network.
In the MetaMask browser extension, you can copy your wallet address right away, under your account name. 
In the mobile app, you will need to navigate to the menu, open your Account Details and copy your address.   
Then all it's left is to give the wallet address to your sender and wait for your assets to come through. If you are sending it yourself make sure to use the right blockchain network. 
For example, BEP20 for BNB, or ERC20 for ETH. If you select the wrong network your funds will get lost, irrevocably.
Have MetaMask wallet ready
But before we start. Firstly, this guide assumes you already have a MetaMask wallet set up. Download the browser extension and follow the instructions. If you need any help we have a step-by-step guide on our website on how to set up your MetaMask wallet.
Secondly, you must have the correct network already configured properly. By the correct network, we mean a network or coin, which you want to receive in your MetaMask. 
As MetaMask comes only with the Ethereum network pre-configured, you will have to manually import anything else. This is a bit of a different process for each individual coin and network. But we also have a number of tutorials for importing custom networks and coins.
Here is how to find your wallet address on the MetaMask extension. 
How do you find the wallet address on the MetaMask browser extension
1. Launch the extension and unlock your wallet 
First, click on the MetaMask icon in the extension tab – on most browsers in the top right corner. 
Finally, log in using your password. If you have forgotten your password you can reset it as long as you know your seed recovery phrase.  
2.1 Copy the address
For the next step, there are essentially two solutions. You can copy your wallet address right away. Or open "Account details" to scan the QR code for easier and safer payments. 
When you launch your MetaMask wallet you will land on the wallet overview. This page includes all your recent transactions and the current balance. 
For the method, one just tap the copy icon at the top of the extension. This icon is located under your account name.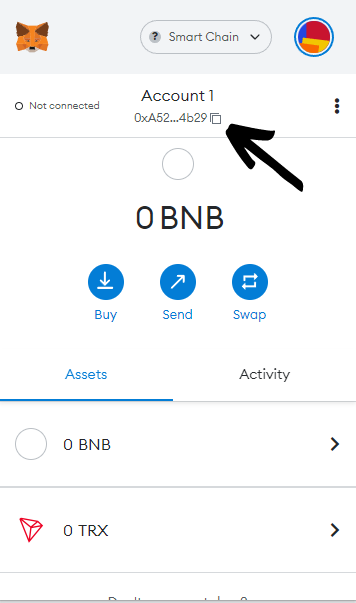 As you can see we are in our example having the Smart Chain already imported to MetaMask. You will by default have only Ethereum network available.
2.2 Scan the QR Code
Alternatively, if you want to use a QR code for your transaction tap on the three dots in the top right corner. 
Now from the drop-down menu click the "Account details" option.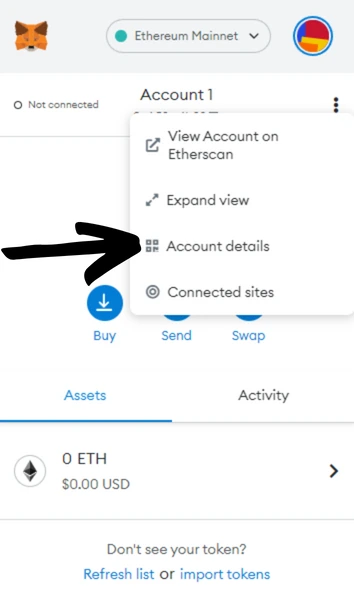 An overview of your account will show up. On this screen, you can copy the MetaMask address using the same icon as in the previous example, or scan the QR code.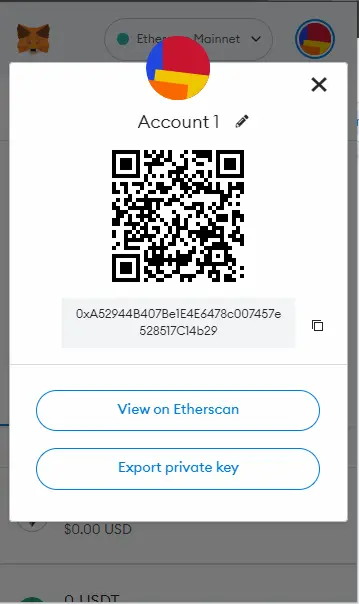 Now you can paste your MetaMask wallet address elsewhere and send yourself some crypto. 
How To Get Your Wallet Address On The MetaMask Mobile App
Finding the Wallet Address in the MetaMask mobile extension is a little harder. To find your wallet address, you have to navigate to the cryptocurrency you want to receive.
As details of the cryptocurrency open you need to tap on "Receive" and copy the presented wallet address. 
That's a very similar process to copying your Trust Wallet address.
1. Launch the MetaMask mobile app and unlock it
Same as with the browser extension, you need to unlock your wallet first.
Find the MetaMask app on your smartphone homepage and unlock your wallet using the password, or biometrics if set up. 
2. Select the crypto you want to receive 
As you get to the homepage of your wallet you will see all of your imported coins. By default, only Ethereum will be there, and the Ethereum Mainnet. 
If you need any specific coin follow our guides on importing custom tokens to MetaMask.
Also if you have already imported any custom networks, make sure to switch the network to get the right wallet address.
Now tap on the cryptocurrency you want to receive. For instance, if you want to deposit Ethereum to your MetaMask, select Ethereum.
3. Tap on "Receive" 
Now that you clicked on the cryptocurrency you want to deposit to your MetaMask Wallet a quick overview will show up.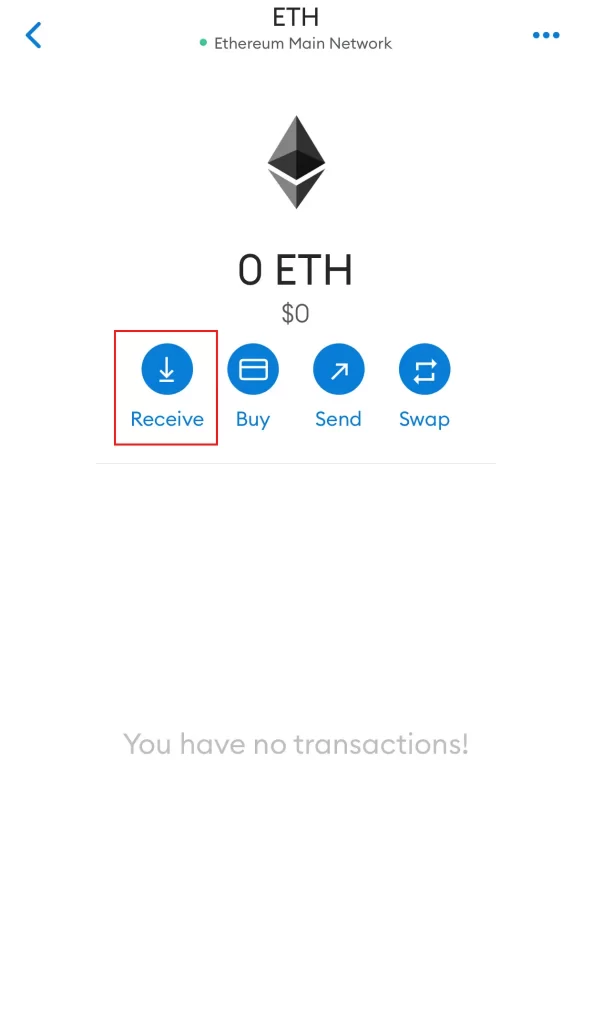 This overview will include any past transactions and also a few buttons. Including a button to "Send" your crypto, and a button to "Receive" your crypto coin. 
Since you are looking for your MetaMask address, thus for your deposit address, tap on "Receive". 
4. Copy your Trust Wallet address
After you have clicked the "Receive" button you will see the address associated with the cryptocurrency, along with its QR code. 
Now you can either copy your wallet address using the "Copy button", or share your QR code. 
Apart from that, you can also create a payment request, just like you might be used to with your bank. And that's by tapping the "Request Payment" button in your MetaMask wallet.
Conclusion
Now you are all set to receive your first bunch of cryptocurrencies in your MetaMask wallet. 
But there is a couple of things to keep in mind when sending yourself crypto to MetaMask. Or to any other crypto wallet, to be precise.  
Firstly, make sure you are copying the right address. 
Often, your crypto wallet won't let you send cryptocurrencies to the wrong address. That's because addresses on different networks have different formats. But it may happen that your wallet won't detect it and your funds will be lost. 
This is not that big of an issue in MetaMask. Since your whole wallet share one address. But keep an eye on this.
Secondly, make sure to select the right network. 
If you are sending the cryptocurrencies yourself make sure to select the right network. Once again, different crypto networks have different address formats. And simply your assets will never be delivered.