Many people like to pass the time by playing mobile games. You can play any game just for fun, but wouldn't it be better to be able to earn money while waiting on the bus or in line at the post office?
Although Axie Infinity was initially meant as a browser game, you can actually download and play Axie on your mobile phone.
However, it's not as simple as opening your device's app store and downloading the game. As neither the Android nor iOS version has made it to the official store, yet.
In this article, we'll give you a step-by-step guide on downloading Axie Infinity on both major mobile OSs; Android and iOS. Let's dive in!
How to Download Axie Infinity on Android
While Axie Infinity is still unavailable via the Google Play Store, you can download the official apk file from Axie's website and install it on your Android device.
The download page is a bit hidden, and there seems to be no link leading directly from the official Axie website. That's why you might have missed it.
1. First, make sure to download Ronin Wallet to your device, as you'll be required to confirm your connection in the app.
Ronin Wallet is available through the official play store. Install the app and use your recovery phrase to import your wallet. You should, of course, use the same wallet as on your computer, otherwise, you'd be creating a new account.
2. In the second step, visit the Axie Infinity download page on the website and select "Android (APK)" as the client.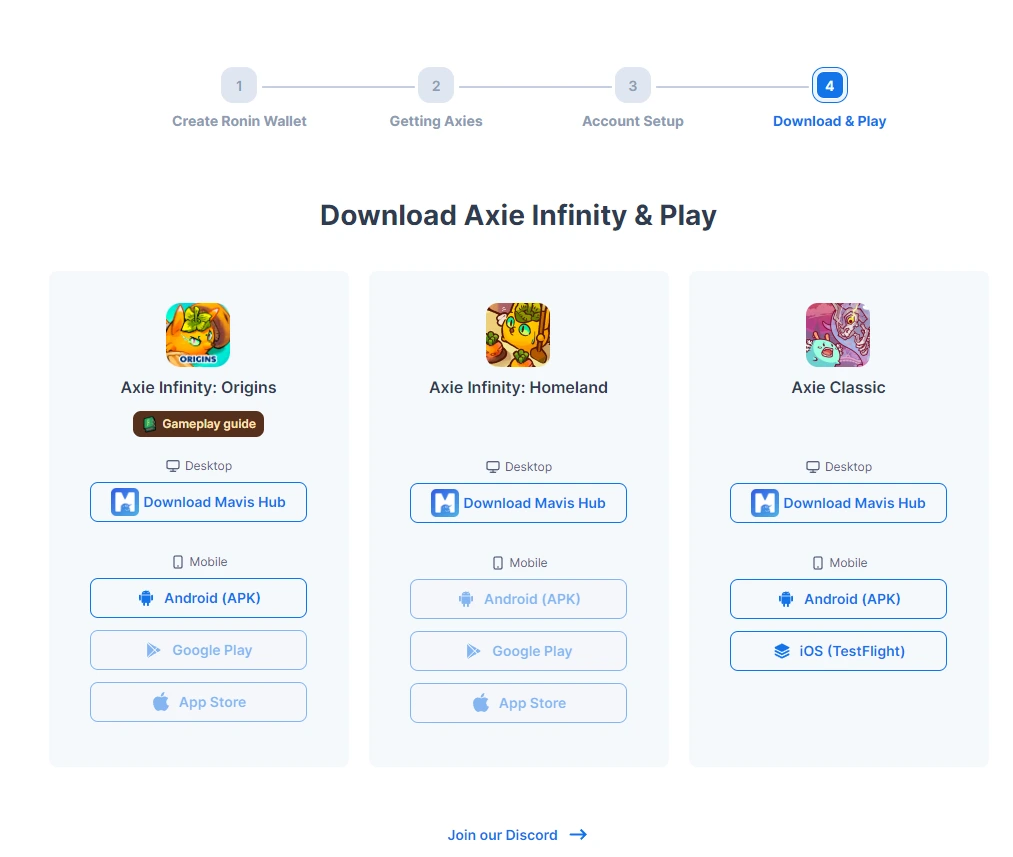 You can access the download page through this link.
Depending on your smartphone model, it might not let you download the apk directly from a mobile. You might need to download the client to your computer and transfer it to your Android phone afterward.
Then proceed by installing the app. Once Axie Infinity is installed on your Android phone, you can log in to your account and start earning SPS and AXS wherever you are.
How to Download Axie Infinity on iOS
Although Axie Infinity is also not available through the official app store, it's available for beta testers without the need to install anything manually or jailbreak your iPhone.
As with the android version, start by installing Ronin Wallet on your phone. Once you have Ronin Wallet ready, use your seed phrase to import the same wallet you use normally to play Axie.
To play Axie Infinity on iOS, you need to install an app called TestFlight. TestFlight is an app for developers and users to test their apps before making them available through the app store.
However, TestFlight isn't like another app store client, and you can't download any app that is currently in beta to test it. You need an invitation to the beta test.
To get an invitation to play Axie Infinity on iOS, go to the download page of Axie. Below the Android version, you can also see an iOS TestFlight version. That button is an invitation link to the beta testing.
Tap that from your iOS device, and if the beta test is open, Axie Infinity will show up in your TestFlight app.
Conclusion
If you wish to play Axie Infinity on the go and maximize your earnings while waiting for a train or at the doctor's office, you can easily download Axie Infinity to your mobile device.
However, it's not as simple as opening your device's app store and installing it from there. As Axie is not available on any official app store. And you'll also need to use these tedious steps again once a new version of Axie Infinity rolls out to update the game.
But even though you don't need any emulator since there is an official application that you can download following the steps provided above.
Ultimately, keep in mind not to play on multiple devices at the same time to avoid getting your Axie Infinity account banned.