Whatever your reason for getting into the world of cryptocurrencies, one of your concerns is how you can withdraw your assets. After all, what are cryptocurrencies good for otherwise if you can't cash out?
There are as many cryptocurrencies as there are ways to withdraw your money. Some methods can be insanely overpriced, others are better. But what is the cheapest way to withdraw from KuCoin? 
KuCoin is generally known for its very low fees. But you also need to take into account any gas fees and other charges that may come your way at any point in the process of withdrawing your assets. 
But without further ado let's take a look at the method that can save you a lot of money.
What is KuCoin
KuCoin is a crypto exchange launched back in 2017. Some time has passed and the platform is now one of the largest crypto exchanges in the world, with a user base of over 20 million.
The platform offers a lot of features for its users. Apart from low trading fees and different trading methods, including P2P or futures, one of the big hits is the partial possibility of using the platform even for non-verified users. 
KuCoin is not supported all around the world, unfortunately. That's why a lot of crypto enthusiasts love KuCoin. Because even users from unsupported countries can still enjoy low fees and other features.
Of course, unverified users do not have access to everything.
First of all, they cannot manipulate FIAT currencies in any way. But their crypto trades are nearly unregulated. Except for limiting withdrawals and deposits to 1 bitcoin per day. So crypto whales, you have to go elsewhere. 
You can find out whether your country is supported or not and what other benefits are associated with verifying your identity in our guide.
Can you Withdraw Crypto and FIAT from KuCoin
You indeed can withdraw Crypto from KuCoin and transfer it to a different wallet.
Unfortunately, the situation is a bit harder with FIAT currencies, like EUR or US Dollars, and withdrawing.
But first, let's talk a little bit about withdrawing cryptocurrencies from KuCoin. The process is easy and convenient. The only thing you have to be really careful about is to make sure that you are sending crypto to the right wallet, that can receive it. And use the right wallet address. 
We will show you the process of withdrawing cryptocurrencies from the KuCoin wallet step by step shortly. 
But a little more inconvenience can arise if you want to withdraw any FIAT currency.
KuCoin doesn't support any FIAT withdrawing methods. So you can not withdraw fiat directly from KuCoin. Neither SEPA, SWIFT, ACH, or Wire transfer are supported.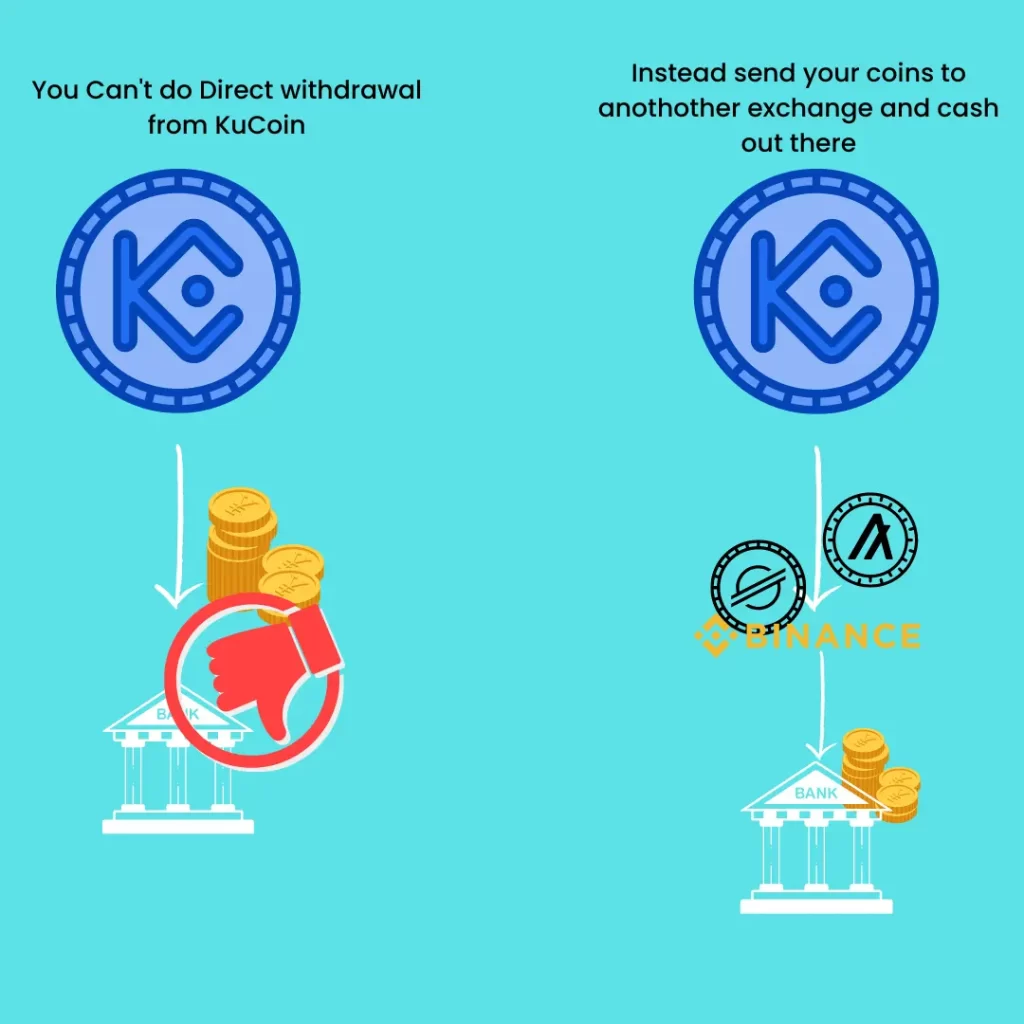 So we're going to have to work around this a little bit so that you can actually withdraw the money and go on a shopping spree.
We will go through the steps of withdrawing money from KuCoin as cheaply as possible in the following paragraphs. 
How to Withdraw from KuCoin
As stated before KuCoin doesn't support direct bank withdrawals or bank transfers. This is probably the biggest drawback of using the platform. 
Now you may be wondering why I mentioned that you can manipulate FIAT currencies once you have verified your account. Because if you verify your identity you will have the option to fund your account using a Credit or Debit card. However, this comes with quite high fees. 
So as an intermediate step we will have to add another exchange that can be linked to your bank account. For example, Binance.
Log Into Your KuCoin Account
The first step is pretty self-explanatory. You will need to log into your account before making any changes to your account.
After Logging in to your account head to your wallet. And Choose Withdraw. The "Withdraw" button will be located near the upper right corner of your screen. 
Select a Coin to Withdraw
When you get to the Withdraw screen, you will have to choose a coin from the drop-down menu you wish to withdraw. There are various circumstances that you must take into account to select the right coin. We will explain which coin to choose in a separate section in a moment.
Now select sending network and enter your wallet address. Make sure you are selecting the right network that your wallet runs on.
Also, enter the amount you wish to withdraw. But keep in mind that your wallet can have a minimal deposit. In the case that you send an amount lower than that, your fund will be lost. 
Confirm your Transaction via 2-Factor Authentication
The use of Two Factor Authentication is mandatory in KuCoin. If you have not set the 2-factor authentication method, you cannot make a withdrawal. But it also increases your security a lot.
After your withdrawal is confirmed, your funds should arrive shortly after.  
How Long Will a KuCoin Withdrawal Take
You may normally be used to the fact that the time it takes for your assets to arrive in another wallet is mainly dependent on the blockchain speed and the amount of gas fee you set. However, this is not the only aspect that affects the transaction time with KuCoin. 
KuCoin needs to process your withdrawal request first. During that time, your withdrawal status will be "pending." 
This is when you can still cancel the transaction. Because it hasn't been submitted to the blockchain yet. And according to KuCoin Help Center, this can take anywhere between 30 and 60 minutes. But if you are withdrawing large amounts, the processing must be done manually, and the time is extended to 4 to 8 hours.  
After your withdrawal is processed, it only depends on the speed of the blockchain when you will retrieve your assets. 
The Cheapest Way to Withdraw from KuCoin
As we promised at the beginning of this article we will now show you the Cheapest Way to Withdraw from KuCoin.
There are three main things you need to consider if you want to save as much as possible:
Cryptocurrency Network's Fees
KuCoin Fees
Fees of the exchange you are withdrawing to
For the sake of explanation, however, we will reverse the order and start from the bottom. 
Fees of the Exchange you are Withdrawing to
Since you are looking for a way to cash out your balance. I.e. sell your assets, in a single transaction, for FIAT and send them to your bank account especially consider withdrawing fees. 
Every big exchange has about the same maker/taker fees. 
And there's no point in worrying about whether you'll be charged 0.025% or 0.05% if you then pay a full percent more on withdrawals, but with a cheaper trading fee. 
In the picture below you can see withdrawal fees for different methods on Binance.

And last but not least make sure that the Exchange support your preferred withdrawal method.  
KuCoin Fees
KuCoin does not have uniform fees when it comes to withdrawing cryptocurrencies. Also, quite unusually, KuCoin does not have percentage fees, but fixed amounts. And different coins will have different withdrawal fees. 
For instance, all Bitcoin transactions incur a 0.0005 BTC fee. And it does not matter if you are withdrawing 1 BTC or only 0.001 BTC.
So the best and cheapest way to withdraw from KuCoin is to do fewer, but bigger transactions to minimize fees. 
You can also compare different cryptocurrencies and their fees. In some cases, you may find it worth converting your cryptocurrency to another coin. Here is the full fee list.
Cryptocurrency Network's Fees
And finally, the most important thing. All of the previous will be useless if you choose a cryptocurrency and network with astronomical gas fees. 
There are many cryptocurrencies that are fast, cheap, and reliable. So let's see together what we've come up with as the cheapest method to withdraw from KuCoin.
So what exactly is the Cheapest Method to Withdraw from KuCoin?
Together with my team, We've tested a wide variety of cryptocurrencies. Especially with regard to their reliability, speed, and most importantly gas fees. And this is the conclusion: 
There is not just one right answer. But… 
Of course do your trades as usual. You will probably end up with a nice profit in USDT or any other stablecoin. 
Now either convert your USDT to:
Or to:
Both of these coins are pretty reliable with nearly zero transaction fees and transactions completed in a few seconds.
| Coin | Average Transaction fee | USD Conversion |
| --- | --- | --- |
| Stellar | 0.00001 XLM | $0.0000012 |
| Algo | 0.001 Algo | $0.00036 |
Send your XLM or Algo to an Exchange of your choice. Binance or Coinbase PRO are pretty solid choices. 
Now, all there is left to do is to sell your coin to USD (or EUR, GBP, or whatever) and deposit it into your bank account. 
Conclusion
We believe that this detailed article gave you everything you need to tremendously cheaper your transactions and modify this cheapest way to Withdraw from KuCoin according to your needs. 
To quickly recap. KuCoin doesn't support direct bank withdrawals or bank transfers. However, you can withdraw crypto coins to another exchange and cash out there. Which makes everything quite difficult and you have to think several steps ahead.
That's why we went to the effort of finding you the cheapest possible way to withdraw from KuCoin. 
Do your profits -> convert your assets to XML/Algo -> send XML/Algo to another exchange -> sell XML/Algo for FIAT -> Deposit it into your bank account.