XDEFI Wallet is not so popular, but still a great multi-chain crypto wallet. It allows you to store, swap, send, and receive crypto across over 30 blockchains. And also, store NFTs directly inside your wallet with a beautiful visualization of them.
As it goes with similar extension wallets, your wallet is locally secured behind a password of your choice. That's an addition to the secret phrase that XDEFI Wallet will generate for you and is used to access your wallet from anywhere.
But what if you've lost your password? There are two possible scenarios:
If you still know your password, you can fairly easy change it from the settings
In case you have forgotten it, you'll need to reset your XDEFI Wallet and import it again using your seed phrase.
In this article, we'll take a look at the bottom of both these scenarios and learn how to change your current XDEFI Wallet password and also how to reset it in case you forgot it. All this will take you just under a minute, so let's dive in!
How to Change XDEFI Password while Logged In
In case you're still logged in to your XDEFI Wallet and know your password, you can change it directly from the extension. You'll just need to navigate through a bunch of settings.
Step 1. Unlock XDEFI Wallet and Go to Settings
In case you are not logged and know your password log in to the extension. You'll, by default, land on the Assets page.
From there, you need to access the settings. Tap the gear icon you can see in the bottom bar all the way to the right.
Step 2. Select "Change Login Password"
After getting on the settings page, you can see a bunch of settings regarding your wallet. Including the option to "Change login password," tap that.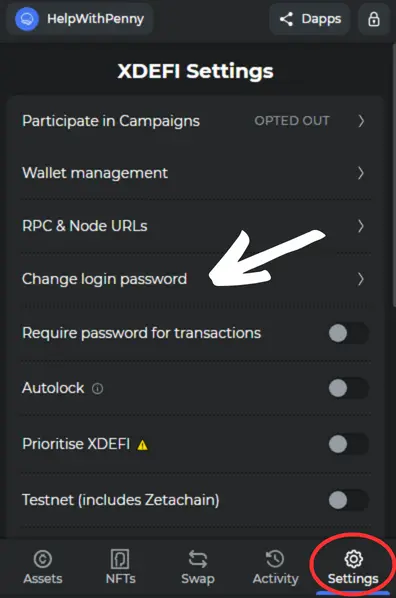 Step 3. Change your XDEFI Password
Now enter your current password and set a new one.
When you are creating a completely new password, XDEFI requires it to be at least 12 characters long, but this doesn't seem to apply when you are changing the password. But it still should be at least somewhat secure.
How to Reset XDEFI Wallet Password
When you don't know your XDEFI password, things are a bit more complicated. In that case, you need to know the recovery phrase – without it, your wallet is lost.
Step 1. With the Wallet Locked, Select "Restore Using Recovery Code"
Whenever you launch the wallet extension, you'll be asked to enter your password.
In case you don't know it, there's a small button right below the log-in window that reads "Restore using recovery code," tap that.
Step 2. Import your Wallet Back using the Recovery Phrase
The only way to reset your wallet is using your seed phrase, which you got during the creation process of the wallet.
Crypto addresses are always on the blockchain. They can't get deleted and are accessible from every crypto wallet that supports the given network. That's what the recovery phrase is for – simply said, it allows the wallet to interact with the wallet address. So you are basically reconnecting the wallet extension to the wallet (address) itself.
Now, you need to enter your XDEFI Wallet recovery phrase exactly in the order you got it. It's important to include all the words in the exact order.
Once you are done, click "Restore using recovery code."
Step 3. Set a New Password that you'll Remember
If you've done everything correctly, you'll be pushed to another page where you can set your new password. Make sure to create one that you'll remember. The strength of the password doesn't matter that much since it's used exclusively on your device.
Conclusion
Changing the XDEFI Wallet password is quite easy, at least as long as you know your current password. In that case, you can visit settings using the button in the bottom right corner and select "Change login password"
If you forgot it, you still can access your wallet and set a new password by resetting it using your seed phrase. In this case, select to restore your wallet on the log-in page and enter your recovery phrase to set a new password afterward.