Pontem wallet is the biggest wallet made for the Aptos network. Fun fact; Aptos is developed by former Facebook employees. It is focused on high throughput and robust security.
And with robust security in mind, your Pontem wallet is always locally locked behind a password.
But what if you've lost your password? It is always possible to change your Pontem password. However, Pontem doesn't offer any option to change the password directly from the app; there's no setting for it.
Whenever you know your password and just want to change it, or you forget it and want to reset it, you'll have to delete your wallet from the app and re-import it using your seed phrase.
In this article, we'll take a look at how to do exactly it. All this will take you just under a minute, so let's dive in!
How to Change or Reset Pontem Password
In both cases, you'll need to log out of your wallet and select that you forgot your password. Then you can enter your recovery phrase and set a new password. Let's take a look!
Step 1. Log out of your Wallet and Click "Forgot Password?"
The first step is to get to the login page. Pontem Wallet will ask for your password every time you close the app. So if you are currently logged in, close the app and open it again.
Once you are on the login page, you'll see a little "Forgot Password" button at the bottom, tap that.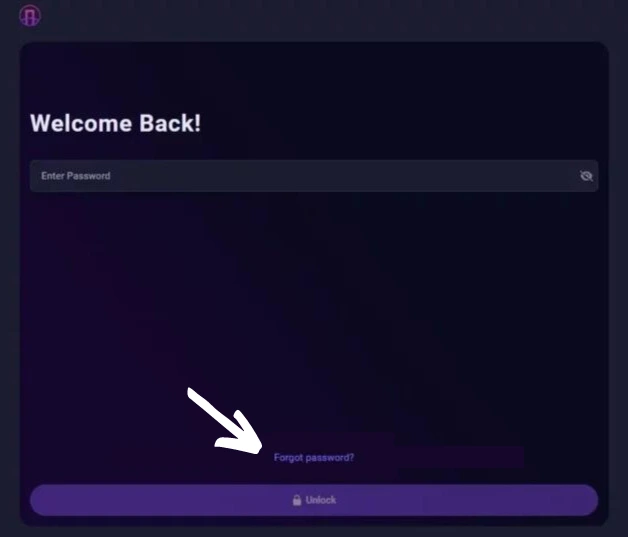 Step 2. Enter your Recovery Phrase
The only way to reset your wallet is using your seed phrase, which you got during the creation process of the wallet.
Crypto addresses are always on the blockchain. They can't get deleted and are accessible from every crypto wallet that supports the given network. That's what the recovery phrase is for – simply said, it allows the wallet to interact with the wallet address and its content. So you are basically reconnecting the app to the wallet (address) itself. For that reason, you also can't access the address without it.
So now, you need to enter your Pontem Wallet recovery phrase. Enter all the words in the exact order you got it
Step 3. Set a New Pontem Password
Right below the seed phrase, you have two windows to fill in your new password.
The most important thing with these types of passwords is to remember them. They don't need to be extremely strong, as they only lock your wallet locally – no one else can't use the password except from your own device.
Once you're done, tap "Reset."
Bottom Line
Changing the Pontem Wallet password is quite easy. But it has one requirement; you need to know your recovery phrase. Without it, your wallet and its content are likely lost, as there's only a small chance of you guessing all 12 words in their exact order.
Simply tap the "Forgot Password" button on the lock screen of your Pontem wallet and enter your seed phrase together with the new password you want to set. And you're done!