Email addresses became a standard way to sign up for any online account. And it's no different with Coinbase. To create an account on Coinbase exchange, you need a valid email address together with other details like a phone number and ID card, and proof of address to complete KYC.
This email address is not only to register, but it is also highly used as a way to verify that the person entering an instruction on your account is truly you.
Maybe you signed up for Coinbase a while ago with your childhood email address, or you want to change it because it was compromised. Whatever reason you got, Coinbase, fortunately, made it pretty simple to change your email address.
In this article, we'll take a look at how to change your Coinbase email address with and also without access to it. Let's take a look!
How to Change your Email Address on Coinbase
As we already said in the introduction, Coinbase, fortunately, made it very easy to change as long as you have access to your old email.
In that case, all you have to do is navigate to your account setting, change your email, and confirm the change using verification links from both new and old addresses.
Step 1: Log in to Coinbase
First, head to the Coinbase website. Either type in the URL or search for "Coinbase" on Google. Alternatively, you can get there by using this link: https://www.coinbase.com.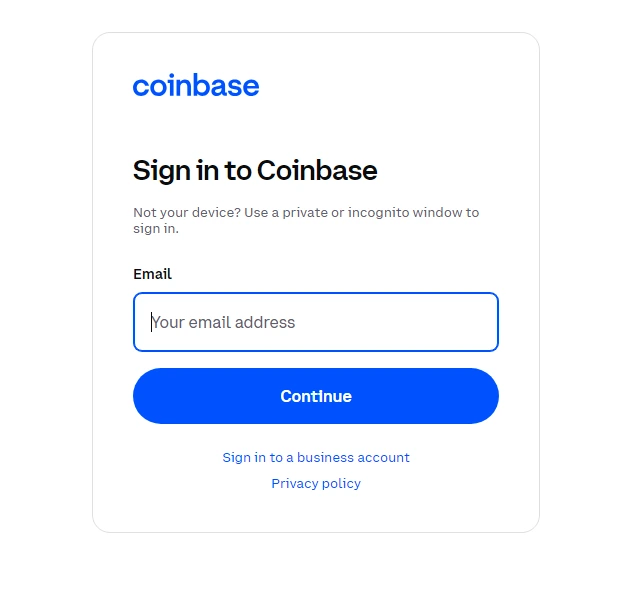 It really has to be done via the website. We looked for the option, but it seems you can't change your email address via Coinbase mobile app. If you don't have access to a desktop, you always can open the website on your phone's browser.
Now log in to your Coinbase account. Enter your email address together with your password. If your account is guarded with 2FA, you'll also need to approve that.
Step 2: Go to Account Settings
As you log in, you'll land on your dashboard. To find the email address setting, navigate to the top right corner and tap on your profile picture.
On the pop-up window, tap on the "Manage your profile" button. The "settings" button you can see right under is not the settings we are looking for. That button would take you to exchange settings, not account.
Step 3: Change your Email Address
On the account settings page, you can see various settings, especially regarding the details you entered during the registration process, including an email address field.
Tap on it, delete your old email, and input the new email address you want to use from now on. Don't forget to tap "Save."
Step 4: Confirm the Email Change on Both Addresses
Coinbase will first mail your old address with the subject line "Email change request." In the email, you'll find a button to confirm your request, i.e., a "Yes, Change My Email Address" button.
Once you tap it, you will let Coinbase know that you really want to change your email. But that's not it. A very similar email will also now arrive at your new email address. You're not approving the request but verifying your new email.
Once you click the verification button, you've successfully changed the email address associated with your Coinbase account.
How to Change your Coinbase Email if you Lost Access to it
It's nice to have the option to change an email address while logged in, but what if you lost access to your inbox? In that case, you can't log in because it will require you to enter a 2FA code, and even if you're logged in, you can't confirm the change.
This process is a bit longer, and you won't probably regain access right away. With that in mind, let's take a look at the steps.
Step 1: Head to the Coinbase Log in Page
Even if you lost access to your email inbox, head to the login page and log in as usual.
Enter your email address and password, and tap continue until you get to the Two-factor authentication page. 
Step 2: Select "Try another way" when Prompted for 2FA
2-factor authentication is a really good security measure. It sometimes can be a pain to recover if you've lost your mobile or access to email, but it keeps your account protected.
In this case, when prompted to enter your security token select "Try another way."
Step 3: Update your Coinbase Email and Verify your Identity
On the next page, enter your new email address. Once you've updated your email, you'll need to confirm it as usual. But after that, you'll also need to verify yourself.
Select your ID type (whether you want to verify with ID, driver's license, etc.) and upload your document.
The account recovery will usually take from 48 to 72 hours or even longer. That's because the Coinbase team needs to manually ensure that you are really you.
Once your account has been verified, you'll receive an email confirmation and can start using your account again.
Bottom Line
In case you lost access to your inbox, changing your Coinbase email address requires you to complete full identity verification.
Fortunately, things are a lot easier if your mail is still accessible. In that case, simply visit Coinbase account settings and enter your new email address into the corresponding window.
But in both cases, your account will be disabled for 24 hours. Meaning you won't be able to withdraw anything from your wallet.
In some rare cases, you will be unable to change Coinbase email. That will require you to contact the support through the live chat.