Binance Learn & Earn program offers from time to time interesting crypto-related courses with sweet rewards in the end. 
This time Binance introduced the Learn & Earn What Is BurgerCities (BURGER) promotion with 0.48 Burger as a reward. That's equal to about 0.46 as Burger is close to $1. 

All you need to do is to answer 10 simple questions and redeem your reward.
Of course, you need to have an active Binance account. If you do not have Binance just yet, start by registering through this link, which will give you an additional bonus of 5% rebake of trading fees, for ever.
The BurgerCities Learn & Earn promotion is accessible on this link. Now let's take a look at the quiz answers.
Please note, that your questions will be in a different order.   
What is the total supply of BURGER?
63 million
How long will the additional issuance of BURGER be unlocked?
Unlocked in 36 months
What are the gameplays available in BurgerCities?
All are correct
What percentage of the total supply of BURGER is used as incentives?
50%
What is the name of the token-exchange place in BurgerCities?
Black Market
From which of the following platforms did BurgerCities evolve?
BurgerSwap
What features does BurgerCities have in its current version?
All are correct
On which platforms can you buy BURGER?
All are correct
Which of the following is the central part of the BurgerCities' gameplay?
Hero NFTs
Which chain is BurgerCities based on?
BNB
Bottom Line
Once you submit the last question you will get a badge saying that you have successfully completed the BurgerCities Learn & Earn quiz.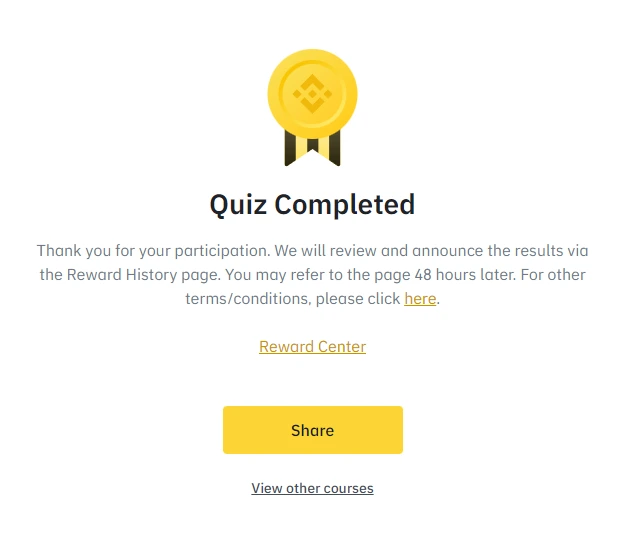 Your reward should be redeemable in the Rewards Center in 48 hours.