Yoroi is a simple, fast, and secure wallet made for Cardano (ADA) and Ergo (ERG). It's available as a browser extension for all popular browsers, with over one million downloads worldwide. And as a mobile app for both major OS – Android and iOS.
It's a variation of MetaMask you can find in the Ethereum world. But unlike MetaMasks, it also allows you to delegate and stake your Cardano (ADA) with a few clicks, easily from your wallet. 
This article will teach you how to easily stake Cardano (ADA) on Yoroi Wallet and also solve some often asked questions, such as what staking APYs Yoroi offers and the recommended minimum amount of ADA to stake in order to make it worthwhile. Let's dive in!
What is Cardano Staking Pool 
ADA users can delegate part of their belongings to the Cardano Stake Pool to secure the network operations and help validate blocks. Newly validated blocks then produce rewards that are shared between every ADA user who has delegated their stake to the stake pool.
Delegating is always address-wise. Thus, you are always delegating your whole ADA address to the stake pool. This doesn't mean that you have to delegate all holdings in that wallet, but you can't choose more than one staking pool at the same time.
However, you can send a part of your assets to another address and stake ADA in another pool. That's an accessible option since gas fees on the Cardano network make just a fraction of a dollar.    
How to Stake Cardano (ADA) on Yoroi Wallet
Now that you know the basics of staking pools, let's look at how to delegate ADA on Yoroi. This guide will be focused on the browser's extension version. However, the process will be similar if you have a mobile app.
1. Download Yoroi and Create a New Wallet
Firstly visit Yoroi's website at this address: https://yoroi-wallet.com and select your device from the "Download" drop-down menu.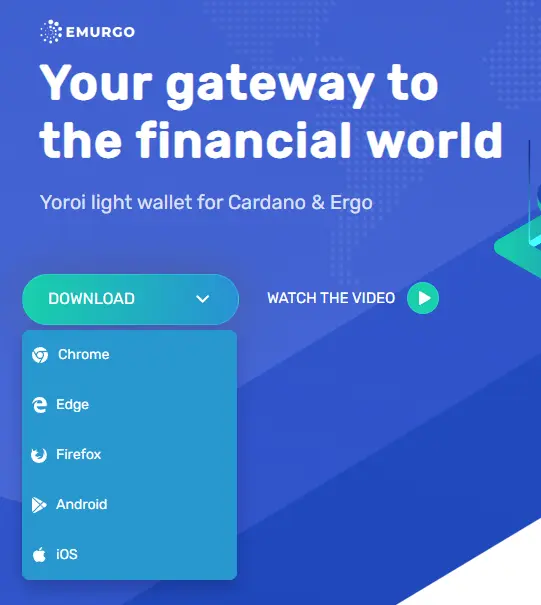 It'll take you to your browser's extension store, where you can install the extension. Once the extension is installed, you'll be redirected to Yoroi's interface. With the option to restore or create a new wallet.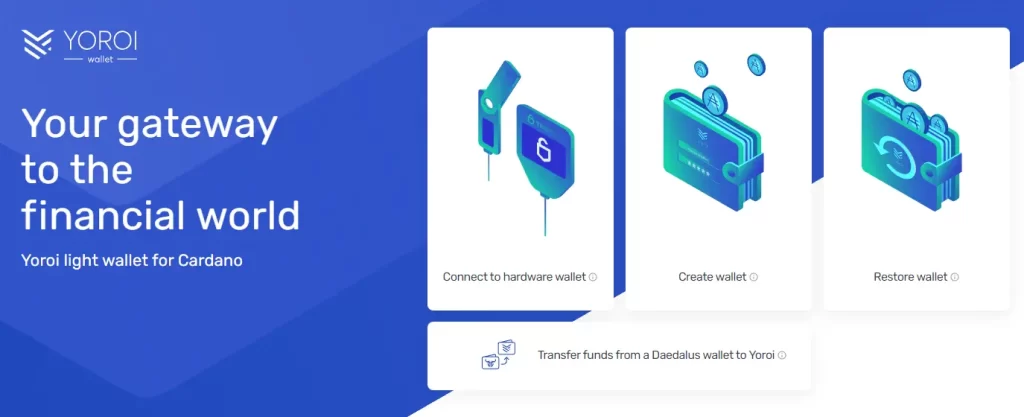 If you are new to the Yoroi wallet, tap "Create Wallet"; otherwise, you can restore your existing wallet using a 15-word seed phrase. 
If you are creating a new wallet, select Cardano wallet and the option to "Create a wallet." You can then name your wallet and will be prompted to create a spending password.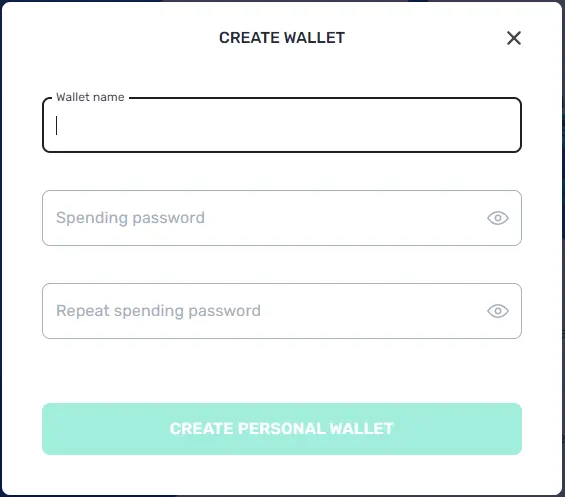 The spending password is just a variation of an application password, which you can find on MetaMask or any other wallet. You'll enter this password whenever you wish to make a transaction. If you enter the wrong spending password, you can get a Decryption error, which is an unfortunate term. However, it really means that your spending password is wrong.
To complete this first step, make sure to rewrite your 15-word seed phrase correctly. If you lose your recovery phrase, you will be forced to send your funds to another wallet since Yoroi doesn't have the option to view it again once you create your wallet. 
2. Fund your Wallet
You'll now need to send ADA to your wallet. As we mentioned at the beginning, you are delegating your wallet to the staking pool, i.e. it's not possible to choose two or more different pools at the same time. Thus send to your wallet only as much ADA as you want to stake.
Select the fourth tab – "Receive," and copy your address.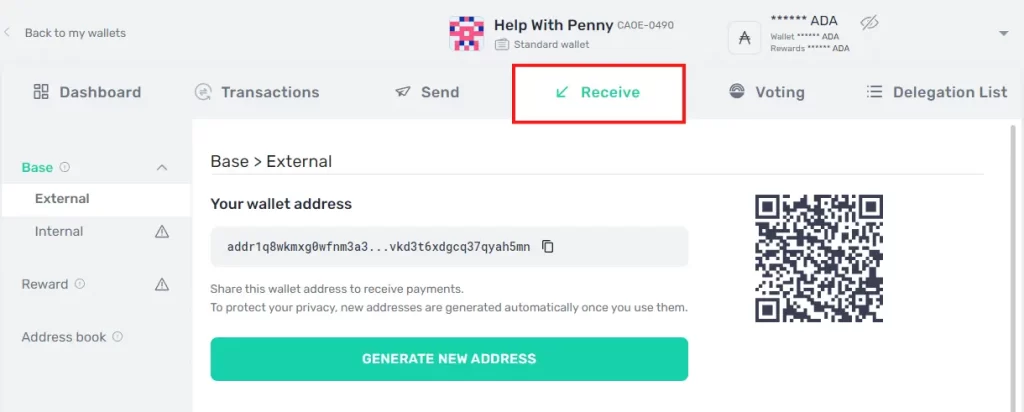 Now use this address as the receiving address on the exchange you used to buy your ADA or on any other wallet. 
Make sure to check the address multiple times. You don't want your funds to be lost. Cardano network can handle up to 250 transactions per second; thus, your funds will likely meet Yoroi wallet in just a few seconds. 
And finally, you are ready to stake Cardano inside your Yoroi wallet.
3. Delegate ADA on Yoroi to a Stake Pool
Now let's switch tabs to the sixth, last one, called "Delegation List."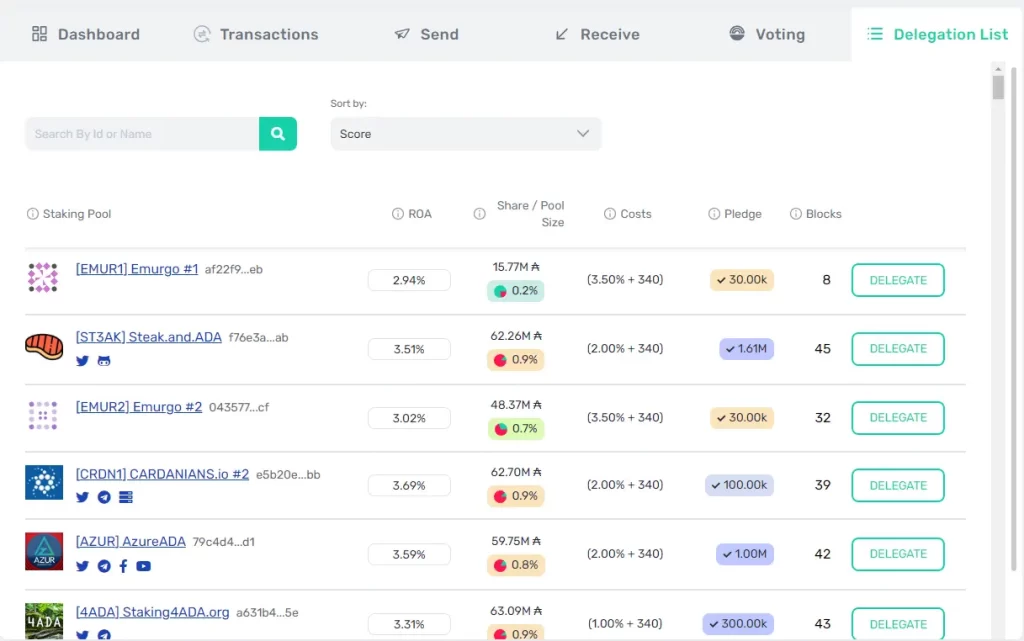 As it might seem confusing, it'll get more apparent as we break down all the columns. The interface includes the following:
Staking Pool: This collum tells you the name of the staking pool. The name doesn't really matter, but if you are searching for one exact pool, you can find it by its name. 
ROA: ROA stands for Return on ADA. That's an annualized performance of the given staking pool.
Share/Pool Size: This percentage tells you how much ADA has been allocated to the given pool in proportion to the total supply. 
Costs: Costs of the pool are made up of two amounts. A percentage amount represents taxation, and a fixed amount, represents an amount that is deducted from rewards each epoch – that means a deducted amount once the pool becomes active. 
Pledge: This is the amount of ADA bonded to the stake pool itself. This amount remains staked to the pool for as long as it operates.
Blocks: That is the number of blocks that the pool has minted during the current epoch. 
After you chose the right staking pool for you, it's time to delegate some amount.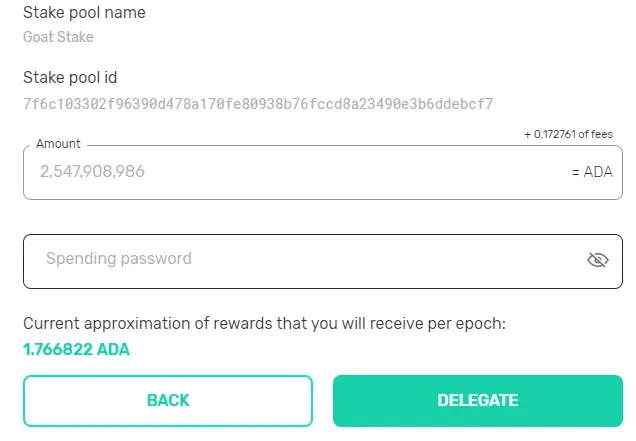 The minimal staking amount is 2 ADA. But we would recommend starting with at least 100 ADA. That's a sweet spot, as it will generate enough to pay for the fees in a timely manner and then increase your holdings. Although very slowly since the average staking APY is around 3%.
You'll need to confirm your staking amount with your spending password and tap "delegate." You can also see the current approximation of rewards. However, it doesn't mean that you'll get that exact amount since APYs tend to change frequently.
You don't need to withdraw rewards and put them in the pool again. Your rewards are automatically compounded.
How to Unstake Cardano (ADA) in Yoroi Wallet
To unstake your ADA from the staking pool in Yoroi, go back to the first tab, i.e. Dashboard. Besides "Total ADA," you can see a "Total Rewards" window. Under that, there will be a big green button "Withdraw"; tap that. 
A new warning window will appear.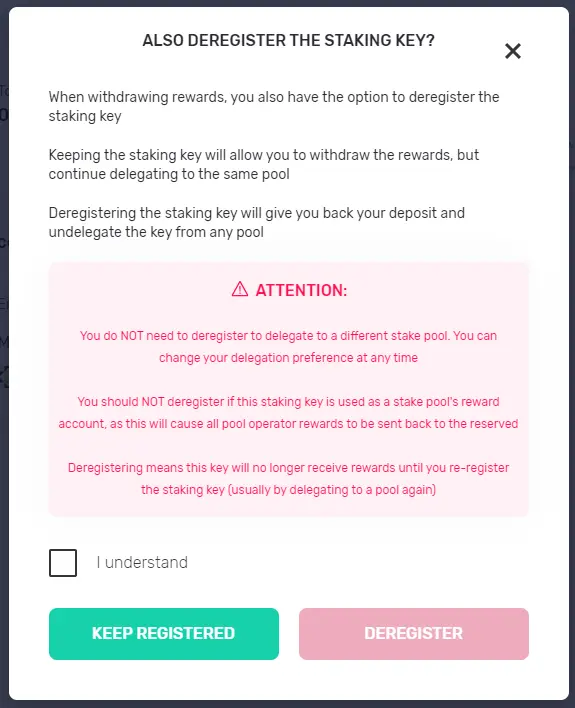 Scroll down till you see a tick box. Once you tick it, you'll be able to click "Deregister," and your staked amount will be available again. The de-staking process should be instant; then, you can, for instance, withdraw your ADA and spend your earnings.
Conclusion
All you need to do to start staking your Cardano in Yoroi Wallet is to switch to the last tab in the wallet overview called "Delegation List." Here you'll have a number of different staking pools to choose from.
Once you select the right one for you, tap on "Delegate," choose an amount, and you are all set!
For a more in-depth look at the features and functionality of this wallet, be sure to check out our complete Yoroi review.
Frequently Asked Questions
What APY can you get on staking ADA in your Yoroi wallet?
The average APY moves around 3%. However, the percentage is not fixed and tends to move up and down a lot.
As a rule of thumb, the more Cardano is staked, the fewer rewards everyone gets. This means staked network-wise, not only in the Yoroi wallet.
What is the recommended minimum amount of ADA to stake?
Although the minimum amount you can start with is just 2 ADA, which is less than one us dollar. It wouldn't be worth it to start with such a low amount. This would get you only about 0.06 ADA in rewards after one year.

However, around 100 ADA and over it will generate enough to pay for the fees in a timely manner and slowly increase your holdings.