While building your crypto portfolio, many experts agree that you should add something safer. An asset that will catch your losses in the case of price drops. It could always be gold, silver, or other commodities. Or you can move with time and invest in a coin or token pegged by these commodities.
These coins are called stablecoins. Although it won't carry huge profits, you can count on it to stay stable.
Stablecoins are often used as an intermediary asset. When you have a small coin your exchange doesn't support, you swap it for stablecoin and send it there. That's why you might be looking for stablecoin with the lowest transaction fees.
For this article, we curated a list of the best stablecoins with the lowest transaction fees. We checked and tested the three most popular USD stablecoins. Let's dive in!
Why Would you Want to Invest in Stablecoins
Cryptocurrencies are known to be highly volatile. The prices tend to jump up and down dozens of percent every day. Stablecoins aim to reduce and offer some protection from volatility. That's because the value of these coins is pegged one to one with real-world assets such as gold or even the US dollar and other fiat currencies.
But why would you want to invest in stablecoins when they don't promise high returns or barely any returns?
Everything is not black and white, and although coins pegged to dollars won't probably give any return at all, unlike the real dollar, you can stake or borrow these coins to earn somewhat high interest. For instance, you can get a 6% APR on your USD stablecoins with Binance without locking in your funds. And barely any bank can match that.

Best USD Stablecoins with the Lowest Transaction Fees
Tether (USDT)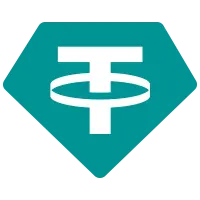 Tether (USDT) was first introduced as RealCoin in 2014. Later that year, it was renamed as Tether. Since then, it has gained massive popularity and is widely accepted across almost every exchange.
That's also thanks to its broad support across more than 40 different blockchain networks, including Ethereum, BNB Smart Chain, Solana, and Polygon.
Because of that wide blockchain spread, the transaction fees for Tether can vary a lot as every network has a different fee structure and different gas fee prices. The other thing that influences the transaction price of USDT is your cryptocurrency exchange and its withdrawal fee.
If you are moving your funds from the exchange, these withdrawal fees cover the transaction fee.
In case you are moving your USDT stablecoin from a decentralized wallet, your best shot would be using the Binance Smart Chain, which comes with an average gas price of 0.21 USD. Even though it's not the cheapest, as you will see in the table below, it's widely accepted.
| Withdrawing USDT from a Decentralized Wallet (Network) | Average Transaction Fee |
| --- | --- |
| Ethereum Network | $0.65 |
| Binance Smart Chain | $0.21 |
| Polygon | $0.018 |
| Solana | $0.000025 |
As was already said, if you are moving your funds from an exchange, you are not paying the gas fees but a withdrawal fee that will cover the gas fee. Let's check how transaction fees for this stablecoin compare between the biggest crypto exchanges.
| Cryptocurrency Exchange | Withdrawal Fee in USD |
| --- | --- |
| Binance | 0.29 (BEP-20), 3.55 (ERC-20), 1 (Polygon), 1 (SOL) |
| KuCoin | 5 (BEP-20), 25 (ERC-20), 1 (SOL) |
| ByBit | 10 (ERC-20), 1 (TRC-20) |
| Kraken | 3.55 (ERC-20), 2.5 (TRC-20) |
| Crypto.com | 0.8 (BEP-20), 10 (ERC-20) |
| Coinbase | 1% + Network fees |
As you can see, even though the Ethereum network shifted to proof of stake, which comes with much lower fees, many exchanges still charge unreasonably high withdrawal fees, up to $25 on KuCoin.
USD Coin (USDC)
USDC was co-founded by Coinbase back in 2018. Coinbase's goal with USD Coin is to take cashless payments to the next level and build an ecosystem where USDC is accepted almost everywhere. 
The difference in the transaction fee structure of this stablecoin is barely noticeable in comparison with Tether. As both of these stablecoins are widely adapted to dozens of crypto networks, the main determining factor is the network you use.
Thus for decentralized wallets, without their own fees, we would stick with Binance Smart Chain, as it is widely accepted by nearly every exchange and has a very attractive fee.
Regarding withdrawing USDC from exchanges, we didn't spot any difference between this stablecoin and USDT in terms of fees. Even though Coinbase co-founded this stablecoin, their fee seems unfavorable. And Binance always appears to have the lowest fee.
Binance USD (BUSD)
As the name suggests, this coin was created by Binance in partnership with Paxos. Paxos also stands behind other stablecoins, like Pax Gold, pegged to physical gold or USDP.
BUSD is highly regulated and controlled by the New York State Department of Financial Services. BUSD also issues monthly audit report that is publicly visible.
Stablecoin BUSD isn't available on as many networks as USDT or USDC but is accessible on all these "good" networks we mentioned. So you can stick with the same networks and bet on small transaction fees.
When it comes to withdrawing BUSD from exchanges, some changes are visible. The most favorable change is that withdrawing BUSD from Binance on BNB Chain is entirely free. But let's take a look at the table.
| Cryptocurrency Exchange | Withdrawal Fee in USD |
| --- | --- |
| Binance | 0 (BEP-20), 3 (ERC-20), 0.8 (Polygon), 0.8 (Tron) |
| KuCoin | 1 (BEP-20), 10 (ERC-20) |
| ByBit | Bybit supports BUSD, but we didn't find a fee structure. Probably the same as with USDT. |
| Kraken | Same situation as with ByBit. |
| Crypto.com | 5 (BEP-20), 10 (ERC-20) |
| Coinbase | 1% + Network fees |
It seems like BUSD could be the cheapest stablecoin to transfer if you are using Binance or KuCoin.
Conclusion
Chances are that if you want a stablecoin, you'll go with one of these three. USDT, USDC, and BUSD are the most supported and come with a long list of trading pairs on any exchange.
When it comes to transfer fees and to conclude which stablecoin is the cheapest to transfer, we could summarize this article as follows:
When it comes to transferring your stablecoins from decentralized wallets that don't have their own fee structure and you have to pay gas fees on your own, it doesn't matter which coin you choose.
However, the decisive aspect is what network you use. All these stablecoins support the most popular networks you are likely to use. We listed the Ethereum network, Binance Smart Chain, Polygon, and Solana. These networks come with an average transfer fee lower than one dollar. So it's more important what network the wallet or exchange you're sending your stablecoins to supports, as your stablecoin will always come with a low fee.
When it comes to exchanges, all centralized exchanges have their own fee structure. USDT and USDC come with the same withdrawal fees. However, BUSD is a lot cheaper to withdraw from Binance and KuCoin. ByBit, Coinbase, and Kraken stuck with the same fees, and Crypto.com got a bit more expensive.
You can even withdraw BUSD from Binance using BNB Chain without fees.