Polygon network (Matic) became extremely popular in recent months. Many projects support it, and it offers incredibly fast transaction speeds and relatively low fees.
Fees are the first hurdle you will run into when using Polygon Network. Or any network, in fact.
When doing transactions on the Polygon network, you need MATIC tokens to pay the validators for verifying your transactions – you need to pay gas fees.
It's the same as ETH gas fees on the Ethereum blockchain or any other network in its native token. Since many tokens are hosted on the Polygon network, this may not be clear to you from the start.
But do not worry; since Polygon fees are so low, there are many options to get enough MATIC to pay for your gas fees. And one of these, probably the most popular, is Matic Faucets.
In this article, we'll take a look at some of the best-paying Matic (Polygon) Faucets, where you can collect fractions of Matic tokens without much hassle.
What is a Matic Faucet
Matic Faucets don't differ much from other faucet websites. So let's talk about crypto faucets in general.
Matic Faucet is a website or app that distributes small quantities of Matic, usually enough to cover your gas fees not only once but dozens of times.
To get the reward, you usually must complete a simple task. Such as viewing an ad, completing a quiz, or just checking CAPTCHA.
Faucet websites are usually run either by token creators as they try to distribute their tokens to as many people as possible. So people will start talking about it, they'll start using it, and maybe it'll become their new favorite token.
Or, in the second case, it's run by a company that gives you a fraction of their ad or sponsored revenue – you view an ad, and the website earns a few cents and gives you a fraction of that.
How to Get Free Matic for your Gas Fees from Matic Faucets
Get your Metamask Wallet Ready
First, you will need a crypto wallet to receive Matic. There are literally hundreds of simple crypto wallets available on the market. You can choose one that's in your browser, in your computer, or completely separate in the form of a hardware wallet.
We'd recommend going with MetaMask. It's simple to use just from your browser. You can follow our simple guide for creating a MetaMask wallet if you are using it for the first time.
But that's not enough, We'll also need to set Polygon Network as a custom network to be able to receive Matic from faucets.
Why do we need to do that? That's because MetaMask comes with only Ethereum mainnet pre-configured. After all, MetaMask is an Ethereum wallet. But we can add Polygon Network because, simply said, it's made in the same programming language.
To do so, simply open your MetaMask wallet, open the network selector on the top, and scroll down to the "Add Network" button.
In the window that just appeared, enter the following network details:
| | |
| --- | --- |
| Network Name | Polygon |
| New RPC URL | https://polygon-rpc.com |
| Chain ID | 137 |
| Currency Symbol | MATIC |
| Block Explorer URL | https://polygonscan.com/ |
Click save, and you are done.
But to be safe, some Matic faucets may want to send your free tokens to the Ethereum chain. So we can easily add Polygon (MATIC) token on that network too.
And don't worry, it won't cause any trouble, as your wallet shares only one address. Whether the faucet gives tokens on the Polygon mainnet or on the Ethereum network, you'll get them to your wallet.
Simply visit CoinMarketCap's page made for the token.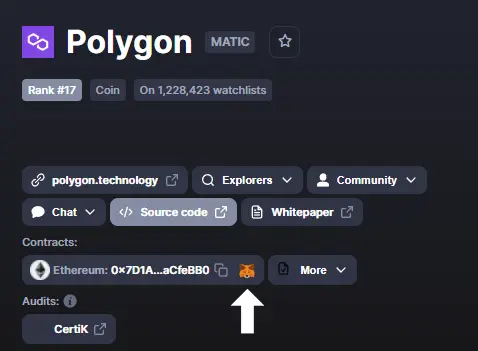 Once there, click on the small fox head (MetaMask logo) in the contracts section, and Polygon will be automatically added to your MetaMask.
Alternatively, you can do it manually by copying the contract address and pasting it using the MetaMask import custom token option.
Best Matic Faucets
Matic Supply
Matic Supply is quite an easy Matic faucet to use. This faucet will send you 0.0005 Matic, which is enough to start your Matic journey.
Polygon fees are pretty cheap—the gas fee averages about $0.0005. Forgot Ethereum; sending a few dollars worth of Matic will not cost you a living.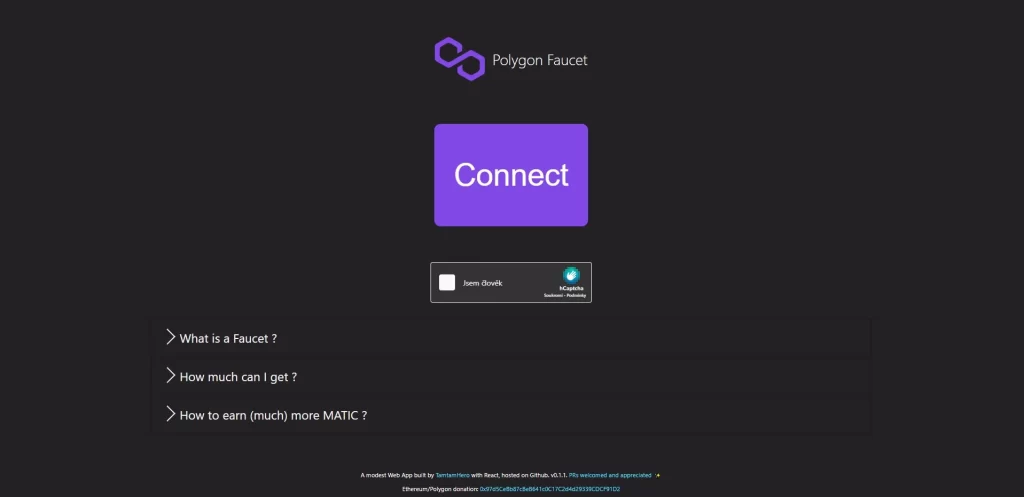 The process with Matic Supply is straightforward. Just hit "Connect," and the site will automatically connect to your Metamask wallet. Once connected, your wallet address will be shown, and you can click "Receive" to receive that bit of Matic to your wallet. 
Mac & Cheese Finance
Mac & Cheese Finance Faucet – what a great name! Follow pretty much the same process as with the previous Matic faucet. But this time with a higher reward.
There is no need to connect your wallet, just paste your address. As said before, your whole MetaMask wallet shares only one address. So open the extension and copy the address from the top of the window.
As this faucet doesn't require you to connect your wallet, it also means that you can use it with pretty much any crypto wallet that supports Polygon. If you want to explore more options, we'd recommend looking at Exodus, which is a great software wallet that lives on your desktop or mobile device. Or, for the more security-focused of you, you can create your own DIY hardware wallet from a USB stick.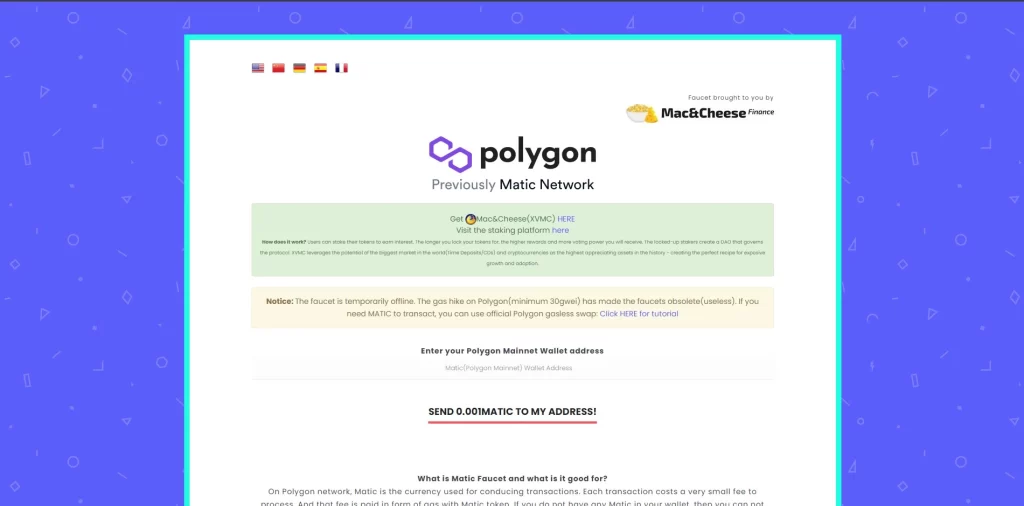 So enter your address, and once you click "Send," 0.001 Matic will be transferred to your wallet. 0.001 Matic is enough for you to perform ~100 basic polygon chain transactions, which is quite a lovely reward for doing nothing.
PipeFlare
PipeFlare is not a Matic faucet like the two before. It will not give you a small amount of Matic right away. But you can use their faucet daily and accumulate small amounts of Matic and two other crypto tokens. And once your balance hit 0.25 Matic, it will be sent to your wallet.
In addition to the Matic faucet, there is also a Zec faucet & 1FLR faucet.
1FLR is the site's own token. It isn't very worthy just yet. But maybe in the future, it will have some value. But again, for doing nothing, it's a great opportunity. 1FLR can also be staked on the site for a sweet up to 15% APY.
Playing games and earning money? Count me in! 1FLR tokens can also be earned through blockchain games and many other ways. If you are still wondering about whether or not to give this platform a try, you can check our comprehensive PipeFlare review.
CoinPayU
CoinPayU is our favorite multi-coin faucet. It pays the best in comparison to other similar sites. You can expect to earn up to 9 Satoshi for watching a 60-second ad. You can then withdraw your balance on-chain to over 30 coins – including Matic.
To pile up your balance, you can either surf website ads, read articles, or watch videos. Or also complete the offer wall or claim free Matic in the faucet every 60 minutes. 
The minimum withdrawal ranges depending on the coin you choose. For Matic minimal withdrawal is 3,000 Satoshi. That, depending on the coin's price, equals approximately 0.15 Matic.
Bottom Line
Getting free crypto from Matic faucet won't certainly make you rich. But it is an excellent gateway to the world of crypto.
Only from these four faucets, you can expect to get enough Matic to cover hundreds of transactions. And that is their purpose, to help network users pay gas fees. But of course, if you're dedicated enough, you can fill up your bag quite nicely.
All you need to do is to copy your wallet address and paste it into the faucet.
We hope these faucets will help you get started on Polygon Network quickly. Once you familiarize yourself enough with Matic, you can also begin on the Cardano network with the best Cardano (ADA) faucets.