Staking XRP is technically not possible because Ripple is a Proof-of-Work token and not a Proof-of-Stake. But there's another option that will earn you sweet rewards with your XRP.
There are platforms that offer flexible saving or lending options for XRP. And you actually won't be able to tell the difference between staking and those earn options unless you run your own validator nodes.
If you hold a decent bag of XRP and want to put them to work to earn passive income, this guide is for you. In this article, we'll first cover the basics of staking and why XRP can't be traditionally staked, and then we'll take a look at platforms that will give you the best APYs on your XRP.
What is Staking and Why XRP Can't be Staked
Crypto staking is a process that allows individuals to earn rewards by holding and supporting a particular cryptocurrency within a blockchain network.
When you stake your cryptocurrency, you essentially lock it up in a wallet or smart contract, making it inaccessible for a specified period. (Usually, some smart contracts won't require you to lock the assets. However, it offers higher security if they do)
By doing so, you actively participate in the consensus mechanism of the blockchain network, which helps validate transactions and maintain the network's integrity. In return for your contribution, you receive regular rewards in the form of additional cryptocurrency tokens.
It is an alternative to traditional methods of mining and offers a way for crypto holders to contribute to the security and functionality of a blockchain ecosystem. And XRP is not based on this consensus mechanism but on the alternative in the form of Proof-of-Work (PoW).
However, there are platforms – usually exchanges like Binance or Crypto.com or specialized crypto lending platforms like Nexo, that offer various saving options even for coins that are not Proof-of-Stake.
How to Earn Interest on XRP ("Staking" Ripple)
We wouldn't be afraid to say that there are dozens of different platforms with earning programs on XRP. These programs will usually differ in terms. And when choosing the right for you, you should consider mainly a few things:
Is the platform well-established and secure?
What APYs does it offer?
What are the terms? Are you required to lock your tokens for some time, or it's flexible?
In which token are the rewards paid?
Well, if you choose a bad platform, you won't probably receive anything – quite the opposite, and probably even lose everything.
APYs vary a lot, and they are usually tied to other terms. Some platforms will always pay you a set percentage reward, while others will pay you this reward only if they manage to lend out your tokens – in another case, you will get a small base reward.
Additionally, the rewards for locked programs are a lot higher. The reason is simple if you are in a flexible option, you can withdraw your tokens at any time, and the platform will have to pay you the tokens that may be lent out at that time.
Now without further ado, let's take a look at our top 2 platforms to earn interest on XRP.
Binance – around 2% Flexible APR
We decided to list Binance here because it's really trustworthy. It's the biggest crypto exchange on the market, so you don't need to worry about your tokens that much.

Although, the offered APRs are not the greatest. Binance offers around a 2% interest rate with flexible duration – you can withdraw at any time. The reason we say "around 2%" is because the interest rate change quite frequently. To research this article it took us 2 days, one day, there was 1.98% APR, while the other, 1.76%.
You can also combine it with our un rejectable offer of 5% back of all your trading fees with our link! Just tap the banner below.
Nexo – Up To 8% Interest, Flexible or 1-Month Fixed Term
Nexo was founded in 2018 as a crypto lending company, but nowadays, you can use it as a full-fledged crypto exchange. It is now serving over 6 million users. A lot of these users surely enjoy one of the biggest earning rates on the market.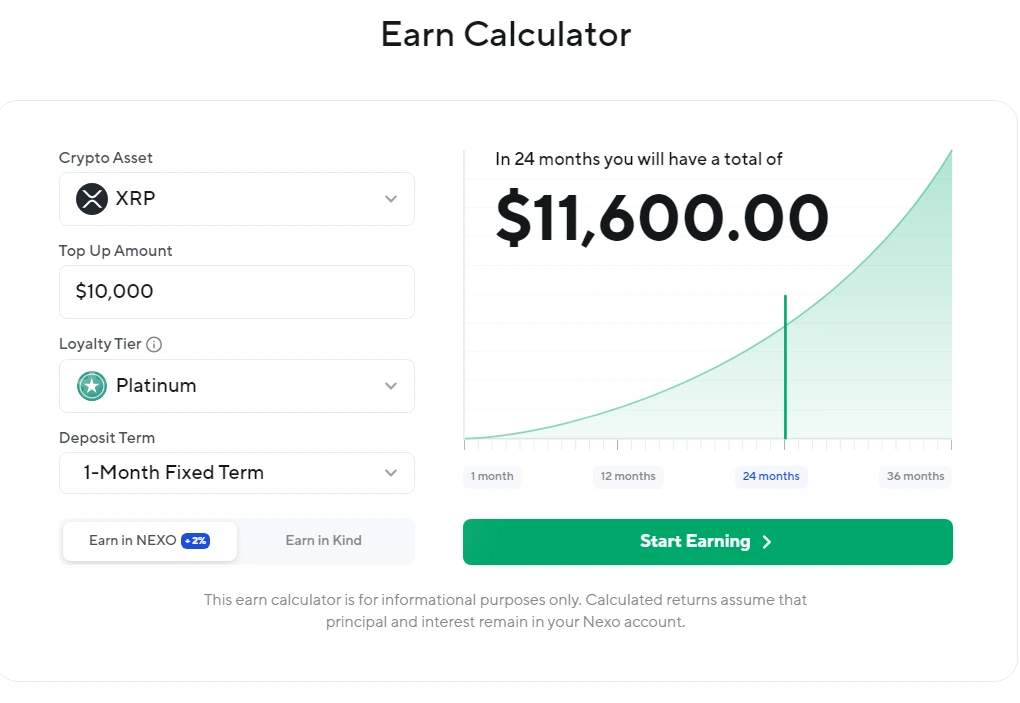 With Nexo, you can fully customize your XRP earning experience. As usual, you can get better terms when using their token NEXO.
Based on what percentage of your portfolio is NEXO token, you are placed in a loyalty tier. The higher the tier, the better the APR is. As it seems like there is no minimum amount you have to have in your wallet to be, let's say, Platinum tier. Just more than 10% of your portfolio needs to be made of NEXO.
You can also choose whether you want to earn with a 1-Month fixed term that gives you an extra 1% yield or wants to stay flexible.
Another plus 2% yield can be gained by choosing to get your rewards in NEXO instead of XRP.
Bottom Line
As Ripple (XRP) is not a Proof-of-Stake token, not so many trustable platforms offer rates worth noting.
Although at the beginning of this article, we noted that there are probably dozens of different platforms – yea, there are, but we didn't want to recommend you something that no one on our team has experience with. That's why we kept it short with just two platforms we like and can recommend.
And with these platforms, you can earn interest on XRP easily!