Crypto Airdrops are an amazing way to receive free crypto. I also started with crypto using various crypto faucets or participating in crypto airdrops.
However, at that time once the airdrop was distributed, I thought I just wasn't selected as the "lucky one," because I didn't see any new tokens arriving in my MetaMask wallet.
After the airdrop was distributed, I thought I just wasn't selected as "the lucky one". Oh boy, I was wrong. Just because you don't see any new additions in your MetaMask portfolio doesn't mean it's not really there.
But the problem may be somewhere else. Maybe you just don't know how to properly claim an airdrop in your MetaMask wallet, as I didn't.
This guide will show you how to claim an Airdrop on MetaMask so you can cash it out. Let's dive in!
How to Find and Receive Airdrops to MetaMask 
There are many airdrops in the crypto market happening every moment. And the best part? You can participate in all of them.
Airdrops can be received from various DApps platforms and websites. However, not every website that promotes its token and airdrop is legit. 
With the crypto market booming in popularity, a lot of scammers are trying to get a part of that cake. Creating fake tokens and websites just to get private information out of investors. 
Then either steal your assets directly or rug-pulling their projects and disappear from the ground.
So make sure you are giving your wallet details only to legit websites and not signing everything with your wallet.
Also, the ways you can receive legit airdrops vary a lot. One project can give you tokens immediately, others may ask you to invite 5, or 10 people first. 
The process varies, and the way to find good airdrops too. You can search Reddit or your favorite social media to find some.
But there is only one way to claim and find airdrops in MetaMask. Let's take a look at it!
How to Claim Aidrop on MetaMask
The website won't probably tell you that you were chosen as the one to receive the airdrop. And since you probably don't have the new token imported as a custom token in MetaMask, you have to find out somehow.  
1. Unlock your Wallet
Finding airdrops in MetaMask is fairly easy. First, open and unlock your wallet. You can do that by entering your password. 
If you have forgotten your password, you can reset it as long as you know your seed recovery phrase. 
2. Copy your Wallet Address
The next step is to copy your MetaMask address. When you launch your MetaMask wallet you will land on the wallet overview. This page includes all your recent transactions and the current balance. 
And also, your wallet address is located on the very top of the page, under your account's name.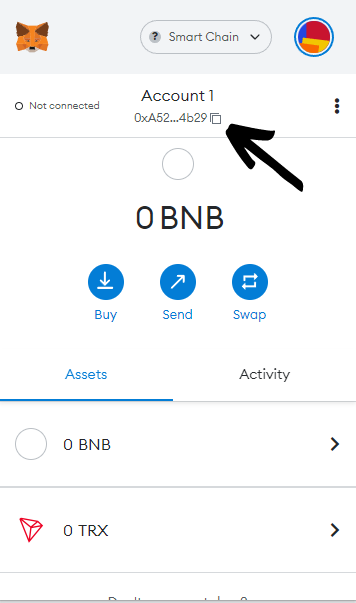 Your whole account share only one crypto address. Thus, there is no need to overthink if you have the right crypto network selected. 
3. Put your address in a Block Explorer
Now, with your address copied, head to Etherscan or any other Ethereum network explorer.

Now enter your crypto address in the search box. 
We are doing this so we can see the content on your wallet. And since in MetaMask you only see a balance of coins you have imported, we have to find out what tokens have any balance and import it.
4. See the content of your wallet
Now an overview will show up, including the entire contents of your wallet. You can view that by tapping on the box beside "Token".

A list of all tokens will show up. Analyze it to find the airdrop you signed up for.
For instance, this wallet, we used as an example contains, among other things, $0.56 worth of DAI.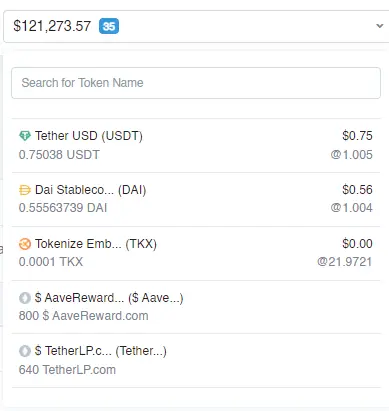 And that could have been an airdrop. If you find a such token, that you remember signing for, it is time to import it to your MetaMask.     
5. Import Airdroped token
When you find a token in your wallet contents, that could have been airdropped it is time to import it to MetaMask. 
Tap on the token on Etherscan. A new page will open including Profile Summary. 

The summary of the airdropped token contains not only official social profiles and hyperlink to the official site but also the contract address.
This contract address will be used to import it to MetaMask. Thus now is the time to copy it.
Next, open and unlock your wallet. With your wallet unlocked scroll down in the list till you find the "Import Tokens" button.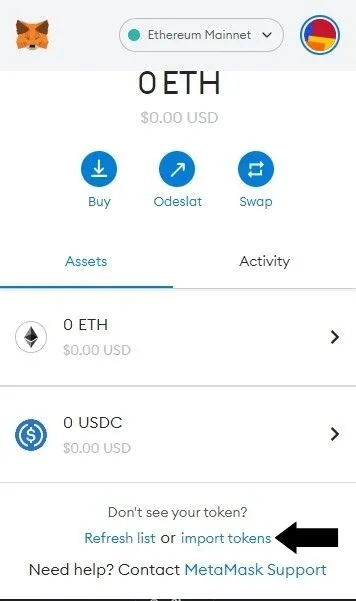 A new window will pop up with 3 empty windows to fill. You just have to fill in the contract address, and other details will be auto-filled. And tap on "Add custom token". 
The airdropped token is now imported to your MetaMask and you can claim your balance. 
6. Claim & Spend Airdropped tokens
Now you can enjoy your claimed balance. Sell it, send it to another wallet or swap it. Or just simply hold it. The choice is yours! 
Conclusion 
To find out if you received the airdrop and claim it, you just need to check the contents of your wallet on any Block Explorer. 
Then, import it as a custom token to your wallet, and you are all set!