As the world of blockchain and decentralized finance (DeFi) continues to evolve, interoperability between different networks becomes increasingly important. Bridging networks allow users to access a wider range of assets and take advantage of the unique benefits each network offers.
One such network that has gained significant attention in the DeFi space is Kava. As a standalone blockchain, Kava offers faster transaction speeds, increased security measures, and lower gas fees compared to Ethereum. However, users may still want to bridge their assets between these two networks to take advantage of the benefits of both.
In this article, we will explore the process of bridging assets between Kava and Ethereum. Let's dive in!
How to Bridge to Kava
To bridge Kava for Ethereum, you'll need to use a third-party service like cBridge, which allows you to seamlessly move your assets between the two networks.
Kava Bridge is a decentralized application that facilitates cross-chain asset transfers between Kava and Ethereum or other networks.
In order to bridge your tokens to or from the Kava network, you'll first need to set up your wallet and connect it to the Kava network.
Then you can choose one of the available bridges, connect your wallet and complete the transaction. Let's take a look.
1. First, set up your wallet and connect it to the Kava network. We'd recommend using MetaMask, as it's probably the best choice for every EVM network.
2. Visit the bridge of your choice. For this, we would go with Multichain, as it supports the highest number of networks and offers high enough liquidity to make your transaction go seamlessly. Or a good alternative might be Celer Bridge (or cBridge).
3. Connect your MetaMask or an alternative wallet.
4. Select the target network and token to bridge. You'll probably want to bridge Kava to Ethereum (or vice versa), but you can also bridge from any other network. For instance, from BNB Chain, Avalanche network, or Polygon.
Once the network of your choice is selected, choose one token from the available options. Unfortunately, the options are a bit limited, so your favorite crypto token might not be available.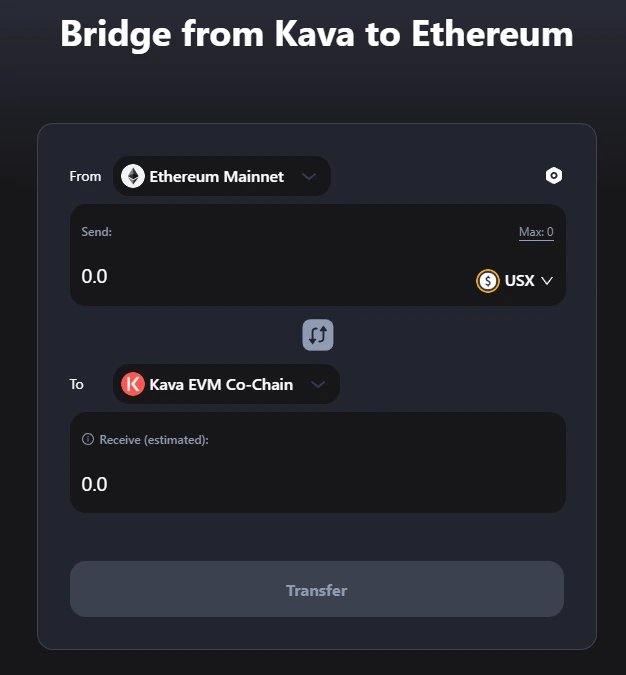 5. Review and Confirm the transaction. Once you have entered transaction details, tap the "transfer button" at the bottom. Then, confirm the transaction in your MetaMask wallet and wait for the tokens to arrive.
Congratulation, you have successfully bridged to or from Kava network!
What are the Fees to Bridge to Kava
Kava network features really low gas, so the fees you'll have to pay will depend more on the other network you are bridging from or to, and other aspects too.
If you choose Ethereum as one of the networks, the cost can climb up to around $10.
It all depends on multiple aspects, mainly on the time of the day, the network load but also the bridge provider you chose, and the price impact related to available liquidity.
First, let's check the gas fees. Other networks than Ethereum might be cheaper; here, you can check a simple table that shows the average transaction fees for different networks.
| Withdrawing USDT from a Decentralized Wallet (Network) | Average Transaction Fee |
| --- | --- |
| Ethereum Network | $0.65 |
| Binance Smart Chain | $0.21 |
| Polygon | $0.018 |
| Solana | $0.000025 |
Table from an article about the cheapest stablecoins to transfer.
Gas fees on bridges are calculated on both source and destination networks.
On top of that, you'll pay a service fee depending on the bridge provider. Most bridges have around 0.3 to 1% service fee.
And lastly, if you are bridging a large number of tokens, your price impact on the token pair balance might be too high, so the bridge will higher your price. You can check our guide on a "Price impact too high" error, which explains how price impact is calculated and how the algorithm higher your price to more depth.
Conclusion
Bridging to (or from) the Kava network is an easy process that'll likely take you less than 5 minutes to do.
That way, you can take advantage of this highly scalable network that already features over 100 dApps.