Thetan Arena is a unique game released in November 2021 that combines a traditional combat arena concept (MOBA) with the opportunity to earn a decent amount of money in the form of two cryptocurrencies called Thetan Arena coin (THC) and Thetan arena Gem (THG). 
Everyone can find their own exclusive playstyle with over 20 heroes to choose from and hundreds of skill combinations.
In this article, we'll discuss the game mechanic of Thetan Arena and also how to maximalize your earnings.      
What is Thetan Arena
Thetan Arena is an esport game based on blockchain technology. You can gather your friends, form a team, battle with others and earn money with just your skills.
This short description can be found on the official game website. What the description doesn't say is that the game is completely free-to-play and requires no upfront investment. Thetan Arena's availability for both Android and iOS devices and PC makes it a really widely accessible game that you can play from anywhere and at any time.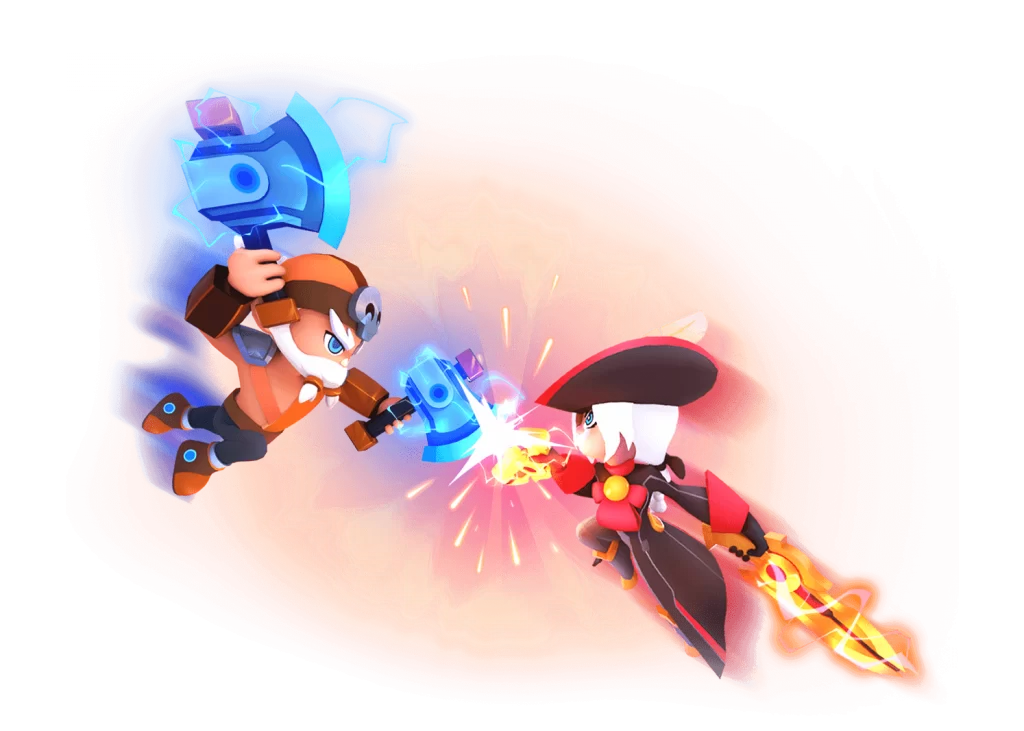 How to Earn Thetan Arena Coin (THC) and Thetan Arena Gems (THG)
As with any other play-to-earn game, the players are motivated by the premise of earning money. Thetan Arena brings to the table several options on how to earn. 
All heroes that you own are minted on Blockchain. They are your own personal NFTs that you can freely sell, trade, or play with. Heroes have an interesting feature that you don't see much in games of this type. But more to that later.
Your second earning option is the Thetan Coin (THC) itself. THC can be earned by playing game modes and participating in various other activities. 
Battle: Depending on the hero rarity and trophy class, you get rewarded in THC for every battle. 
Special Events: For participation in special competitive events
Quests: The player can swap Quest Points for THC if they have accumulated enough for completing quests. 
Ranking Rewards: There are 11 different ranks in the game. The better you are, the better rewards you get. 
Battle Pass: There are 60 tiers in the Battle Pass. To pass a Tier and obtain its prizes, you must have a particular number of Season Points. Season points are rewarded for playing. 
Thetan arena gems (or THG) are your third earning opportunity. $THG is a functional utility coin that will be utilized as a decentralized medium of exchange between players on Thetan Arena.
THG can be used for evolving your Thetan heroes or staking for extra rewards. By evolving your heroes, you make them stronger. THG holders can also create and vote on on-chain governance proposals for future Thetan Arena development.
Thetan Coin, as well as the Thetan gems, are exchangeable for FIAT. As Thetan Arena is quite popular, Thetan Coin is traded on various DeFi applications and in many different trading pairs.
How to Cash Out your Thetan Arena Coin and Gems
In order to cash out your THG & THC earned in the Thetan arena, your account needs to be older than 12 days. After that, nothing prevents you from collecting your rewards to your wallet, such as Metamask, and going on a shopping spree!
After your THC & THG coin meet your wallet, you can swap your coins directly to a stablecoin and cash out on any exchange. For instance, PancakeSwap offers THC/BUSD trading pair.
However, keep in mind that there is a 4% fee on every withdrawal. So it is worth accumulating your coins to avoid paying fees too often. 
If your question is how much you can earn playing Thetan Arena, it's only on your playing capabilities. Also, there is another aspect playing a big role. If you decide to put more money into the game, your earning potential will increase dramatically. Because bigger investments = better heroes = better rewards.      
Thetan Arena Gameplay
If you have ever played any other MOBA game (multiplayer online battling arena), there are not many aspects that might surprise you.
Other players unfamiliar with the game genre MOBA don't need to be scared as the game provides a nicely done tutorial that will explain all the aspects of the game.
At the beginning of each round, you choose from a list of heroes that are divided into multiple classes; but more to who is the best Thetan Arena hero and class later.
Before that, you also have to choose a game mode you want to play. There are four different game modes in the game currently, all with slightly different goals and playstyles.
Battle Royale: 12 players solo or in duos, join the ever-shrinking battleground and try their best to be the last man standing. The players are all on the same mission. Destroy supply boxes to earn extra power points, and eliminate others to be the last ones standing.
Tower Siege: Two teams of players are formed. Their goal is to bring the rival's tower down. The siege may only be performed if one of the teams summons the Siege Robot after gathering enough Batteries located throughout the map.
Super Star: Players are once again divided into two teams. The "mother" Superstar produces Point Stars. The team that first gathers more than 50 points is announced as victorious.  
Deathmatch: Every man for himself. Eliminate others to score points. Whoever has the most elimination points before the time runs out will be the winner. 
In addition to these game modes, you can also create your own private lobby with your own rules and play with your friends to see who's the best.
Thetan Arena Skills
Apart from choosing a game mode and a hero you want to play, you shall also choose two skills for your hero.
Each hero has three skills. Two changeable, which you choose at the beginning of each match. And a third one is a hero skill, unique for each hero.
You can categorize skills into three groups based on their main attributes.
Effect Skill: This includes skills that inflict status effect on yourself, allies, or enemies. 
Damage Skill: A skill that allows heroes to do more damage for a short period of time. 
Support Skill: Skills that are protecting you from enemy attacks.
To make it not so boring, you are forced to change your skills at least once a week. As every week, there are different 15 abilities in the pool to choose from. Every week you play a completely refreshed game with new abilities.    
Thetan Arena Heroes
Doing a Thetan arena hero list would require a lot of space as in the game, there are currently over 20 different heroes with their own skills. Heroes are separated into 3 different categories:
Tank: Tank heroes are in charge of putting themselves in front of the enemy and preventing their allies from taking damage.
Marksman: Marksman is a major damage dealer and is in charge of keeping the DPS level up throughout the fight.
Assassin: Assassins are lethal killers who can enter a fight, eliminate their victims in a single combo, and then flee without being discovered.
Best Thetan Arena Hero
Who is the best hero to play is mainly up to your gaming preferences. However, there are many tier lists of heroes available online where players give their opinions on who is the best Thetan Arena hero.
All these tier lists usually agree on a few heroes.
Breaker as the best tank hero.
Raidon as the best assassin.
Phoenix as the best marksman.
We also really liked to play as Mortal or Kongkey during our testing and reviewing. But it seems like no hero is extremely overpowered, and it's more about your capabilities.
Thetan Arena Marketplace; How to Purchase Heroes
You can purchase any hero on the Thetan Arena marketplace using your hard-earned or bought Thetan Arena coins.
You can buy Thetan Arena Coin on various DeXes and CeXes. There is a simple trick to find out what all exchanges offer your wanted coin. Visit its page on CoinMarketCap and scroll down. You'll see that Thetan Arena Coin is offered by PancakeSwap and also two Centralized exchanges – CoinEx and BiTrue.
Heroes come with different price tags depending on their rarity. The rarer hero you have, the more games you can play per day with him, and the more rewards you get, but also the more it costs.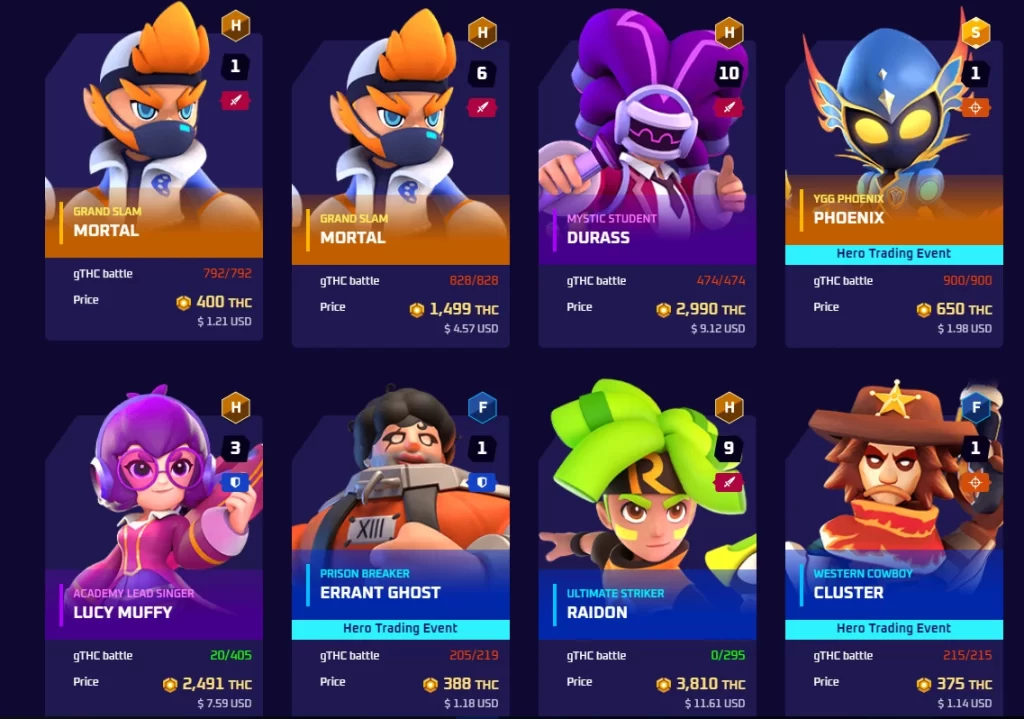 But usually, you can buy a good hero for a pretty decent price on the Thetan Arena Marketplace.
Heroes in the Thetan arena can also be upgraded using gems (THG). Upgrading heroes will make them stronger. In addition, upgraded heroes get bonus tokens upon winning.       
But what makes Thetan Arena special compared to other games of similar type is the hero's limited lifecycle of usability. Meaning there is a limited number of games you can play with your hero and earn in-game currencies.
After this number is reached, your hero is basically priceless. This limited lifecycle also keeps the prices of Thetan heroes affordable. After all, no one wants to spend a lot of money on something that will become priceless after 200 battles or so.
Thetan Arena Market Cap and Price
Prices of both altcoins – THC and THG drop shortly after the game lunch. Since then, they have not bounced off the bottom and are still holding relatively steady. 
$0.005 for one THC. THG has experienced another decent dropdown in recent days with the fall of the entire market. Before that, it was hovering around $0.01. 
But the developers at WolfFun are constantly working on the game, and it's likely that the game will see great success in the future as play-to-earn games become more widely known. 
When it comes to the Market Cap of Thetan Arena, we don't know the market cap of THC, as the amount of coins that are circulating in the market are not known publicly.
But the Market Cap of Thetan Arena Gem is hovering around $7,000,000.
Conclusion
Thetan Arena is a unique play-to-earn Moba game, with elements that distinguish it from any other P2E game – like the lifespan of heroes. Providing players with two different currencies which both can be sold for FIAT. So, Thetan Arena has fast and fun gameplay similar to games like Wild Rift or Pokemon unite but with an addition in a form of earnings.
I can't say if it is worth it or not. It is up to you. But as a free-to-play player, it might be harder to earn any substantial amount so I recommend investing a little in the game as Thetan arena is a legit play-to-earn game. Which will definitely keep you entertained for a few dozen hours.