Whether you have been in the crypto space for years or just starting, you must agree that hardware wallets are the most secure way to store your cryptocurrencies. And many companies are making reliable wallets, and SecuX is one of them. 
This Taiwanese blockchain security company offers three different models to choose from with different price points and different features. Especially the top-notch models will surprise you with some of their luxurious features. 
In this article, you will find a complete comparison of all three models based on various factors. And at the end of this review, you will be able to decide which model is the right for you and get a 15% discount with our discount link. 
Quick Overview
SecuX W10
SecuX W10 is the entry model, with an affordable price of $69. But even though it's more than half the price of the most expensive model, it still doesn't lose out on quality and features.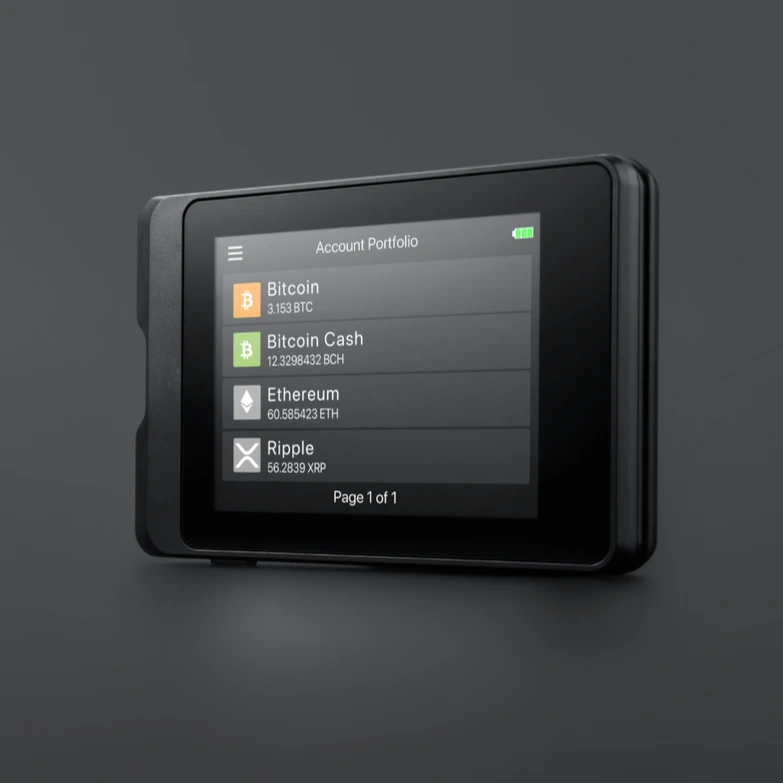 This model comes with a 2.8-inch large color touchscreen with a robust, lightweight, classic rectangular shape. Equipped with military-level security standards to protect your digital assets. 
This is the only model that is not compatible with mobile devices and is only available on Windows, macOS, Linux, and Chromebook using a Micro-B USB connection.
SecuX W20
We got SecuX W20 in our office space and reviewed it a while ago. And we were pleasantly surprised. You can find our full review of SecuX W20 here.
W20 is a mid-range model with a load of luxurious features going for $119.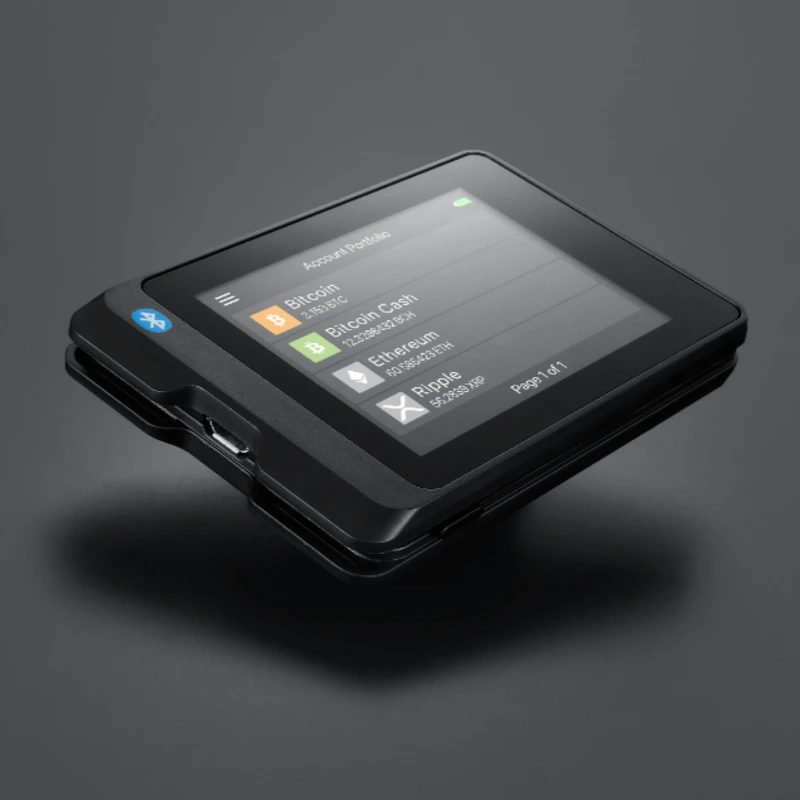 In the photo, those two W models might look the same. W20 also comes with a 2.8-inch color touchscreen and a classic rectangular shape. But what is on the inside matters more in this case. 
This model comes with a Bluetooth 5 and Micro-B USB connection that will connect you to both desktop and mobile devices. What makes this model exceptional is also its long-lasting battery so that you can use your hardware wallet from anywhere.
And there is no exception; also, this model comes with military-grade safety features.
SecuX V20
With a slightly altered design and a few changes inside, the SecuX V20 is only $20 more expensive than the W20, with a price tag of $139.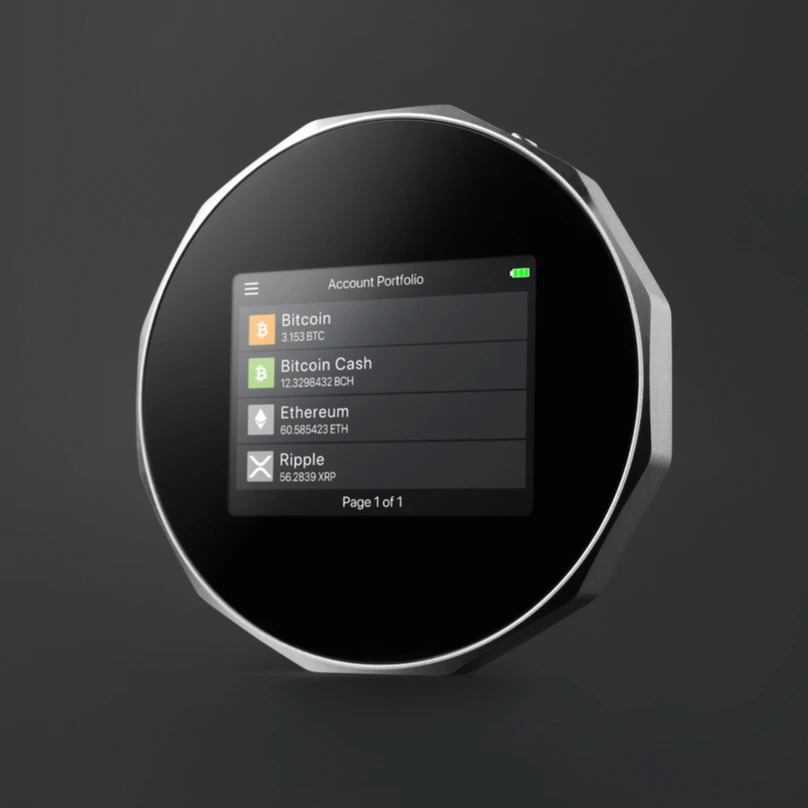 A classical rectangular shape has been replaced by an elegant-looking diamond-shaped design with rubber padding and a 2.8-inch color touchscreen. 
This model comes with a USB Type-C connection and Bluetooth 5 to connect to multiple desktop OS and mobile devices.
And you can't forget long-lasting battery life and military-grade security features.
Dimensions
SecuX W10 weighs 49 grams and is 13 X 89 X 59 millimeters big. 
SecuX W20 is a bit heavier with 62 grams, but the dimensions stay the same – 13 X 89 X 59 millimeters. 
You'll definitely know that SecuX V20 is in your hands with 120 grams of weight. And it is 15 X 98 X 98 millimeters big. 
But all three devices feature a large, 2.8-inch color touchscreen. 
Connectivity
Both W20 and V20 feature Bluetooth and can be connected to mobile devices. The third model, W10, features just one micro-b USB slot and can only be connected to desktop devices. W20 model also features the older version of USB – micro-B; the highest model already has USB type-C. 
The wireless connection that both W20 and V20 feature would be pointless without a rechargeable battery. These models have 600mAh batteries for up to 7 hours of use.
All three models can be also used with the SecuXess app. However, don't expect an advanced app with lots of features. It's a really simple app for sending and receiving crypto. And that's more or less it. While it lacks some advanced features for tracking and managing your portfolio, it excels in simplicity. You can read more about our opinion on SecuXess in the review article.
Supported Coins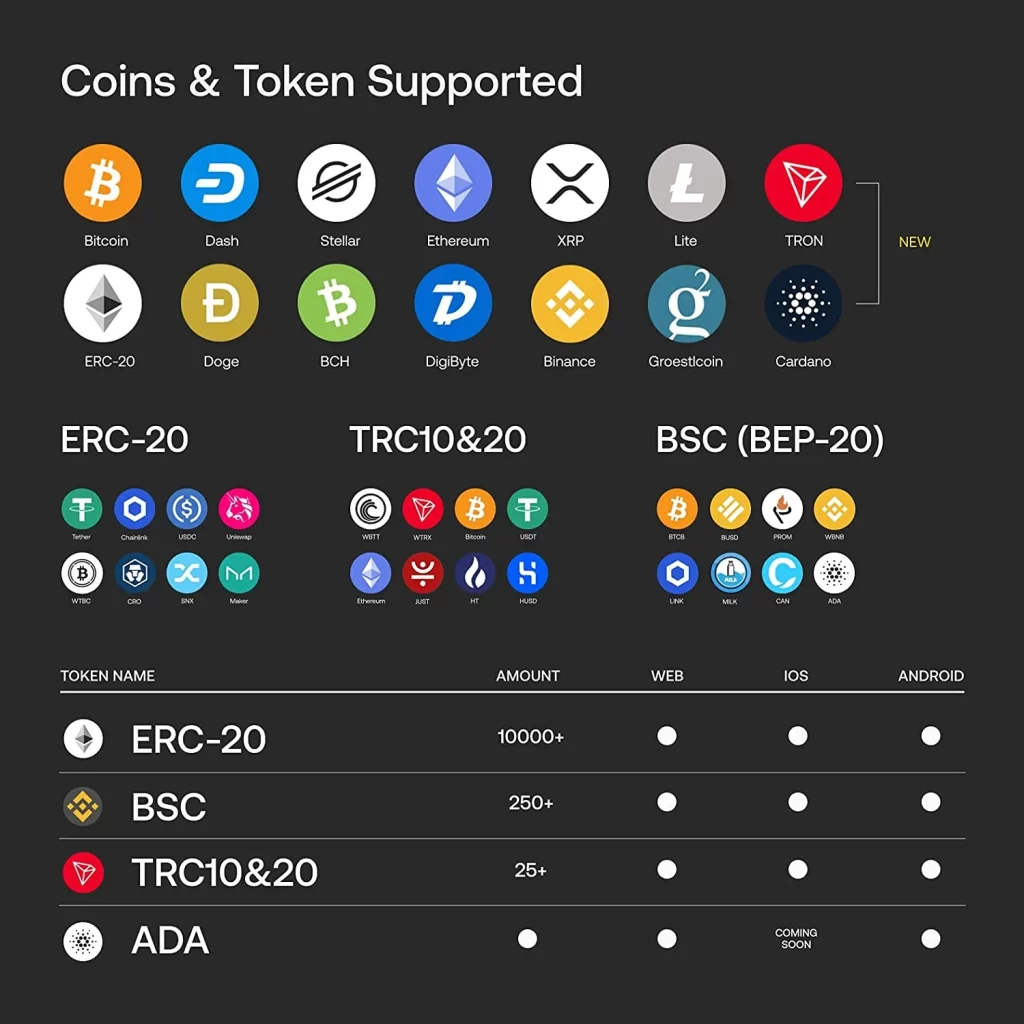 A wallet supporting a large variety of crypto coins is a must. This will ensure that you don't have to hold back on your investments and own dozens of devices to store your cryptocurrencies.
All three models can securely hold over one thousand different coins and tokens, from the more mainstream ones, like:
Bitcoin (BTC)
Bitcoin Cash (BCH)
Ethereum (ETH)
Litecoin (LTC)
Ripple (XRP)
Binance Coin (BNB) 
Dogecoin (DOGE)
Tron (TRX)
But also, all tokens built with the ERC-20 standard, thus all tokens on the Ethereum network. Over 250 coins built on Binance Smart Chain, and over 25 coins built with the TRC10&20 standard. 
You can find the full list of supported coins here.
Security Features
All SecuX wallets are equipped with an Infineon SLE solid Flash CC EAL5+ Secure Element chip. Which is used to keep in safe your personal PIN code and Private key. It is even equipped with a self-destruct function when exposed to light. That's in case someone wants to steal your data by taking apart your wallet. 
For the models equipped with Bluetooth connection, the connection is secured thanks to a few security features. Firstly, Bluetooth 5 is encrypted. Previously, with earlier versions of Bluetooth, the connection was not encrypted; therefore, you won't find this feature in many wallets. 
Transactions made via Bluetooth also require 2-factor authentication.   
Apart from that, you will find all the usual security features in all three models:
Personal PIN to lock your physical wallet
Copliant with BIP32, BIP39, and BIP44 standards. So you can easily generate 12, 18, or 24-word recovery phrases.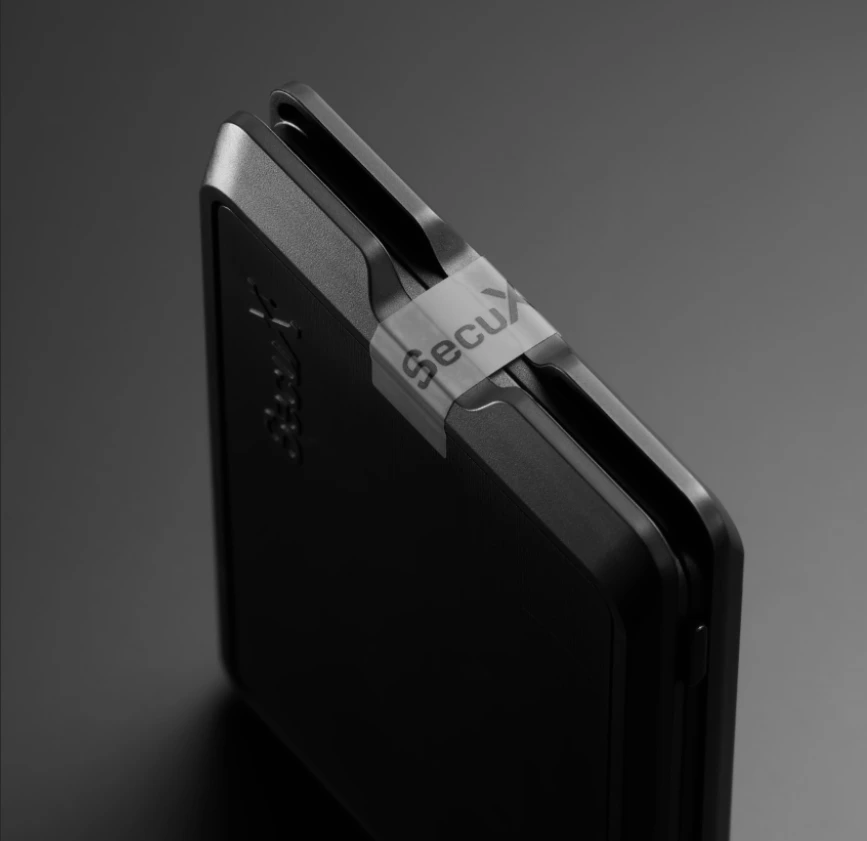 Also, to be sure that you are getting your wallet straight from the factory, unattacked by hackers, your wallet will come with a Temper-proof Seal, so any attempted access will be visible. 
Price
Nothing good comes cheap, right? That could be true with SecuX, but the entry model offers an affordable price point. 
SecuX W10 comes at $69
SecuX W20 comes at $119
SecuX V20 comes at $139 
But don't forget the special deal we got for you! You will get a 15% discount for any SecuX products in the shop by using this link.
Sum Up
Let's look at all three wallets once again and put them side by side. 
If you want our recommendation, you can reach for the base model, W10, with peace of mind. You would love features like Bluetooth, making your transaction from your phone without a desktop or rechargeable battery. But to keep your coins safe, the cheapest model is sufficient. And with the 15% discount you can get with our link, it's an even better deal!
Or, if you need a bit more thinking before making the purchase, you can read our detailed SecuX W20 review.