You live outside the US, and having Binance currency set as USD seems pointless, right? 
By default, Binance displays the value of your assets and wallet in USD. But you don't need to convert US dollars to your home currency every time you make a trade. There is a more straightforward way to do that.
That way, you can instantly tell how much your assets are worth in your local currency, whether GBP for the United Kingdom, CAD for Canadians, or EUR for most European countries. 
Binance offers localization in more than 50 currencies. That's more than most of us can name.
Changing your Binance currency is not complicated. And you can do that either on the Binance website, Desktop application, or mobile app.
This guide assumes that you already have a Binance account created. If not, you can create one right now by clicking on the banner!
This guide will teach you how to change your currency on the Binance website and mobile and desktop applications. Let's dive in!    
How to change your currency on the Binance website
Step 1: Log into your Binance account
First, head to the Binance website. Either type in the URL or search for "Binance" on google. Alternatively, you can get there by using this link: https://www.binance.com.
Now log in to your Binance account. You can do that by entering your email or mobile number with your password. Alternatively, if you have Binance mobile app, you can scan the QR code to log in automatically.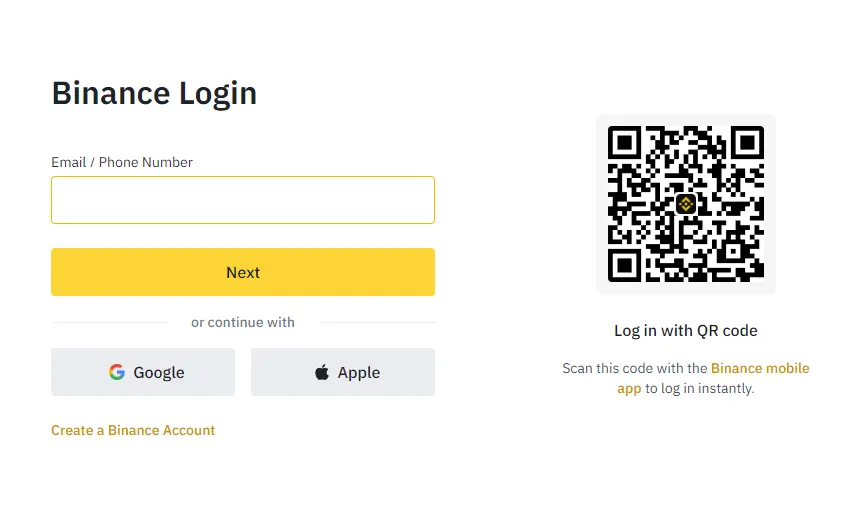 Whatever way you choose, ensure you enter the correct details, so you don't lock your account.
Step 2: Click on the currently set currency (USD) 
Once you successfully log in to your Binance account, you will land on the homepage. 
In the top bar, you will see different menu options. Including different crypto markets, earn options, or futures. But you want to look to the right side of that bar. 
You can see your current language and currency on the top right of the webpage.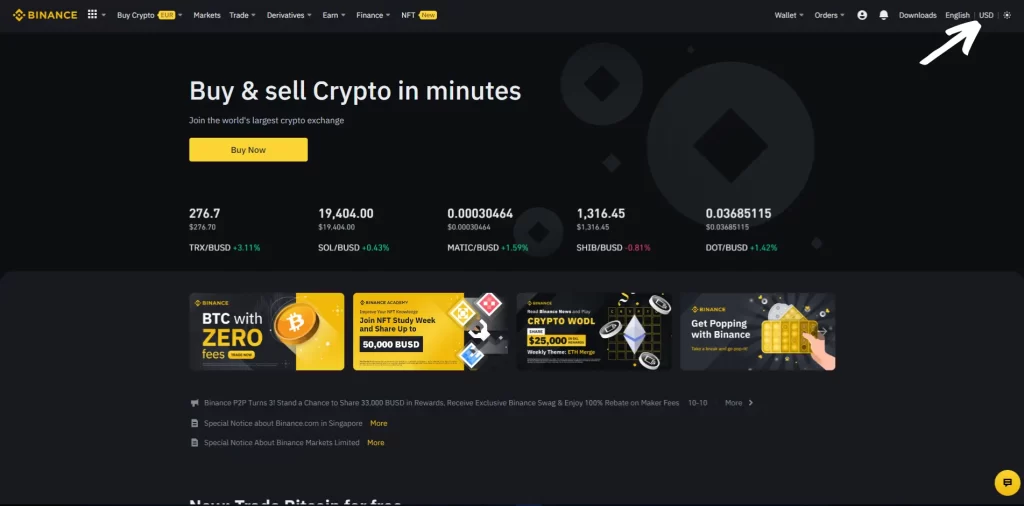 And click on your current currency setting. In most cases, "USD." 
Step 3: Choose a new Binance currency
Once you click the "USD," a new window will pop up. This window includes both language settings and currency settings. So even if you want to change the language in which Binance is displayed, you can do so here.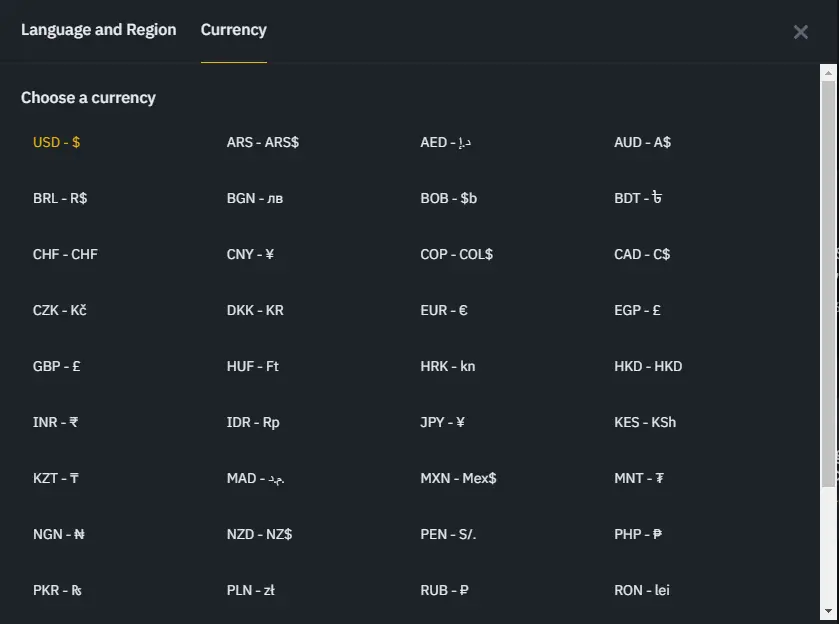 In the "Currency" tab, you will see various currencies you can choose from. The current currency will be displayed in gold text instead of white text.
For instance, we have set the currency to "USD," so USD is shown in gold, as shown in the picture above. 
Now scroll down until you find a currency you want. Available coins are in alphabetical order. But currently selected currency is always shown first. 
How to change your currency on the Binance desktop app
To change currency on the Binance desktop app, the steps are nearly identical, but the placement of this setting is in a different area.
To start, log in to your Binance desktop app. As you land on the homepage, we will continue from here. 
Step 1: Tap on the settings icon
The little gear icon representing settings is located in the left-down corner.
If your sidebar is hidden, you can pull it up by clicking on the little arrow. Like in the picture below: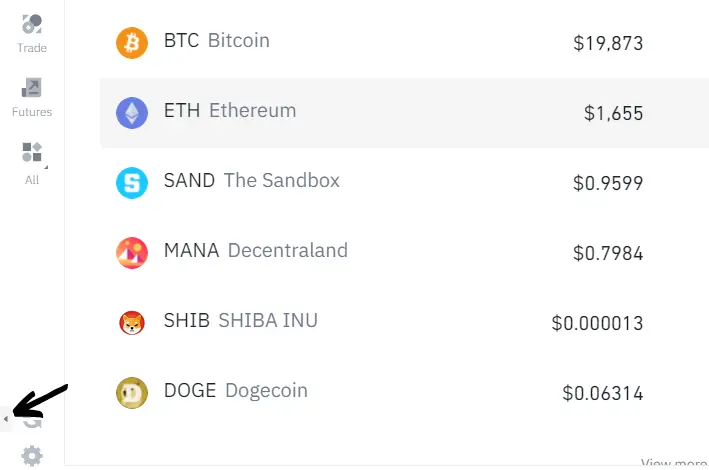 Step 2: Change currency currency
Now you have two options. 
You will see the currency option when you open this small menu. When you tap on that, it will open a list of available currencies for you to choose from.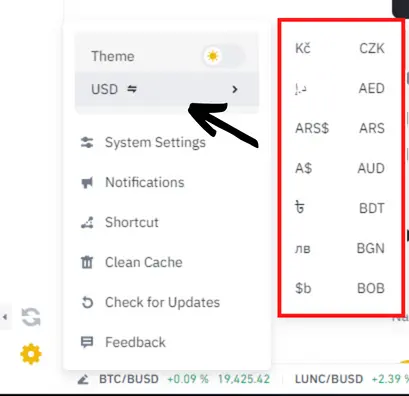 Alternatively, you can click "System Settings" and change it with other settings.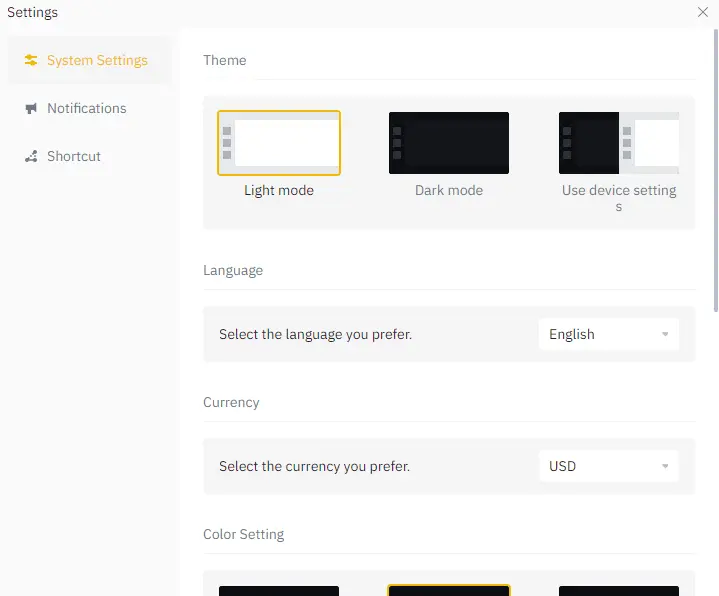 You may have noticed that I have enabled the dark theme on some of my devices. We have also made an article on How to enable dark theme on every device.
How to change your currency on Binance mobile
Lastly, let's look at how to change your currency on Binance mobile.
On Binance mobile, all the settings are a bit hidden. So if this has been a problem for you, we will guide you through.
As always, you need to log in to your Binance account first. 
Step 1: Tap on the profile icon in the Binance mobile
Once you log in to your account, you will land on the app's homepage. 
In the top left corner, you will see a profile icon. Tap on that to open the navigation menu.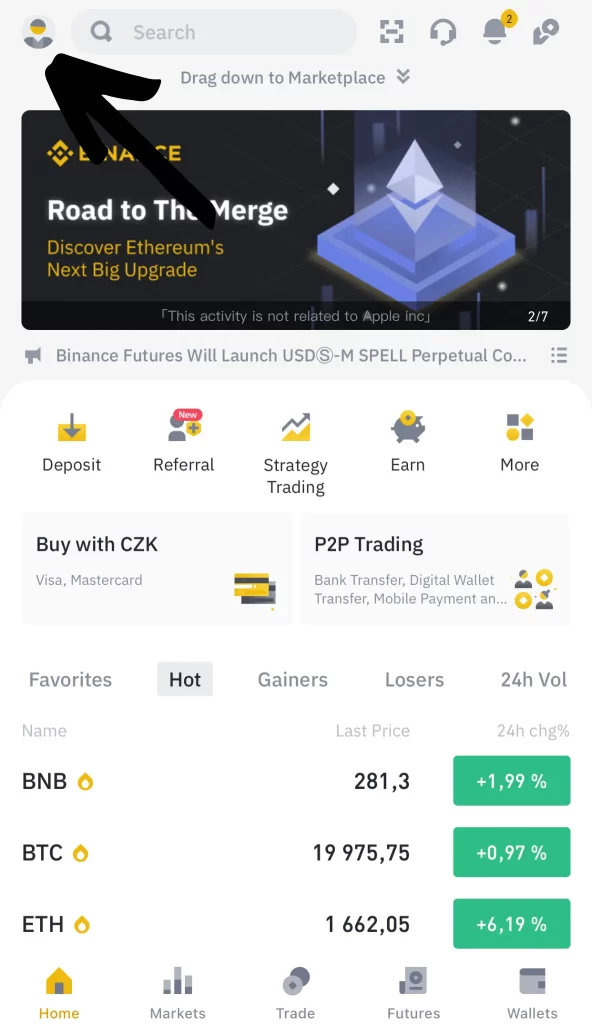 Step 2: Scroll down till you find Settings
From the navigation menu, you can control your whole account. 
And we are not looking for a "Task Center," "Reward Center," or Security options. But for "Settings." Once you find it tap on that.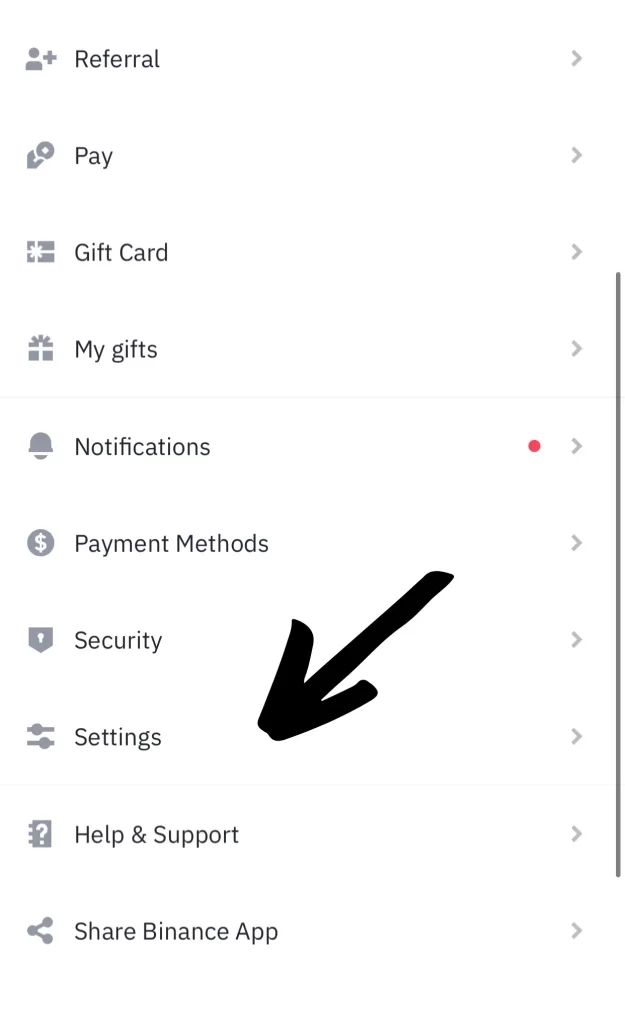 Step 3: Tap on Currency
In the settings page, you will find various settings mostly related to how Binance mobile looks on the outside.
The currency tab will display the currency that is currently active – USD.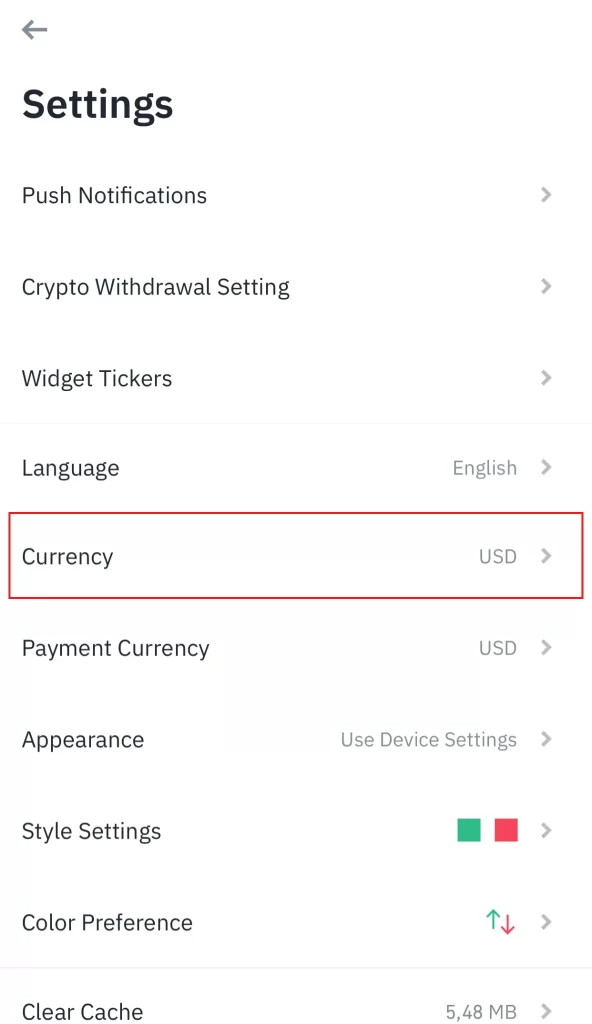 As you can see, there is also a "Payment Currency" setting. This is the setting that applies to deposits of money. Here, please set it to the currency of your bank account or card for your convenience.
You can set Displaying currency to the currency you trade in most often. For instance, if your local currency is EUR, but you trade with USDT, it is better to have USD set as the currency. But it depends on your preferences.    
Now tap on currency to change your currency on Binance mobile. 
Step 4: Choose a Currency
Now a list of available currencies will show up.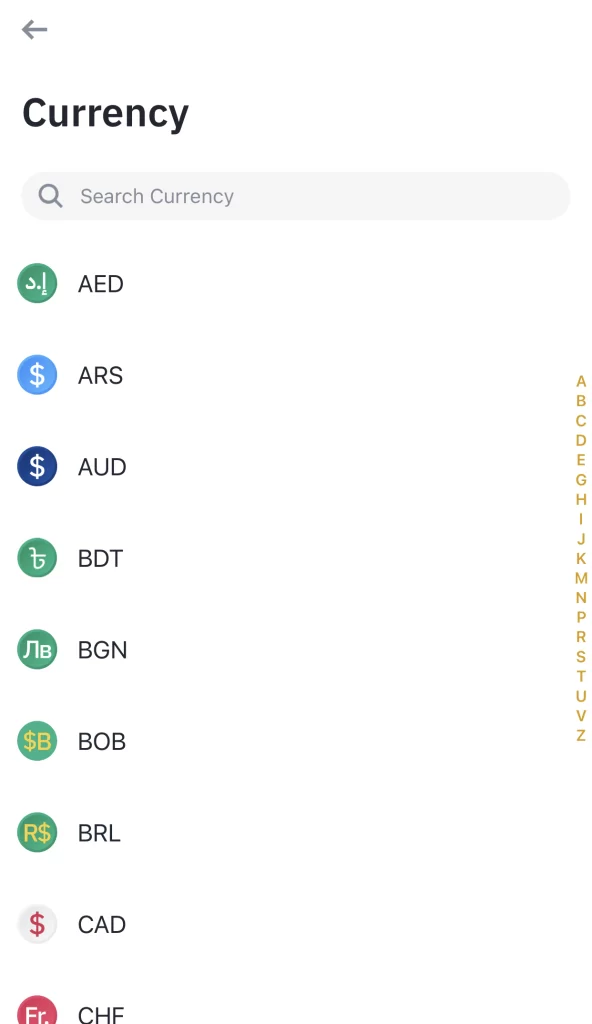 This list is the clearest of all the devices because it includes a search box and letter-based navigation shortcuts. 
The currently selected currency will have a tick icon next to it. 
Once you have selected the currency you want, return to the main page by clicking on the arrow in the left corner. 
Conclusion
If you have followed these steps, your Binance should now be localized in your home currency. And across all available devices. 
It is a good idea to change your currency as soon as you install your Binance. You'll be able to tell the value of your assets in your home currency without the need to convert it.
Your Binance currency is all set; however, if you want to enhance your exchange experience a bit further, here's how to enable dark mode on all devices.  
Learn further with Binance How to's
How to Easily Switch Between Binance Pro and Binance Lite
How to Know When Binance will List a Coin
How to Change Your Email Address on Binance